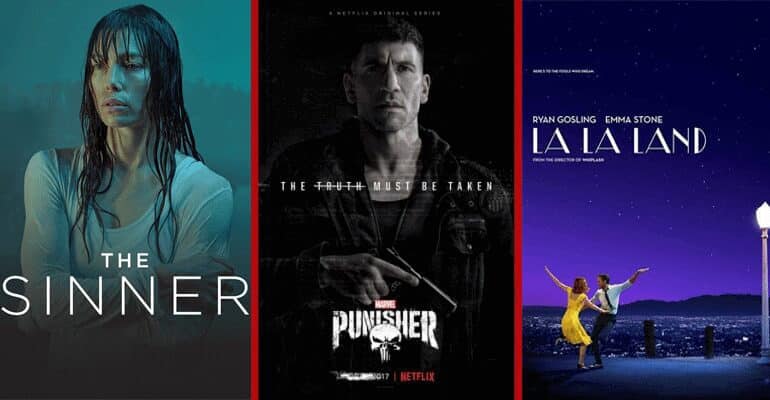 Welcome back to our weekly round-up of entertained added to Netflix! We may have gotten a little behind last week, but we have some crackers for you this week. As the Christmas holidays draw closer and the chilly nights grow colder, we're all looking for some great shows to keep us busy in the evenings. We're going to pick out our favourites from the lot, so that you don't have to. This week, 17th November 2017, we have 69 new titles to share with you. That includes 47 new movies, 10 new documentaries, 15 new TV series and one new standup special.
Our first pick is the new Netflix Original The Punisher. This is one we've all been waiting for since meeting this interesting character in Daredevil. Frank Castle is a fairly angry man, but it's no wonder when you consider his family was murdered. This series follows him on his adventures in trying to get revenge on the people who deserve it. Things aren't always that simple though, which is something Frank Castle finds out. He uncovers something that changes things for not only him and his family, but for others too. The Punisher is great if you're into crime, action and dark stories, not to mention if you're into anything Marvel. We'll certainly be checking this out at the weekend.
Imagine not being able to remember something. Think about what it would be like to not understand what's happening. Now imagine you've killed someone, but have no memory of it. It would be scary, confusing and traumatising. The Sinner follows a young mother who can't remember why she murdered someone. It's only when a detective wants to understand her mind, that things could start to piece together. This is another great series if you like drama, crime and action all packed in one. This will keep you gripped to the story and there have already been some great reviews about it.
The final pick of the day is on a happier note. It's a film that had a lot of people's hearts captured last year, and we can finally watch it on Netflix… It's La La Land (2016). Featuring Ryan Gosling and Emma Stone as two people who have a passion for performance, they fall in love and hope that it'll last forever. However, there's just one problem: Things don't always plan out the way they seem. Dreams are everything, but they can also very easily turn into nothing. Will these two lovers stay together and achieve everything that they set out to do? Find out in this heart-warming film.
See the full list of 69 titles added to Netflix UK this week:
47 New Movies
Grandma (2015)
Mubarakan (2017)
Page 3 (2005)
Netaji Subhas Chandra Bose: The Forgotten Hero (2005)
Love Breakups Zindagi (2011)
James (2005)
Inteqam: The Perfect Game (2003)
Home Delivery (2005)
Hanuman (2006)
Get Hard (2015)
End of a Gun (2016)
Dil Maange More (2004)
Deha (2007)
Darna Zaroori Hai (2006)
Corporate (2006)
Ab Tak Chhappan (2004)
Vaastu Shastra (2004)
Tum… Ho Na (2005)
The Journey Is the Destination (2016)
Tathastu (2006)
Strangers (2007)
Pyaar Mein Twist (2005)
Prateeksha (2006)
Pehchaan: The Face of Truth (2005)
My Name Is Anthony Gonsalves (2008)
Malamaal Weekly (2006)
La La Land (2016)
Katputtli (2006)
Kaccha Limboo (2011)
In the Line of Fire (1993)
Film Star (2005)
The Rewrite (2014)
The Killer (2017)

Netflix Original

Mea Culpa (2017)
Girl with a Pearl Earring (2003)
Bon Cop Bad Cop 2 (2017)
Everybody Wants Some (2016)
Steamboy (2004)
O21 (2014)
Miracle on 34th Street (1994)
Lucky: No Time for Love (2005)
Love, Rosie (2014)
Holiday Joy (2017)
DeRay Davis: How to Act Black (2017)
A Flying Jatt (2016)
The Girl Who Kicked the Hornet's Nest (2009)
Fast & Furious 6 (2013)
10 New Documentaries
Williams (2017)
Meru (2015)
Rolling Papers (2015)
Meet the Mormons (2014)
Long Time Running (2017)
Chasing Trane (2016)
15 New TV Series
Food, Booze & Tattoos – Season 1 (2015)
The Sinner – Season 1 (2017)

Netflix Original

Project Mc² – Season 6 (2015)

Netflix Original

Lady Dynamite – Season 2 (2016)

Netflix Original

Glitter Force Doki Doki – Season 2 (2017)

Netflix Original

Dwelling Narrowness – Season 1 (2009)
Dinotrux Supercharged – Season 1 (2017)

Netflix Original

Blazing Transfer Students – Season 1 (2017)
Undercover – Season 1 (2016)
Method – Season 1 (2015)
Lockup: State Prisons – Season 1 (2016)
Chuck Chicken – Season 1 (2017)
Mudbound – Season 1 (2017)

Netflix Original

The Punisher – Season 1 (2017)

Netflix Original

Longmire – Season 6 (2017)

Netflix Original
1 New Standup Specials
Jerry Seinfeld: Comedian (2002)

Netflix Original