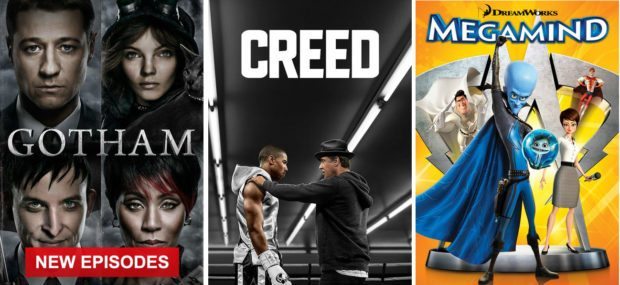 Once again we have another mixed bag of what's new on Netflix UK – continuing the theme of having something for everyone but also completely understanding that no one person will love everything that's available either. I'm often told that "American Netflix is much better" and  "the UK just get all the rubbish stuff". There really isn't a "better or worse" between the two, they're just different and in over 4 year of being a Netflix subscriber I've never been stuck for anything to watch.
So, before I step off my soap box, this week I'm going to talk about the new additions for the UK that are NOT available on American Netflix.
The first big hitter we have, literally, is "Creed" which only hit UK cinemas earlier this year. Sylvester Stallone reprises his role as Rocky Balboa although, thankfully, not to fight. Instead he is coaching an up and coming boxer Adonis who is also the son of former boxer, and Rocky's friend and rival, Apollo Creed (a regular character in the earlier "Rocky" movies). Essentially the 7th film in the "Rocky" franchise, the film is more about Creed and Rocky's relationship than the boxing itself – although obviously the boxing plays a good part. Oh, and it's not available on Netflix in America.
Article Continues Below...
Next up we have the great 90's supernatural teen thriller "The Craft". When Sarah arrives in LA and is the new girl at a local Catholic school she soon falls in with a trio of outcast witches. Completing the pagan 'Four Corners' their powers soon excel and mayhem ensues. But can their friendship last when one becomes more powerful? You'll have to find out on Netflix UK because it's not available on American Netflix.
In the late 90's you may remember a plethora of teen movies; it was a genre all of it's own and there were that many of them that spoofs of the genre were inevitable. "Not Another Teen Movie" is one of these spoofs and, actually, one of the better ones. With a tried and tested storyline of trying to turn a bespectacled teenager into an amazing Prom Queen as well as the tried and tested cast including  jock, cheerleader, geek and token black guy, "Not Another Teen Movie" has plenty of laughs. If you've seen any teen movie in the last 20 years you'll enjoy this send-up. You've probably got the hint by now but this isn't on American Netflix.
In TV land we've been given season 2 of "Gotham" which is set in Batman's home town of Gotham when Commissioner Gordon was just a rookie young cop. Gordon fights crime and corruption in the city to try and avenge the death of Bruce Wayne's parents. Criminals fall and super-villains rise while a young Bruce Wayne watches on to one-day become Batman. Season 2 of "Gotham" is not on Netflix USA.
And, finally, for the younger viewers we have "Megamind" from DreamWorks Animation. When super-villain Megamind accidentally kills his nemesis Metro Guy he starts to get bored with nothing to do. So he creates a new good guy, Titan, to keep himself occupied with. However, Titan decides to use his powers for evil and Megamind must use his powers for good – for the first time in his life. Blah blah blah, not available on Netflix USA…
Well, that's all for this week but please read on for the full list of this week's additions which may or may not be available on US Netflix (I'm just too lazy to check them all):
New Movies Streaming on Netflix UK:
A Man for All Seasons (1966)
Airlift (2016)
The Craft (1996) – Streaming Again
Creed (2015)
The Last Heist (2016)
Louis C.K.: Live at the Comedy Store (2015)
Megamind (2010)
Minor Details (2009)
Not Another Teen Movie (2001) – Streaming Again
Only You (1994)
Over the Hedge (2006)
Tears of the Sun (2003) – Streaming Again
Trinta (2014)
Unexpected (2015)
The Way We Were (1973)
Yours, Mine and Ours (2005) – Streaming Again
New Documentaries Streaming on Netflix UK:
Fearless (2016) [Season 1 Added]
I'll Sleep When I'm Dead (2016)
Indie Game: Life After (2014)
John & Jane (2005)
Metropolis (2015)
The Mystery of Sleep (2010)
Planet FIFA (2015)
Real Crime: Supermarket Heist (Tesco Bomber) (2010)
Russell Brand: End the Drugs War (2014)
Russell Brand: From Addiction to Recovery (2012)
New TV Series Streaming on Netflix UK:
Clifford the Big Red Dog (2002) – Streaming Again
Clifford's Puppy Days (2003) – Streaming Again
Gotham (2016) [New Episodes]
Love and Marriage (2014)
NatureVision TV (2015)
Project Mc² (2016) [Season 2 Added]
Zoo (2015)
OK, I'm stepping off my soap box now…