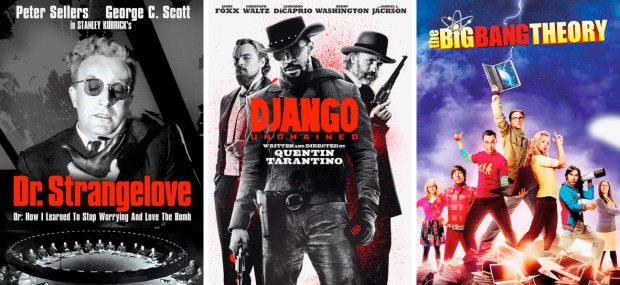 Wow, what a week for new films and TV shows on Netflix UK! As you know, I usually pick out 3 or 4 highlights but this week I'm struggling to get it down to so few so, instead, I'm going to mention more highlights albeit with a briefer description than normal.
Super popular on social media today is the addition of the unconventional superhero movie "Condorman" from 1981. Comic book creator Woody takes on the role of his creation, Condorman, in order to help the CIA fight espionage.
Stanley Kubrick's classic "Dr. Strangelove" is another comedy highlight this week. When an insane general decides that adding fluoride to water is a back-door attack from Russia, he sets off a nuclear attack. But will former Nazi, Dr. Strangelove, manage to stop the attack?
Article Continues Below...
"Django Unchained" is Tarantino's film that follows a freed slave who travels across America to free his wife from a brutal plantation owner in Mississippi.
"Hero", or "Accidental Hero" as it was called in the UK, is a dark comedy that sees a thief, rescue numerous people from a plane crash only to discover that someone else is taking all the credit.
Season 2 of "Better Call Saul" has begun this week with new episodes added weekly. This prequel to "Breaking Bad" follows lawyer Jimmy McGill as he transitions to the dodgy Saul Goodman we knew from Breaking Bad.
Another new Netflix Original series has arrived with "Love". Co-created by Judd Apatow, the comedy series follows Gus and Mickey as they navigate modern relationships.
And, finally, "The Big Bang Theory" has arrived on Netflix UK. Seasons 1-8 of this modern classic are available – follow a group of physics geeks as they deal with life, love and physics shenanigans.
Read on for the full list of this week's additions:
New Movies Streaming on Netflix UK:
Condor Man [Condorman] (1981)
Conversations with Other Women (2006) – Streaming Again
Departures (2008) – Streaming Again
Django Unchained (2012)
Dr. Strangelove (1964)
Ellis (2015)
Endless Love (2014)
Erin Brockovich (2000) – Streaming Again
Hero [Accidental Hero] (1992)
Love (2015)
Muerte en Buenos Aires (2014)
Opal Dream (2006) – Streaming Again
Problem Child: Leslie Jones (2009)
Riding in Cars with Boys (2001) – Streaming Again
Salaam Bombay! (1988) – Streaming Again
Sharknado 3 (2015)
War (2007)
New Documentaries Streaming on Netflix UK:
Cooked (2016) [Season 1 Added]
For the Bible Tells Me So (2007) – Streaming Again
Snervous (2015)
New TV Series Streaming on Netflix UK:
Better Call Saul (2016) [Season 2 Added – New Episode Every Tuesday]
The Big Bang Theory (2014) [Seasons 1-8 Added]
Blackadder (1989) [Series 1-2 Removed, Series 3-4 Added]
Cast Party (2015)
Community (2014) [Seasons 1,3,4 Streaming Again]
Highway Thru Hell (2012)
Love (2016) [Season 1 Added]
Open Heart (2015)
Padam Padam (2011)
Rurouni Kenshin (1997) [New Episodes]