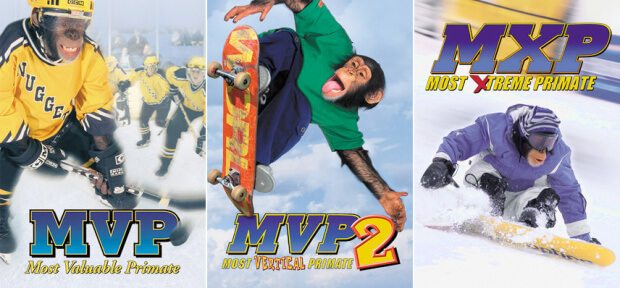 Monkeys, talking animals, safe-crackers and stoners; it's just another week in the land of Netflix UK! "Dom Hemingway" arrived this week, starring Jude Law as the title character, a notorious safe-cracker. Having served 12 years in prison he is now out and roaming the streets of London trying to get back the money he is owed.
The highly rated and award-winning Canadian film, "Café de Flore" has made a welcome return this week. Set both in 1960's Paris and 21st century Montreal, the film tells two stories of heartbreak and love – but are they really two different tales?
There has been a good selection for the younger viewers this week too. "MVP: Most Valuable Primate", "MVP 2: Most Vertical Primate" and "MXP: Most Xtreme Primate" is a trilogy of children's films about a monkey called Jack. When he escapes from a research lab he ends up playing ice hockey (MVP), skateboarding (MVP2) and snowboarding (MXP).
New Movies Streaming on Netflix UK:
Assault on Wall Street (2013)
Breakout (2013)
Cafe de Flore (2011) – Streaming Again
Detachment (2011)
Dom Hemingway (2013)
The Duke (1999)
El Gringo (2012)
Jack & Diane (2012)
Jay and Silent Bob's Super Groovy Cartoon Movie (2013)
Love Wrecked (2005)
The Machine (2013)
MVP: Most Valuable Primate (2000)
MVP 2: Most Vertical Primate (2001)
MXP: Most Xtreme Primate (2004)
Open Season (2006) – Streaming Again
Parkland (2013)
Savannah (2013)
The Squad [El páramo] (2011) – Streaming Again
Tiny Furniture (2010)
Touchy Feely (2013)
Twelve (2010)
When I Walk (2013)
New TV Series Streaming on Netflix UK:
The Adventures of Figaro Pho (2012)
Blood Lad (2013)
Burning Love (2013) – Streaming Again
Mia and Me (2011)
The Originals (2013)
Teletubbies (1997)
Trailer Park Boys: Xmas Special (2004)
Wakfu (2008)
Whitechapel (2009-2012) [Series 3 added]