New Releases on Netflix UK (1st August)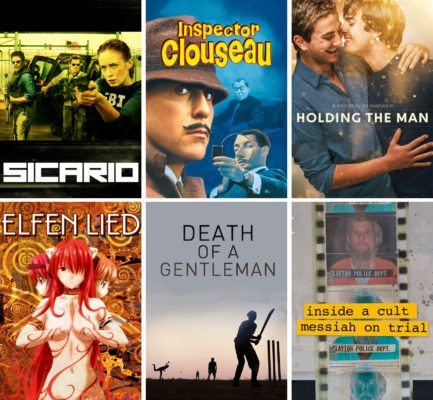 Wow, what a morning this has been for new additions on Netflix UK – so much so that we've decided to add an extra update to list today's new additions instead of waiting until Friday for the usual weekly post. With a lot of new stuff added today, over 75 titles in fact, it's hard to pick out just a few suggestions for you so instead I'll give a brief run down of what's been added.
I think the biggest surprise in today's additions has to be last year's "Sicario" which was only in UK cinemas 9 months ago and on DVD 5 months ago – it's even jumped straight to Netflix, bypassing Sky/NowTV. If this is a sign of things to come then I for one don't mind the price increase! The film sees Kate Macer, an idealistic FBI agent, get sent to the Mexican border where drug-related violence is increasing leading to the deaths of some of her colleagues. However, her morals are challenged when the operation goes into Mexico itself and the whole thing escalates. With impressive cinematography and an intense storyline this is a thriller not to be missed.
The 80's classic "Swamp Thing", based on the DC Comic of the same name, is also one worth watching. When a bio-engineering experiment goes horribly wrong, the scientist gets turned into a plant-human hybrid. It's a bit silly, it's very kitsch and, at the end of the day, is just a fun love story – with a swamp monster.
Other films of note added today include British drama "Blackout", the classic 60's crime comedy "Inspector Clouseau" and the award winning Australian drama "Holding The Man".
Documentaries added today include a handful of Martin Clunes' animal-based shows: "Martin Clunes: Man to Manta" (2011), "Martin Clunes: Last Lemur Standing" (2012),  "Heavy Horsepower" (2013) and "Martin Clunes: A Lion Called Mugie" (2014).
We also have the very highly rated cricket documentary "Death of a Gentleman" along with some about various cults over the years: "The End of the World Cult", "Inside A Cult, Messiah on Trial" and "Children of God".
As for TV shows, we've been given Season 4 of "Person of Interest" – a crime series that uses a billionaires software to predict who will commit crime in the future. Japanese manga series "Elfen Lied" (original title "Erufen rîto") has also arrived today; an interesting story where the government sees mutants as being a danger to humanity and Lucy, one of these mutants, is befriended by two human teens who don't realise she's actually a serial killer.
Other TV shows of note include US comedy "Don't Trust the B—- in Apartment 23", an autistic soothsayer in "Touch" and Aboriginal series "The Gods of Wheat Street".
Read on for the full list of this today's "First of The Month" additions:
New Movies Streaming on Netflix UK:
Afraid of the Dark (1991)
Amu (2005)
Appropriate Behavior (2014)
Barbershop (2002) – Streaming Again
Black Snake Moan (2007) – Streaming Again
Blackout (2013)
The Blood Lands (2014)
Convenience (2015)
Do You Even Know Who I Am? (2016)
Dressed as a Girl (2015)
The Eichmann Show (2015)
The End of the World Cult (2007)
Faults (2014)
Finding Home (2014)
For the love of a man (2015)
Funny or Die Presents: Donald Trump's The Art of the Deal: The Movie (2016)
Ghayal Once Again (2016)
Glen Campbell: I'll Be Me (2014)
Holding the Man (2015)
I Am Divine (2013)
Inspector Clouseau (1968)
Let's Kill Ward's Wife (2014)
Lifeforce (1985) – Streaming Again
The Lifeguard (2013)
Listen Up Philip (2014)
Sicario (2015)
The Sky Is Blue (2015)
SNITCH (2013) – Streaming Again
Soft Lad (2015)
Sparks and Embers (2015)
Step Up: All In (2014)
Suburban Gothic (2015)
Swamp Thing (1982)
Unbranded (2015)
The Way He Looks (2014)
WHERE THE ROAD RUNS OUT (2016)
Winter in Wartime (2008) – Streaming Again
Zoolander: Super Model (2015)
New Documentaries Streaming on Netflix UK:
American Genius (2015)
APEX: The Story of the Hypercar (2016)
Children of God (1994)
Death of a Gentleman (2015)
The End of the World Cult (2007)
How to Win the US Presidency (2016)
Inside A Cult, Messiah on Trial (2009)
Man & Beast with Martin Clunes (2015)
Martin Clunes: Heavy Horsepower (2013)
Martin Clunes: A Lion Called Mugie (2014)
Martin Clunes: Last Lemur Standing (2012)
Martin Clunes: Man to Manta (2011)
The Paedophile Next Door (2014)
Precision: The Measure of All Things (2013)
Real Crime: Diamond Geezers (2008)
Real Crime: Hannah's Killer (2009)Misery Loves Comedy (2015)
Small Animal Hospital (2014)
Tell Spring Not to Come This Year (2015)
New TV Series Streaming on Netflix UK:
Autumn's Concerto (2009)
Battlefield Recovery (2016)
Big Freedia: Queen of Bounce (2014)
Blackstone (2015)
Campus (2011) – Streaming Again
Don't Trust the B—- in Apartment 23 (2012)
Elfen Lied [Erufen rîto] (2004)
The Gods of Wheat Street (2014)
Green Wing (2006) – Streaming Again
How Clean Is Your Crime Scene (2009)
The Long, Long holiday (2015)
Love Cuisine (2015)
Masha and the Bear (2013) [Season 2 Added]
Miss Rose (2015)
Office Girls (2011)
Person of Interest (2015) [Season 4 Added]
The Prince Who Turns into a Frog (2005)
Queen of No Marriage (2009)
Touch (2012)
You're My Destiny (2008)