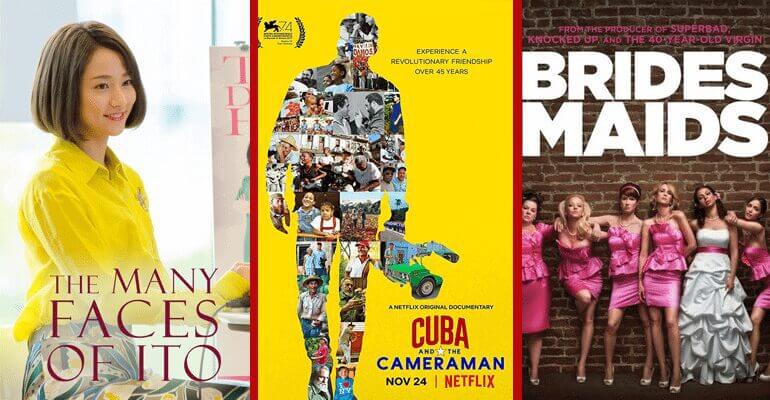 December has come around again and it'll soon be Christmas. It's officially acceptable to play your Christmas music, wear your once-a-year jumper and start putting your Christmas tree up. To keep you entertained this week, 1st December 2017, we have 66 new titles to share with you that have been added to Netflix UK. This includes 44 new movies, twelve new documentaries and ten new TV series. As usual, we're here to give you our top three recommendations out of the lot.
Her life may be a mess. She may not be the best person for the job. But she's definitely determined to do everything she can to succeed. When Annie's best friend announces she's getting married, of course, her maid of honour was going to be the closest person to her. Our first pick is the 2011 film Bridesmaids, which follows Annie on her mission to make sure that her best friend's wedding is perfect. Annie isn't always someone people can rely on, but now she has no choice as her best friend is dependant on her. She needs Annie to keep everything together for the most important day of her life. This is a great film if you're after something to make you smile, make you laugh and make you feel at ease about life.
Sometimes love makes you do crazy things. Sometimes love has you wrapped in a thick blanket. And sometimes you don't know where love went wrong, so you seek advice. One woman is on a mission to gather all the information possible about love-sick women. She's a rom-com screenwriter, and she's out to get the best stories yet. It's simple really… She provides the women with romantic advice, acting as a professional, but is actually using their heartbreak and misery to her advantage. This Netflix Original show called The Many Faces of Ito has one season available to watch on Netflix UK and is a strangely relatable Japanese series. Love is something we all have in common.
Our final pick of the night is another Netflix Original called Cuba and the Cameraman. This documentary is so much more than you'd expect. It follows the Emmy-winning filmmaker Jon Alpert on his journey to Cuba and finding out about three Cuban families. It follows their strengths and weaknesses, their growth and set-backs over 45 years. This documentary is historical and is something special because you gradually learn more about these people, their bravery and their relationships.
See the full list of 66 titles added to Netflix UK this week:
44 New Movies
The Secret Scripture (2016)
The Thomas Crown Affair (1999)
The Girl from the Song (2016)
Poster Boys (2017)
Burnt (2015)
5 Children & It (2004)
Winter People (1989)
Waterworld (1995)
Three Kinds Of Heat (1987)
The Worthy (2016)
The Kingdom (2007)
The Grudge (2004)
The Comfort of Strangers (1991)
The Adjustment Bureau (2011)
Tezz (2012)
Scott Pilgrim vs. the World (2010)
Sardaar ji (2015)
Romantic Comedy (1983)
Prague (2013)
Playing for Time (1980)
Out of Africa (1985)
Open Season (2006)
Monsters (2010)
Monster Island (2017)
Kick-Ass (2010)
It's Complicated (2009)
In Bruges (2008)
How High (2001)
Hop (2011)
Hisss (2010)
Hannibal (2001)
Half Girlfriend (2017)
Green Zone (2010)
Fighting (2009)
Emelie (2016)
Eh Janam Tumhare Lekhe (2015)
Dark Places (2015)
Curious George (2006)
Couples Retreat (2009)
Bridesmaids (2011)
Bill Burr: Why Do I Do This? (2008)
Bhouri (2017)
American Graffiti (1973)
A Quiet Passion (2016)
12 New Documentaries
Perú: Tesoro Escondido (2017)
Cuba and the Cameraman (2017)

Netflix Original

Winning (2016)
The Legend of 420 (2017)
Motivation 3: The Next Generation (2017)
Jago: A Life Underwater (2015)
Hired Gun (2016)
Forbidden Games: The Justin Fashanu Story (2017)
Dream Boat (2017)
Diana: In Her Own Words (2017)
Brother's Keeper (1992)
Breaking the Cycle (2017)
10 New TV Series
Trailer Park Boys: Out of the Park: USA – Season 1 (2017)

Netflix Original

The Story of God with Morgan Freeman – Season 1 (2016)
The Many Faces of Ito – Season 1 (2017)

Netflix Original

Mars – Season 1 (2016)
Frontier – Season 2 (2016)

Netflix Original

Good Morning Call – Season 2 (2016)
Glitch – Season 2 (2015)

Netflix Original

Tokyo Ghoul – Season 1 (2014)
Gary: Tank Commander – Season 2 (2012)
Cheapest Weddings – Season 1 (2016)