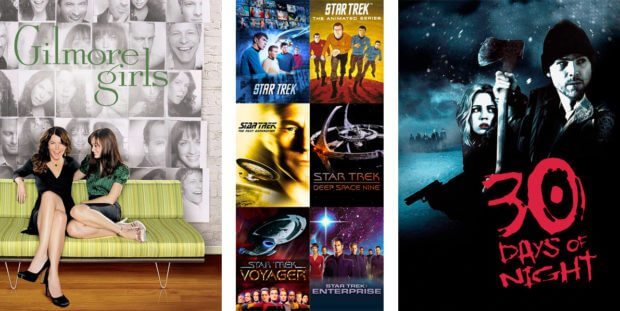 "To infinity and beyond!" oh, wait… "May the force…", no, still not right… "Live long and prosper". Well, the biggest news for UK Netflix this week is certainly the arrival of a whole load of space; but not just any old space. I'm obviously referring to the addition of "Star Trek" to Netflix UK but just saying that would be a massive understatement. Let me make it clear what has been added:
EVERY SINGLE EPISODE OF EVERY SINGLE STAR TREK TV SERIES EVER MADE CAN NOW BE WATCHED ON NETFLIX UK
That's right, the complete set of Star Trek has been added which consists of: "Star Trek" (3 seasons), "Star Trek: The Animated Series" (2 seasons), "Star Trek: The Next Generation" (7 seasons), "Star Trek: Deep Space Nine" (7 seasons), "Star Trek: Voyager" (7 seasons) and "Star Trek: Enterprise" (4 seasons).
Other things were added this week too such as the entire back catalogue of "Gilmore Girls" ahead of the Netflix exclusive reboot expected later in the year. The series is based around a single mum and her daughter who are often mistaken as sisters. Their close relationship with each other means lots of drama for the two as they get involved with each other's lives.
"The Taking of Pelham 1, 2, 3" sees a New York underground train being hijacked with a demand of $10million for releasing the hostages. The hijacker will only deal with the train's dispatcher who happens to be temporarily demoted for bribery. As pressure begins to mount from the media, the mayor must act fast to save the lives of the hostages.
"30 Days of Night" is set in the far-northern Alaskan town of Barrow. When the sun sets below the horizon leading to a month of darkness, a hungry horde of blood-thirsty vampires arrives to wreak havoc. How many will survive the attack or id this the end of the small town?
Fans of music documentaries may be interested in "Daft Punk Unchained" which tells the story of the popular duo. Going back to their music roots, the show follows their rise to fame alongside keeping their secret persona's secret.
And to finish off this week for our younger viewers, we have the return of 2 seasons of "Fireman Sam" as well as the hour long special "Fireman Sam: The Great Fire of PontyPandy".
Read on for the full list of this week's additions:
New Movies Streaming on Netflix UK:
30 Days of Night (2007)
A Decent Arrangement (2011)
Akeelah and the Bee (2006)
Amok [The Promotion] (2014)
The Arrival (1996)
Baba (2014)
Bill Hicks: Revelations (1993)
Brannigan (1975)
Bright Night (2015)
Buddies [Colegas] (2012)
Chauranga (2014)
The Diary of a Teenage Girl (2015)
Dwayne Perkins: Take Note (2016)
Everything You Always Wanted to Know About Sex But Were Afraid to Ask (1972)
Family Fever (2014)
Fireman Sam: The Great Fire of PontyPandy (2010) – Streaming Again
Floating! (2015)
Heist (2015)
Hirschen (2014)
I.D. (2012)
III – The Ritual (2015)
Jim Jefferies: Freedumb (2016)
Kaptn Oskar (2013)
The Killer Elite (1975)
Killer Klowns from Outer Space (1988) – Streaming Again
Klappe Cowboy! (2012)
Kya Kool Hain Hum 3 (2016)
The Little Girl Who Lives Down the Lane (1976) – Streaming Again
Love Steaks (2013)
Mount Joy (2014)
The Presence (2014)
Road to Yesterday (2015)
Running Scared (1986) – Streaming Again
Sam Kinison: Family Entertainment Hour (1991)
Suicide [Hitabdut] (2014)
The Taking of Pelham 1, 2, 3 (1998)
Terminus (2015)
Thief (1981) – Streaming Again
The Transporter Refueled (2015)
Welcome to the Punch (2013) – Streaming Again
Well Wishes (2015)
The Wicker Man (2006) – Streaming Again
Willie Barcena: The Truth Hurts (2016)
X: Past Is Present (2015)
You Carry Me (2015)
New Documentaries Streaming on Netflix UK:
3 1/2 Minutes (2015)
Conflict (2015)
Daft Punk Unchained (2015)
Daughters of Mother India (2015)
Exit Afghanistan (2013)
FITTEST ON EARTH (2016)
Forks Over Knives Presents: The Engine 2 Kitchen Rescue (2011)
The Future of Water (2007)
Kumu Hina (2014)
Line of Sight (2012)
Making the American Man (2016)
My Friend Rockefeller (2015)
Palio (2015)
Rolling Papers (2015)
To Russia with Love (2014)
What's Manzai ?!!! (2016)
New TV Series Streaming on Netflix UK:
A Very Secret Service (2015) [Season 1 Added]
American Odyssey (2015)
Crazy Ex-Girlfriend (2016)
Deep [En Immersion] (2016) [Season 1 Added]
Dora the Explorer (2014) [Season 7 Added]
Eastsiders (2015)
Epic Drives (2014)
Fireman Sam (2014) – Streaming Again
Gaming Show (In My Parents' Garage) (2016)
Gilmore Girls (2006)
Gon (2013)
Head 2 Head (2016)
Jem and the Holograms (1988)
Kate and Mim-Mim (2014)
Operation Proposal (2012)
Roadkill (2013)
Shaka Zulu (1986) – Streaming Again
SpongeBob SquarePants (2013) [Season 7 Added]
Spotless (2015) [Season 1 Added]
Star Trek (1968)
Star Trek: Deep Space Nine (1999)
Star Trek: Enterprise (2004)
Star Trek: The Animated Series (1973)
Star Trek: The Next Generation (1993)
Star Trek: Voyager (2000)
Victorious (2013) [Season 3 Added]
White Collar (2014)