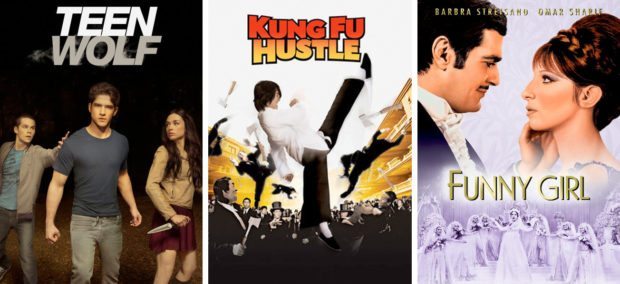 Welcome back to another week of what's new on Netflix UK. This week has been fairly steady with good selection of new additions.
First up we have the comedic fantasy kung-fu action film "Kung Fu Hustle" set in 1940's mob-controlled China. Sing, a wannabe mobster, stumbles across a slum where the landlords are actually kung-fu masters in disguise. A battle then ensues between the landlords and the mobsters, with Sing happily pretending to be as good as the rest. It's hilariously absurd and definitely not your normal kung-fu film!
The first 2 seasons of TV series "Teen Wolf" arrived this week too. Scott, an awkward teen, is bitten by a werewolf and, as we all know, that means he is now a werewolf. The bite gives him extra strength and attitude but also brings about new problems – such as people trying to kill him and other werewolves wanting to show their dominance.
Classic 60's musical rom-com "Funny Girl" tells the story of Fanny Brice, a talented Jewish comedienne and singer. Her looks, however, are seen as 'unconventional' and the films follows the story of her struggles to make it big in New York.
Nature fans will enjoy the BBC series "Shark" from 2015. Made up of two 50 minute episodes and narrated by Paul McGann, the mini-series discusses different hunting techniques between various species of shark as well as touching on courtship rituals and their parenting methods.
And, finally, for the younger viewers we have a few Dreamworks Animations with "Bee Movie", "Sinbad: Legend of the Seven Seas" and "The Road to El Dorado"
Read on for the full list of this week's additions:
New Movies Streaming on Netflix UK:
A Girl Like Her (2015)
Bee Movie (2007)
Finders Keepers (2014)
Funny Girl (1968)
Gladiator (1992)
Kung Fu Hustle (2004)
Madeline (1998) – Streaming Again
The Man in the Wall (2015)
Mind Hunters (2004)
Momentum (2015)
Redfern Now: Promise Me (2015)
The Road to El Dorado (2000)
Sinbad: Legend of the Seven Seas (2003)
To Rome with Love (2012)
New Documentaries Streaming on Netflix UK:
Armin van Buuren: This Was Intense (2015)
Attacking the Devil: Harold Evans and the Last Nazi War Crime (2014)
Shark (2015)
New TV Series Streaming on Netflix UK:
Lady Dynamite (2016) [Season 1 Added]
The Man Who Ate Himself to Death (2014)
Redfern Now (2013)
RWBY (2014) [New Episodes]
Teen Wolf (2012)