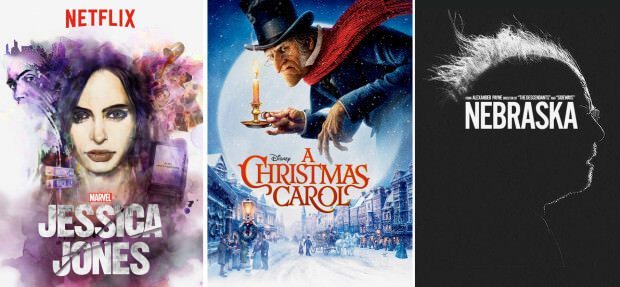 "Jessica Jones". That's all I'm writing this week, "Jessica Jones". That's all, nothing else.
OK, maybe I should expand a bit… This week we have the latest Netflix Original series, "Marvel's Jessica Jones". Based in Hell's Kitchen (where Daredevil lives) and starring Krysten Ritter (Breaking Bad) as Jessica Jones and David Tennant (Doctor Who) as mind-controlling, purple-loving bad-guy Kilgrave. Jones, a former superhero called Jewel, now works as a private investigator in Hell's Kitchen, New York where the disappearance of a student causes Jones to recall a terrible figure from her past life. This terrible figure is none-other than Kilgrave who is skilled at mind-control. Can Jones, along with Luke Cage, defeat Kilgrave as well as solving various missing person's cases? Yeah, probably – but I'm pretty sure we'll be in for a wild ride along the way! All 13 episodes of Season 1 are available now.
"Nebraska" is a father and son road trip with a difference. When Woody, a cantankerous old boozer, thinks he's won a million-dollar sweepstake he sets off, with his son, on a cross-country drive to Nebraska to claim his prize. On the way they end up stopping in the town where Woody grew up and he ends up trying to settle various scores from the past. It's very dead-pan and is an amusing story of a son trying to understand his father.
As we're now more than halfway through November, it means it's Christmas! Netflix have given us "A Christmas Carol" again, the 2009 one starring Jim Carrey. It's a good, modern remake of the classic Christmas tale of Ebeneezer Scrooge and the ghosts of Christmas Past, Present and Future. Don't be put off by Carrey, he plays a very good Scrooge in this film.
Read on for the full list of this week's additions:
New Movies Streaming on Netflix UK:
A Christmas Carol (2009) – Streaming Again
Bad Blood (2015)
The Brittany Murphy Story (2014)
Don't Look Back (2014)
Fear (1990)
Final Fantasy VII: Advent Children (2005)
Happily N'Ever After (2006)
Hit & Run (2012) – Streaming Again
Kabhi Alvida Naa Kehna (2006)
Life Without Dick (2002)
Lords of Dogtown (2005)
Mandie and the Forgotten Christmas (2011)
Meet My Valentine (2015)
Naked Among Wolves (2015)
Nanny Cam (2014)
Naomi and Ely's No Kiss List (2015)
Nebraska (2013)
Stuart Little 3: Call of the Wild (2005)
Testament of Youth (2014)
The Voices (2014)
New Documentaries Streaming on Netflix UK:
Cocaine Cowboys Reloaded (2014)
Square Grouper (2011)
The Wrecking Crew (2008)
New TV Series Streaming on Netflix UK:
Marvel's Jessica Jones (2015)
Scorpion (2014)