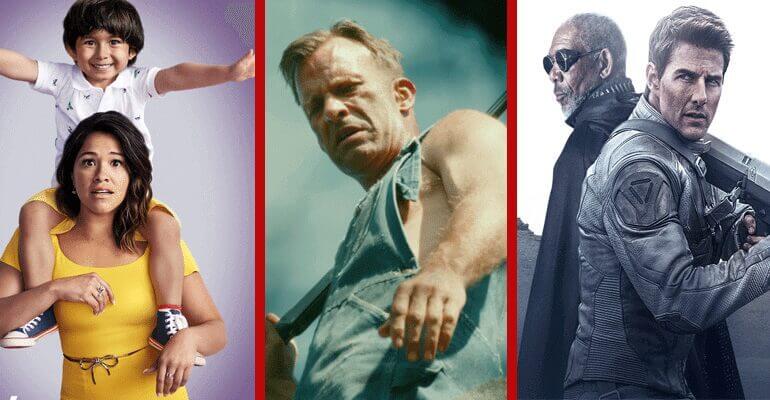 We're well into October now and we have plenty of great entertainment to share with you. This week, 20th October 2017, there's a total of 75 new releases on Netflix UK. This includes a total of 45 new movies, 5 new documentaries, 24 new TV series and one new stand-up show. If 75 sounds all a bit too much for you, don't worry, we're here to pick our favourites out of the lot so that you can have a great weekend of leisure. So take a look and then get watching!
Imagine how you'd feel if you got pregnant. Now think about what you'd do if it was an accident. How would you react if it's not possible for you to be pregnant, but you are? That's exactly what life is like for one woman. The series Jane The Virgin is not your average show. Jane is very traditional, religious and passionate. Life is complicated and unusual. That's why this show is a great one to watch. Netflix welcomed the fourth season of Jane The Virgin, with episodes being released on a weekly basis. So far, Jane's life has been no picnic and the chaos doesn't stop there. In the fourth season we'll discover what happens for Jane and her adventure is one that is intriguing, enjoyable and romantic.
Our second pick of the week is a film that stars Tom Cruise. Oblivion is a film set in 2077, where Jack Harper (Tom Cruise) works as a security repairman on Earth. The one problem is that Earth has been evacuated due to an earlier war. Everything is in his hands. The fate of Earth and humanity lies within his ability to be a hero. The main question is: can he fulfil his destiny? This sci-fi thriller is full of action, tension and Morgan Freeman. It has had mixed views since release but we believe it's definitely worth watching if you're into action and sci-fi entertainment.
Article Continues Below...
Could you imagine killing someone in your family? Could you do this for financial gain? Many would say no, but it seems that one man does the unspeakable to gain control… It may seem easy, but that's not the end. All actions have consequences and this could be one that he regrets. 1922 is a crime/horror film that is perfect for Halloween. If you're after a spooky movie to watch then look no further. This film is based on Stephen King's novella, so it's bound to be good.
Read on for the full list of all 75 new releases.
45 New Movies Streaming to Netflix UK
두 얼굴의 여친 (2007)
Sunny (2008)
Dachimawa Lee (2008)
Bank Attack (2007)
Zila Ghaziabad (2013)
Veerappan (2016)
Ujala (1959)
The Pledge (2001)
The New Guy (2002)
The Abyss (1989)
Teshan (2016)
Tamanchey (2014)
Story of an Egg (2017)
Singapore (1960)
Sardaarji 2 (2016)
OtherLife (2017)
One Night Stand (2016)
Money (2016)
Machhli Jal Ki Rani Hai (2014)
Kahi (2016)
Jal (2013)
Gour Hari Dastaan: The Freedom File (2015)
Darra (2016)
Crimson Peak (2015)
Calendar Girls (2015)
Ankur Arora Murder Case (2013)
Aisa Yeh Jahaan (2015)
Ace Ventura: When Nature Calls (1995)
A Scandall (2016)
Lucknow Central (2017)
Baadshaho (2017)
Notting Hill (1999)
What We Did on Our Holiday (2014)
Maze Runner: The Scorch Trials (2015)
Crouching Tiger, Hidden Dragon (2000)
Oblivion (2013)
Madame Bovary (2014)
Jupiter Ascending (2015)
Inherent Vice (2015)
Horrible Bosses 2 (2014)
Focus (2015)
Amnesia (2015)
American Sniper (2014)
Wheelman (2017)

Netflix Original

1922 (2017)

Netflix Original
5 New Documentary Streaming to Netflix UK
Why Knot (2016)
El Crazy Che (2015)
El Che (2017)
Belief: The Possession of Janet Moses (2015)
One of Us (2017)

Netflix Original
24 New TV Series Streaming to Netflix UK
Crazy Ex-Girlfriend – Season 3 (2016)
West Coast Customs – Season 6 (2011)
Solomon's Perjury – Season 1 (2016)
Skin Wars: Fresh Paint – Season 1 (2016)
Seven and Me – Season 1 (2017)
Real Rob – Season 2 (2015)
Power Rangers Ninja Steel – Season 1 (2017)
LEGO: Marvel Super Heroes: Maximum Overload (2013)
LEGO: Friends – Season 2 (2014)
LEGO: City – Season 1 (2017)
Jane the Virgin – Season 4 (2015)
Harry & Bunnie – Season 1 (2017)
Guerra De Idolos – Season 1 (2017)
Border Security: America's Front Line – Season 1 (2016)
Laws of Attraction – Season 1 (2012)
La Femme – Season 1 (2016)
In Laws – Season 1 (2016)
Siffredi Late Night – Hard Academy – Season 1 (2016)
Live from the BBC – Season 1 (2016)
Tempel – Season 1 (2016)
Sab Jholmaal Hai – Season 1 (2017)
Guru Aur Bhole – Season 1 (2017)
The Day I Met El Chapo – Season 1 (2017)

Netflix Original

Haters Back Off – Season 2 (2016)

Netflix Original
1 New Standup Shows Streaming to Netflix UK
Patton Oswalt: Annihilation (2017)

Netflix Original