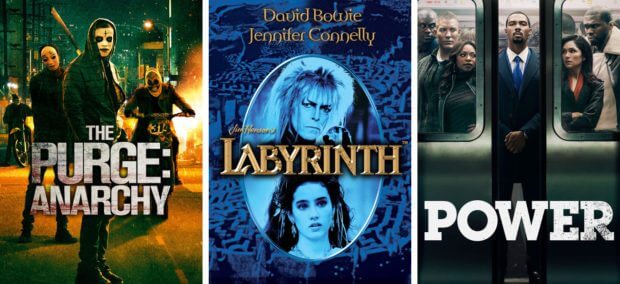 Welcome back to another edition of What's On Netflix UK! It's been another great week this week with lots of big additions.
First up we have been treated to the amazing 80's classic "Labyrinth" starring the late David Bowie. When teenager Sarah gets left to babysit for her baby brother she wishes that the goblins will come and take him away. However, when her wish is granted she has a change of heart and has to embark on a fantastical journey through the titular labyrinth. With only 13 hours to solve the labyrinth and various creatures either helping or hindering her, time is running out fast. This is a great, classic family film and is well worth a watch if you've never seen it.
"The Purge: Anarchy" follows on from in the same vein as it's predecessor – for 1 night all criminal acts are ignored. It's a time for residents to be their own law enforcement and get rid of local crime but it's also a time for everyone to survive. If you've ever annoyed anyone you could be on someone's kill list… "The Purge: Anarchy" sees three separate story lines intertwine. Watch it if you like your films to be dark.
Article Continues Below...
The 2014 super hero movie "X-Men: Days of Future Past" features your favourite mutants playing with time travel in order to save both humans and mutants. Magneto and Professor X must overcome their differences and work together when Wolverine travels back in time to enlist their help. Whether you know much about the X-Men or not, it is a very enjoyable film and, in a way, is a reboot of the franchise so prior knowledge is not really required. It's a fun action and sci-fi romp.
And finally for this weeks additions is season 3 of "Power". This American crime drama follows a nightclub owner as he moonlights as a drug dealer for the A-list celebrities. Seasons 1 and 2 are available and season 3 has each new episode added on a weekly basis after it airs in America.
Please do let us know what your picks are for this week and read on for the full list of this week's additions:
New Movies Streaming on Netflix UK:
The Adventures of Elmo in Grouchland (1999) – Streaming Again
Before We Go (2014)
Genghis Khan (1965)
Internet Famous (2016)
Joe Dirt (2001) – Streaming Again
Labyrinth (1986)
Million Dollar Arm (2014)
The Mirror Has Two Faces (1996)
The Purge: Anarchy (2014)
Resident Evil: Retribution (2012)
X-Men: Days of Future Past (2014)
New Documentaries Streaming on Netflix UK:
Cosmos: A Spacetime Odyssey (2014)
New TV Series Streaming on Netflix UK:
BoJack Horseman (2016) [Season 3 Added]
Power (2016) [Season 3 Added – New Episode Coming Every Monday]