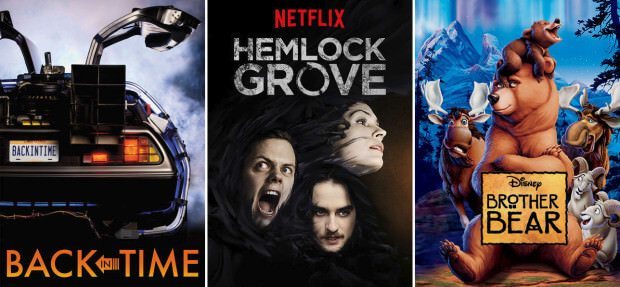 This week, just in time for Halloween, we have the third and final series of the Netflix Original"Hemlock Grove". Eli Roth's supernatural/horror series, set in Pennsylvania, features werewolves, vampires, psychics and scientists. This series will bring the show to a close with the main characters having to deal wth the monsters they've become.
Another Halloween-ready addition is season 4, "Freak Show", of "American Horror Story". The fourth season of this anthology series is based around the theme of 'freaks of nature' and takes you, like the other seasons, to many dark places…
Top of the "so weird it must be amazing" list this week is 2015 short film "Kung Fury". Kung Fury is the toughest cop in Miami in 1985 and he travels back in time to kill the evil bad guy, Kung Führer Hitler. In an arcade game-style fight off featuring a triceratops, Thor and, erm,  David Hasselhoff; this is one of those films you just have to see! It could be either the best, or the worst, half hour of your life.
Sticking with the themes of time travel and 1985 is the documentary "Back In Time" added to Netflix to coincide with Back To The Future Day.  Michael J. Fox, Christopher Lloyd, Robert Zemeckis and others discuss the cultural status of the iconic film.
For the younger ones this week we see the welcome return of Disney's "Brother Bear". An American Indian's brother gets killed by a bear and he sets out to get his revenge. However, the Great Spirits take over and transform him into a bear himself so he can see life from a different perspective.
Read on for the full list of this week's additions:
New Movies Streaming on Netflix UK:
Alfie (2004)
American Horror Story (2014) [Season 4, Freak Show, Added]
Ask Me Anything (2014)
Brother Bear (2003) – Streaming Again
Closed Circuit (2013)
Ghosts of Mars (2001)
Hemlock Grove (2014) [Season 3, The Final Season, Added]
Hum Saath-Saath Hain (1999)
Kung Fury (2015)
Mona Lisa Smile (2003)
Panic Room (2002) – Streaming Again
Resident Evil: Apocalypse (2004)
Results (2015)
New Documentaries Streaming on Netflix UK:
Back In Time (2015)
New TV Series Streaming on Netflix UK:
Bleach (2005)
Heidi (2015) – Streaming Again
How to Get Away with Murder (2014)
Magi: The Labyrinth of Magic (2012) – Streaming Again
Oggy and the Cockroaches (2012) – Streaming Again