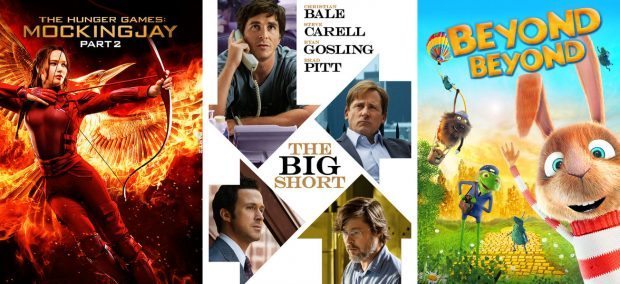 As we near the end of the month, the new additions are slowly dropping off so it's been quite quiet this week – albeit with some great new additions!
A big name addition is is "The Big Short" from last year starring Brad Pitt, Ryan Gosling and Christian Bale. Four investors foresee the collapse of the housing market and banking crash of 2008 and start placing bets with the bankers. The bankers, not realising just how fragile the mortgage market was, take them on thinking it will never happen – but as we all know, it does. But will the investors cash in knowing that millions of average people will be affected financially or are they, too, just as seedy as the bankers that caused the crash?
Second on my list of recommendations this week is the psychological sci-fi thriller "The Forgotten". While still grieving for the of her son in a plane crash, a mother is led to believe by her therapist that her son never even existed. As more and more things happen to back this up she meets another parent in the same situation and they soon uncover an interesting government cover-up. It's thrilling throughout with some good twists thrown in too.
Article Continues Below...
The final film from The Hunger Games has arrived this week with "The Hunger Games: Mockingjay – Part 2". In a dystopian future where children from different regions are pitted against each other in a fight to the death a pair of victors grabs the nation's attention. Eventually leading to a rebellious uprising against The Capitol, Katnis and her team must hunt down the president while fighting for their lives to finally get freedom. It's a good end to the series of films and a great bit of action for young teens.
TV fans will note that "Designated Survivor", a political thriller, has been added too. New episodes will arrive every Thursday shortly after it airs in America.
The younger viewers this week have been given the animated story of "Beyond Beyond" starring the voice 'talents' of 'Evan from EvanTube HD'. The cynic in me would say that he was only used for the English dub of this film to get kids to buy it (he's a YouTube star by the way). However, it's actually quite a nice story that handles some deep subjects like death and loss in a way that isn't too overbearing. It's a nice animation and a good film to watch with your little ones.
Read on for the full list of this week's additions:
12 New Movies Streaming on Netflix UK:
A Knight's Tale (2001)
Beyond Beyond (2014)
The Big Short (2015)
Boyhood (2014)
The First Line (2014)
The Forgotten (2004)
The Glass House (2001) – Streaming Again
The Hunger Games: Mockingjay – Part 2 (2015)
Iliza Shlesinger: Confirmed Kills (2016)
Premium Rush (2012)
The Riot Club (2014)
Striking Distance (1993) – Streaming Again
2 New Documentaries Streaming on Netflix UK:
The 100 Years Show (2015)
Vintage Tomorrows (2015)
4 New TV Series Streaming on Netflix UK:
Death Note (2006) – Streaming Again
Designated Survivor (2016) [New Episode On Thursdays]
Easy (2016) [Season 1 Added]
VeggieTales in the House (2016) [Season 4 Added]