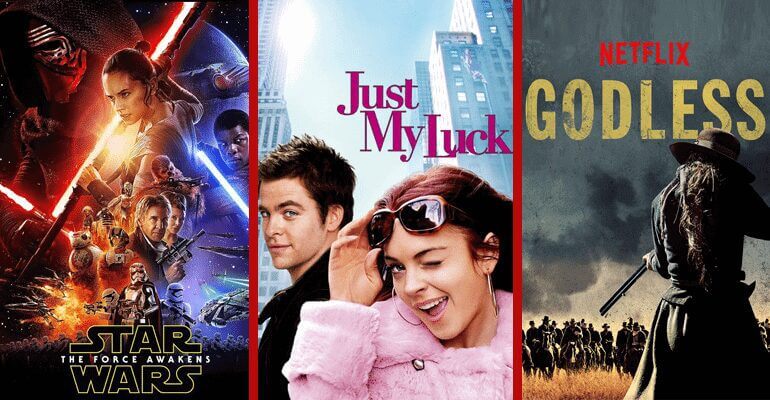 We're so close to December which means we're even closer to the festive season. Although we don't have any Christmas goodies for you today, we have plenty more to share. This week, 24th November 2017, we have a total of 31 new titles that have been added to Netflix UK. This includes 18 new movies, two new documentaries, nine new TV series and two new stand-up specials. As usual, we're here to pick our top three favourites out of the lot so that your Friday night gets even better.
Our first pick of the week is the 2006 film Just My Luck which stars Lindsay Logan and Chris Pine. How would you like to have all the luck in the world? Every day everything goes right. You've never had a bad day. How would you feel if you lost that luck? This is what young Ashley finds out when she kisses a stranger. Just My Luck is a film based on Ashley's adventure on trying to find out who stole her luck and how she can get it back. What she wasn't expecting was that she'd fall in love. This is a great movie for a girls night in.
If you're a fan of Star Wars or even just want to see the films, you're in luck. This week Netflix UK welcomed Star Wars: The Force Awakens (2015) where Rey, a woman who scavenges for spare parts, and Finn, an ex-Stormtrooper, go on a hunt for Luke Skywalker. As always, there's something in the way of them achieving their goal. This film is set three decades after the defeat of the empire and it's where we meet BB8, an adorable droid with smooth moves. There have been mixed reviews about this film, but we think it's worth a watch.
Article Continues Below...
Our final pick of the day is the new Netflix Original Godless (2017), which has one series available on Netflix UK. This series has been praised for being a particularly women-driven Western show, which stars Jeff Daniels, Jack O'Connell and Michelle Suzanne Docker. Although this series has not been renewed for a second series due to it being a limited release, it's unique, female-dominated and has a surprising amount of realistic violence.
See the full list of 31 titles added to Netflix UK this week:
18 New Movies
Krish Trish and Baltiboy: Face Your Fears (2017)
I Am Wrath (2016)
A Christmas Prince (2017)
Métamorphoses (2014)
Steve Jobs (2015)
John Wick (2014)
Beat Bugs: All Together Now (2017)

Netflix Original

The Mortal Instruments: City of Bones (2013)
Teen Thay Bhai (2011)
Star Wars: The Force Awakens (2015)
Just My Luck (2006)
Horns (2013)
Hacksaw Ridge (2016)
Dough (2015)
Dharm (2007)
Deep (2017)
Cherry Pop (2017)
Alpha & Omega: Journey to Bear Kingdom (2016)
2 New Documentaries
Jim & Andy: The Great Beyond – Featuring a Very Special, Contractually Obligated Mention of Tony Clifton (2017) 

Netflix Original

Saving Capitalism (2017)

Netflix Original
9 New TV Series
Stretch Armstrong & the Flex Fighters – Season 1 (2017)

Netflix Original

Spirit Riding Free – Season 3 (2017)

Netflix Original

Shot in the Dark – Season 1 (2017)

Netflix Original

Luna Petunia – Season 3 (2016)

Netflix Original

Strongest Deliveryman – Season 1 (2017)
She's Gotta Have It – Season 1 (2017)
Religion of Sports – Season 1 (2017)
Godless – Season 1 (2017)

Netflix Orignal

Bright: The Music Videos – Season 1 (2017)
Frontier – Season 2 

Netflix Orignal
2 New Standup Specials
Brian Regan: Nunchucks and Flamethrowers (2017) Netflix Original
Barbra: The Music … The Mem'ries … The Magic! (2017) Netflix Original