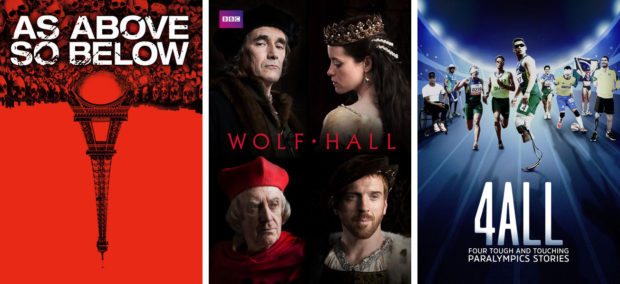 After last week's epic additions to UK Netflix, this week has certainly been much quieter…
A popular addition this week has been the BBCs drama mini-series from 2015, "WOLF HALL". Set in Tudor times, the series follows Thomas Cromwell's rise to power as Henry VIII's chief minister and most trusted adviser. The BBC do make great period drama and this critically acclaimed series is one example. Oddly, though, Netflix has seven 50min episodes as opposed to the six 1hr episodes that were aired on TV. If you've seen the BBC show and the Netflix version then please do comment and let us know if there are any major differences.
Fans of the found-footage horror genre will appreciate the addition of "As Above, So Below" from 2014. Set in the catacombs below Paris where a team of treasure hunters hope to find some ancient treasure – instead they find the gates of hell and the horrors that their darkest secrets bring with them.
With the Olympics over and the Paralympics fast approaching, Netflix have added "Paratodos" ("4All") to its roster of documentaries. The documentary follows eight top Brazilian paralympians since the London 2012 games. Sharing in both their joys and heartaches and drawing on the athletes' strength and humour.
And for the younger viewers this week we have season 2 of "Glitter Force". An animated series where a group of young girls discover they are super heroes destined to save their fairy tale world. Think of it as "Once Upon A Time" in animated form for kids with characters entering different fairy tale stories in various episodes to stop the fairy tale villains.
Read on for the full list of this week's additions:
New Movies Streaming on Netflix UK:
Abzurdah (2015)
As Above, So Below (2014)
Bare (2015)
The Concubine (2012)
Crack in the World (1965)
Dhanak (2015)
The Duel (2016)
Enemies In-Law (2015)
Eungyo (2012)
The Exclusive: Beat the Devil's Tattoo (2015)
Firstborn (1984)
Hatari! (1962)
Hope (2013)
Jeff Foxworthy and Larry the Cable Guy: We've Been Thinking… (2016)
Man on High Heels (2014)
Maz Jobrani: I'm Not a Terrorist, But I've Played One on TV (2015)
Necrofobia (2014)
Plaza Suite (1971)
Resurrection (2015)
She's Having a Baby (1988)
The Silenced (2015)
The Tuxedo (2002)
Two Can Play That Game (2001) – Streaming Again
Varsity Blues (1999)
XOXO (2016)
New Documentaries Streaming on Netflix UK:
The Human Experiment (2013)
Paratodos (2016)
Presenting Princess Shaw (2015)
New TV Series Streaming on Netflix UK:
Death in Paradise (2015) [New Episodes]
Glitter Force (2016) [Season 2 Added]
Two Fathers (2013)
WOLF HALL (2015)