New Releases on Netflix UK (26th December)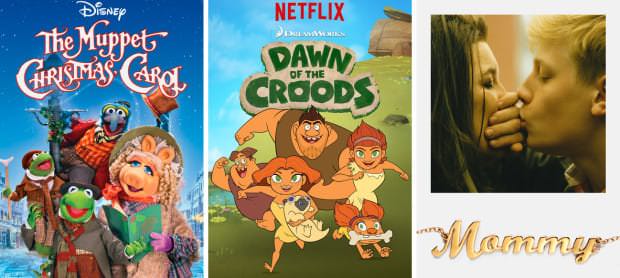 Merry Christmas everyone and welcome to this week's round up of What's On Netflix UK. First up we have the classic "The Muppet Christmas Carol" – this is one of my favourite versions of the classic Christmas tale by Dickens, and one that everyone should watch – young and old. Kermit plays Bob Cratchit, who works for the miserly Scrooge (played by Michael Caine). Through the night on Christmas Eve, Scrooge is visited by 3 ghosts and he begins to see the world in a new light – but will his Christmas cheer be restored?
If you're no longer in the mood for cheery Christmas films then "Mommy" comes recommended. This 2014 drama follows a mother (Die) and her son (Steve) coping with their change in life after Steve is de-institutionalised. With a clear love for his mother mixed with violent outbursts their life can be difficult. That is until a neighbour steps into their life – but does the neighbour need Steve and Die more than they need her?
Whatever your thoughts on modern pop music, the documentary "One Direction: This Is Us" is a fascinating watch. Essentially a 'behind-the-scenes' style film, Morgan Spurlock (of "Super Size Me" fame) follows the boys and recalls their past and upbringing. Showing a clear friendship, both on and off stage, the documentary gives an interesting look at their meteoric rise to global fame.
For the kids this week we've been given the latest Dreamworks and Netflix Original series – "Dawn of the Croods". Set before the events of the 2013 film "The Croods", the 13-episode series follows the family as they discover sports and various other 'new' experiences in their pre-historic world.
Read on for the full list of this week's additions:
New Movies Streaming on Netflix UK:
Arthur Christmas (2011)
Battlefield of Lost Souls (2014)
The Canyons (2013)
Comet (2014)
The Fighting Seabees (1944)
Fireplace 4K: Classic Crackling Fireplace from Fireplace for Your Home (2015)
Fireplace 4K: Crackling Birchwood from Fireplace for Your Home (2015)
Haywire (2011)
The Hero of Color City (2014)
How She Move (2007)
Jack Ryan: Shadow Recruit (2014)
Jennifer 8 (1992)
Mommy (2014)
The Muppet Christmas Carol (1992) – Streaming Again
October Gale (2014)
Oscillating Fan For Your Home (2015)
The Pink Panther 2 (2009)
The Pink Panther (2006)
Sleuth (2007)
Twisted (2004)
New Documentaries Streaming on Netflix UK:
Go Grandriders (2012)
Jimmy Goes to Nollywood (2015)
One Direction: This Is Us (2013)
New TV Series Streaming on Netflix UK:
Dawn of the Croods (2015) [Season 1 Added]
Dinosaur Train (2009) – Streaming Again
Sammy & Co (2014)