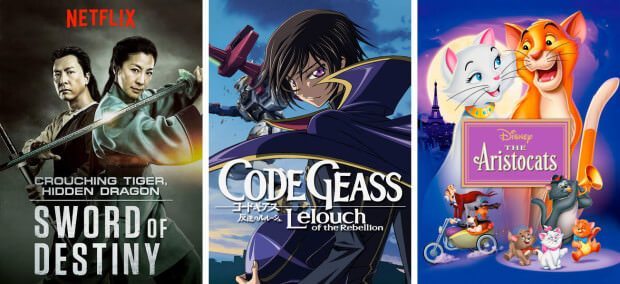 Another great week even though we're reaching the end of the month. Today I'm excited about the long-awaited (it was initially scheduled for August 2015) sequel to the 2000 film "Crouching Tiger, Hidden Dragon". The sequel, "Crouching Tiger, Hidden Dragon: Sword of Destiny" sees Yu Shu Lien coming out of retirement to protect a powerful sword from getting into the wrong hands. Unlike the original, "Sword of Destiny" has full English dialogue (although Chinese audio is available) but there's still plenty of crazy martial arts and sword fighting. Let us know what you think of it once you've seen it!
Anime fans have been treated to "Code Geass: Lelouch of the Rebellion" – a futuristic series where The Empire of Britannia take over the world using giant robots. Lelouch, a Britannian outcast and high school kid, gets granted powers by a witch so he can control the will of anyone he chooses. Using this power he starts an uprise against the invading Britatnnians.
The amusing "Bad Grandpa", from the team who brought you Jackass, has been added this week. The geriatric Irving Zisman travels across America with his 8 year old grandson in order to reunite him with his father. In true Jackass fashion it is filled with outrageous pranks played out in front of unsuspecting members of the public.
Article Continues Below...
And, finally for this week, the kids' classic "The Aristocats" has been made available again. When a rich Parisian lady leaves her fortune to her cat Duchess and her kittens (Marie, Berlioz and Toulouse) her jealous butler plots to kidnap the feline family and keep the inheritance for himself. Duchess gets help from a smooth-talking tom cat in order to escape and return home.
Read on for the full list of this week's additions:
New Movies Streaming on Netflix UK:
The Aristocats (1970) – Streaming Again
Bad Grandpa .5 (2014)
Crouching Tiger, Hidden Dragon: Sword of Destiny (2016)
Enchanted (2007) – Streaming Again
The Little Prince (1974)
The Lonely Man (1957)
Muppets Most Wanted (2014)
Playing for keeps (2012) – Streaming Again
Theo Von: No Offense (2016)
New TV Series Streaming on Netflix UK:
Code Geass: Lelouch of the Rebellion (2006)
Community (2014) [Seasons 2 & 5 Added; 1-5  now available]
Fuller House (2016) [Season 1 Added]
Go! Mrs. Go! (2012)
Heartless City (2013)
Love Again (2012)
Taarak Mehta Ka Ooltah Chashmah (2008)