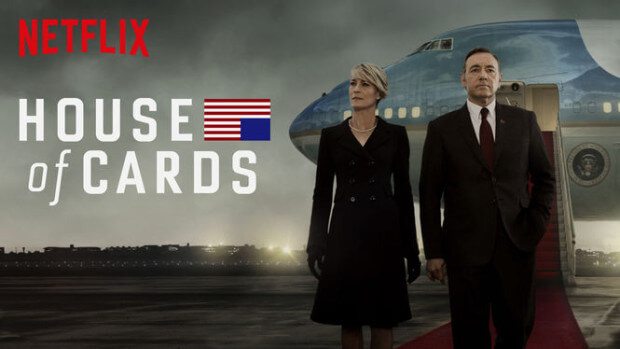 I can't believe we're at the end of February already. Not only does this mean that in a couple of days we'll have a surge of new additions for March but also that in about 31 days I'll be throwing myself out of an aeroplane :/ You see, I hate heights so I thought it would be a great idea to do a sky dive to raise money for the National Autistic Society during World Autism Awareness Week. Sensible, yes? Well, if you would like to sponsor me then you can do so here: https://mydonate.bt.com/fundraisers/maftjump. Now, onto this week's additions!
Season 3 of the award-winning Netflix Original "House of Cards" was added today. The series, starring Kevin Spacey, centres around Francis and Claire Underwood in Washington DC. Season 3 begins with Frank now being the President of The USA…
1993's "Kalifornia", starring Brad Pitt and Juliette Lewis, follows a journalist and his cohorts  across America visiting various murder sites. As time progresses, the group become suspicious that one of their members may be a killer themselves.
And, finally, "Season of the Witch", starring Nicholas Cage and Christopher Lee, sees some 14th Century knights transporting a suspected witch to a monastery where a group of monks deduce she could be the source of the black plague. But is everything really as it seems? What will the group discover at the monastery…?
Read on for the full list of this week's additions:
New Movies Streaming on Netflix UK:
A Family Thing (1996)
An All Dogs Christmas Carol (1998)
Battle of Britain (1969)
Death at a Funeral (2007)
Death Wish 3 (1985)
Five Card Stud [5 Card Stud] (1968)
Flying Tigers (1942)
French Kiss (1995)
Friends (1971)
Hannah and Her Sisters (1986)
Kalifornia (1993)
King David (1985)
Miss Bala (2011)
Oh! What a Lovely War (1969)
Ralphie May: Unruly (2015)
Season of the Witch (2011)
Snow White [Snow White: A Cannon Movie Tale] (1987)
Species III (2004)
This Is 40 (2012)
Vessel (2014)
Walesa: Man of Hope [Walesa. Czlowiek z nadziei.] (2013)
New Movies Streaming on Netflix UK:
House of Cards (2013-2015) – Season 3 added