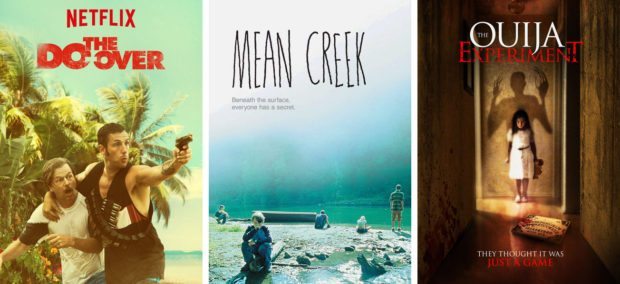 This week we've been given the 2nd in a string of Adam Sandler Movies exclusive to Netflix. "The Do-Over" sees Sandler play as Max who meets up with his old school friend , Charlie, at a 25th anniversary reunion. The thing is, their lives haven't turned out that great and, after rekindling their old friendship, Max persuades a somewhat-hesitant Charlie to join him in faking their own deaths. It's not long until problems start to arise…
"Mean Creek" is a film about bullying and revenge. When Sam gets bullied by a local teen, his older brother plans revenge by inviting the bully and some other friends to a fake birthday surprise in the woods. But will everyone want to seek revenge? And just what, exactly will end up happening in the woods…?
Fans of horror will be pleased with three additions this week: "The Ouija Experiment", "The Ouija Experiment 2: Theatre of Death" and "Krampus: The Christmas Devil". If natural history is more your thing then there are some great Australian-based shows that have been added: "Danger Down Under" , "Australia's Deadliest Destinations" and "Australia's Deadliest Sea Creatures".
It's been a fairly quiet week but we'll be back with more next time as we celebrate the 'First of The Month' additions!
Read on for the full list of this week's additions:
New Movies Streaming on Netflix UK:
The Court Jester (1955)
David and Goliath (2015)
The Do-Over (2016)
Houdini (1953)
Krampus: The Christmas Devil (2013)
Mean Creek (2004)
No Man of Her Own (1950)
The Ouija Experiment (2011)
The Ouija Experiment 2: Theatre of Death (2015)
Staying Alive (1983)
New Documentaries Streaming on Netflix UK:
Australia's Deadliest Destinations (2009)
Australia's Deadliest Sea Creatures (2006)
Cartel Land (2015) – Streaming Again
Danger Down Under (2003)
The Last Man on the Moon (2014)
New TV Series Streaming on Netflix UK:
A.D. Kingdom and Empire (2015)
Bloodline (2016) [Season 2 Added]
Chef's Table (2016) [Season 2 Added]
Dramaworld (2016)
Mako Mermaids: An H2O Adventure (2016) [Season 4 Added]
Red vs. Blue (2015) [New Episodes]