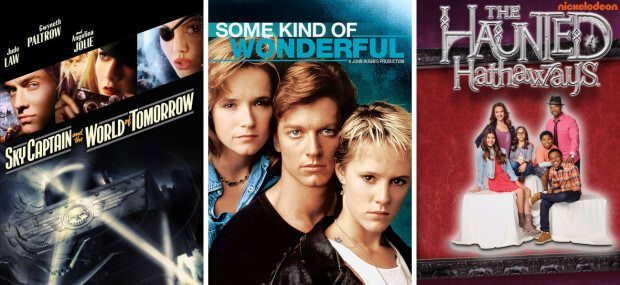 Have you all watched Jessica Jones yet then? I'm halfway through and loving it but have so many other things on my watch list…! As such, I'm quite glad that it's been a fairly quiet week as I already have enough to get through!
First up in this week's run-down of what's new on Netflix UK is "Sky Captain and the World of Tomorrow". In this sci-fi film set in 1939 a number of scientists around the world start to disappear mysteriously. Then, when New York City is attacked by giant, flying robots a budding reporter finds a link between the two occurrences. She sets out with her ex-boyfriend, a pilot, to find the source of the attacks and try to find the reasons behind them and the disappearing scientists.
If romance is more your thing then take a look at "Some Kind of Wonderful". This late 80's romantic drama sees tomboy, Watts, falling for her best friend Keith. However, her love is unrequited as he chases after the most popular girl in school instead.
Article Continues Below...
And for the younger ones this week is Nickelodeon's "The Haunted Hathaways" series. When the Hatahway family, single mum and her two daughters, move from New York to New Orleans they realised that their house is haunted by the ghost of a single dad and his two sons. Their attempt at normal life might not go to plan…
Read on for the full list of this week's additions:
New Movies Streaming on Netflix UK:
Beavis and Butt-head Do America (1996)
Bedtime Stories (2008) – Streaming Again
King Solomon's Mines (1985)
Kuch Kuch Hota Hai (1998)
The Last Stand (2013)
Love Is Strange (2014)
Mortdecai (2015)
Pound of Flesh (2015)
Red Riding Hood (1989)
Rhymes for Young Ghouls (2013)
Sky Captain and the World of Tomorrow (2004)
Some Kind of Wonderful (1987)
New TV Series Streaming on Netflix UK:
Derek (2015) [Season 3 Added]
The Haunted Hathaways (2014)