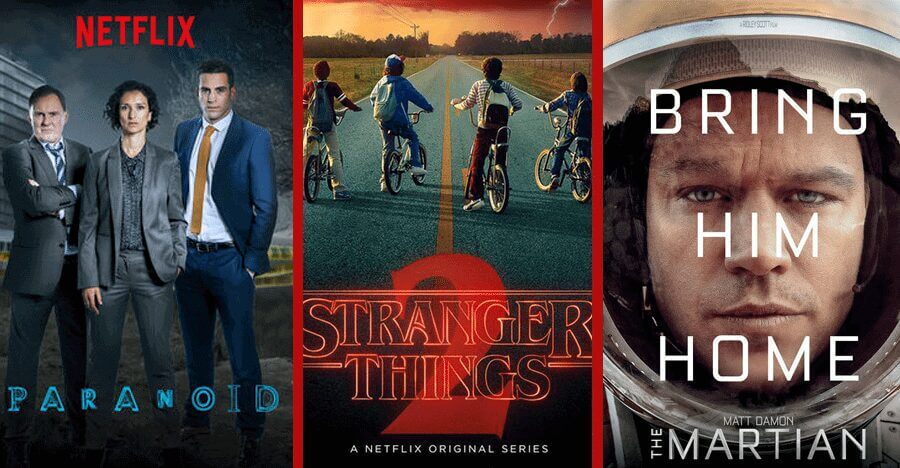 It's almost the end of October now, which means that Halloween is almost here! For those of you who like spooky films and TV shows, you're in luck. For those who don't, there's still plenty for you too! As always, we're here to pick our favourites out of the bunch so that you don't miss the greatest shows added to Netflix UK. This week, 27th October 2017, there's a total of 29 new titles which includes 14 new movies, 13 new TV series, one documentary and one stand-up special.
It's the week we've all been waiting for. It seems so long ago that we were all excited about season one and couldn't wait for what happens next. Well, the wait is over… Stranger Things season two is finally here and there's no doubt that many of us will be binge watching this weekend. This thrilling Netflix Original keeps us all intrigued when a young boy goes missing and we're introduced to a whole new world of creatures, experiments and an interesting little girl. Season two has come just in time for Halloween and it holds many surprises, and possibly answers, for us all. If that wasn't enough, Beyond Stranger Things has also been released, which gives us an insight into season two and tells us all the secrets we want to know. Be careful, it holds lots of spoilers!
Our second pick of the week is the film The Martian. Things go wrong for one man when he's stuck on a planet with nobody to offer him help. It seems that all is lost until he decides to make it work. It's a good job that he happens to be the best botanist in the galaxy. He survives and does not give up hope. He's determined to find a way to send a message home to let everyone know that he's alive. The big question is: will he manage to find his way home again or will he give up hope? This is a great movie if you're into sci-fi and action. Starring Matt Damon, this film won the Golden Globe Award for Best Motion Picture.
If you're into British crime dramas, our final pick is a great option for you. Paranoid (2016), which originally aired on ITV, has come to Netflix UK. This eight-part series focuses on the murder of a woman in a children's playground and the detectives who attempt to find the killer. The problem is, this is not an ordinary case. It seems that it has a darkness that they weren't expecting and they can't help but be drawn in. Will they find out who the murderer is? Take a look at Paranoid to find out.
Article Continues Below...
See the full list of 29 titles added to Netflix UK this week:
14 New Movies
Aashayein (2010)
Another Forever (2016)
Fallen (2016)
Humko Deewana Kar Gaye (2006)
I Know What You Did Last Summer (1997)
Kajraare (2010)
Karzzzz (2008)
Patiala House (2011)
Ready (2011)
Run All Night (2015)
Shelter (2010)
Strange Weather (2016)
The Liar (2013)
The Martian (2015)
13 New TV Series
Argon (Season 1)
Beyond Stranger Things (Season 1)
Black (Season 1)
First Love (Season 1)
Good Time (Season 1)
Hey, Kids! (Season 1)
If Life Cheats You (Season 1)
Paranoid (Season 1)
Prince Jai Aur Dumdaar Viru (1 Season)
Scorpion (Season 3)
Stranger Things (Season 2)
True and the Rainbow Kingdom (Season 2)
Wanted (2 Seasons)
1 New Documentaries
Joan Didion: The Center Will Not Hold (2017)
1 New Standup Specials
Jack Whitehall: At Large (2017)