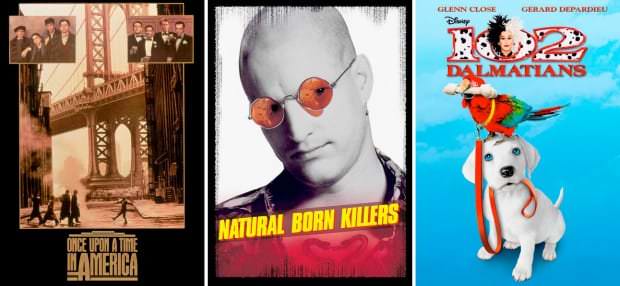 Ask anyone to name a long film and chances are they will suggest "Lord of The Rings" but the 1984 crime epic, "Once Upon a Time in America", clocks in at a massive 3hr 49m – officially the longest film on Netflix UK. Set in 1920's, 1930's and 1960's New York a group of Jewish mobsters rise to the top of the crime underworld. The film follows them from their childhood, through their rise during prohibition-era and then 35 years later when they meet up again to face demons from their past.
Another modern classic is "Natural Born Killers" starring Woody Harrelson and Juliette Lewis. This visual feast follows Mickey and Mallory Knox, a pair of serial killers who always leave one person alive after each killing spree. The media pick up on them and, rather irresponsibly, sensationalise their crimes. It's violent, it's gritty and it's highly entertaining if you like that sort of thing.
Fans of US TV will be please with the additions of the 6th season of "The Good Wife" and the return of seasons 1-6 of "Heartland". There have also been a number of Korean shows added such as "Can We Get Married?" and "Secret Affair".
Younger viewers will enjoy the live-action, canine-powered Disney sequel "102 Dalmatians". Cruella De Vil is out from prison as a changed woman but when the effects of her rehabilitation are reversed, she goes back to her dalmation-stealing ways…
And, lastly, I need to apologise for the lack of update last week – I'd love to have some great excuse that would make you all feel sorry for me but the truth is, I wrote the post and just forgot to hit 'publish'!
Read on for the full list of the last 2 week's additions:
New Movies Streaming on Netflix UK:
102 Dalmatians (2000) – Streaming Again
The Geisha Boy (1958)
Kal Ho Naa Ho (2003)
Killer: A Journal of Murder (1996)
Loins of Punjab (2007)
The Love Bug (1968) – Streaming Again
The Man Who Could Cheat Death (1959)
Maz Jobrani: Brown and Friendly (2009)
Natural Born Killers (1994)
Once Upon a Time in America (1984)
Out of My Hand (2015)
Play It Again, Sam (1972)
Poltergeist (2015)
The Ten Commandments (1923)
Ungli (2014)
New Documentaries Streaming on Netflix UK:
Chelsea Does (2016)
Inshallah, Kashmir (2012)
New TV Series Streaming on Netflix UK:
Beating Again (2015)
Black Lagoon (2006)
Black Lagoon: Roberta's Blood Trail (2010)
Can We Get Married? (2012)
The Good Wife (2014) [Season 6 Added]
Heartland (2012) – Streaming Again – [Seasons 1-6 Added]
Red vs. Blue (2015) – Streaming Again – [Volumes 6-13 Added]
Secret Affair (2014)
Tenkai Knights (2013)
This is My Love (2015)
Yudh (2014)