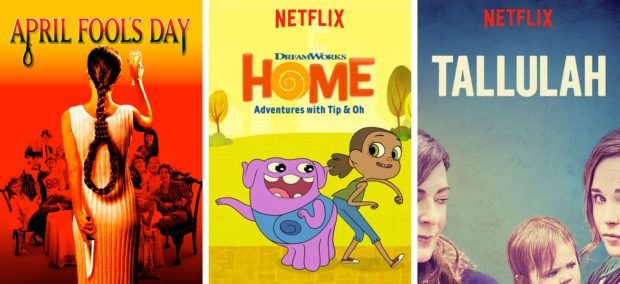 Welcome to a slightly later than normal What's On Netflix UK weekly roundup – you can blame awful traffic on the M5 for the delay… So, without further ado here are my picks for this week:
First up is a new Netflix exclusive/original movie called "Tallulah". When a drifter, Tallulah, gets hired as a nanny by a Beverley hills mother her life changes dramatically. Realising her new boss is somewhat neglectful, she hired a drifter afterall, Tallulah decides to kidnap the baby and pass it off as her own.
"April Fool's Day" is a classic 80's slasher film from Director Fred Walton ("When A Stranger Calls"). Nine college friends meet up at another friends island mansion and soon realise that each of them has a hidden secret. It doesn't take long until one of them is murdered by a mysterious killer and the bodies soon start piling up…
Season 12 of the amusing and often interesting "QI" has been added. This unique format discusses various topics with points awarded for knowing 'quite interesting' facts. It's more of a group of comedians and celebrities chatting about various things than it is a traditional quiz show. If you've never watch it then give it a try – you might be surprised! This is the final series hosted by Stephen Fry.
For the younger viewers this week Season 2 of "LEGO Bionicle: The Journey to One" has been added along with the short film "Kung Fu Panda: Secrets of the Scroll". Also new this week is a new cartoon series based on the hit DreamWorks' movie Home: "Home: Adventures with Tip and Oh".
Read on for the full list of this week's additions:
New Movies Streaming on Netflix UK:
April Fool's Day (1986)
The Burning Plain (2008)
Hard Eight (1996)
It Started in Naples (1960)
Kung Fu Panda: Secrets of the Scroll (2016)
Paper Planes (2014)
Pretty Baby (1978)
Tallulah (2016)
The Tenant (1976)
New Documentaries Streaming on Netflix UK:
Last Chance U (2016) [Season 1 Added]
New TV Series Streaming on Netflix UK:
Home (2016) [Season 1 Added]
LEGO Bionicle: The Journey to One (2016) [Season 2 Added]
Popples (2016) [Season 3 Added]
QI (2014) [New Episodes]