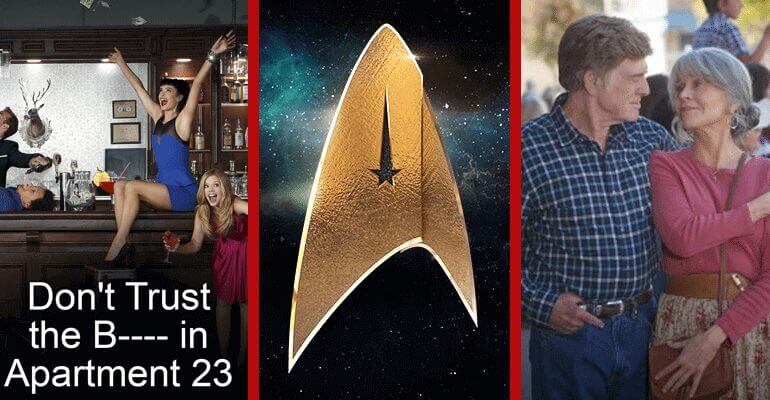 It's the end of September and with that comes more good titles. I'm sure we'll get plenty of other good ones next week but for now, we're going to give you our top picks out of the 42 new titles added to Netflix UK this week. Among the 42 new titles, there are a total of 16 new movies, five new documentaries and 21 new TV series available for you to watch. This week, 29th September 2017, you might just find your new favourite show.
First up we have the TV series Don't Trust the B—- in Apartment 23 (2012) which is an easy watch. The show welcomed its second series to Netflix, meaning you have both seasons to watch if you've never seen it before. The show is about a young woman called June who wants to make her dreams come true in Manhattan. However, it's not her ambitions that make her life interesting – it's her roommate, Chloe. June is responsible and thoughtful, which is the opposite of her new found 'friend'. Chloe is played by Krysten Ritter, so if you liked her in Jessica Jones you'll probably find her character in Don't Trust the B—- in Apartment 23 a slight shock. This series is enjoyable, a bit cheesy and funny.
Our next pick of the week is Star Trek: Discovery – Season 1 (2017). With one episode available per week, it'll give you something to look forward to. Star Trek is a name that the majority of people recognise as it's been available in movies and TV shows over the years. The new series will be the first in 16 years, so it's pretty awesome that we get to watch it on Netflix whenever we want. The series will probably bring back a lot of memories but its main focus is on the war between the Federation and Klingon Empire. There are already two episodes available to watch, so it's perfect for your Friday evening.
The final pick of the week is Our Souls At Night (2017) which is a new Netflix Original. It's a film based on loss, light and love. Imagine losing the one person you connect with most in the world. Imagine sleeping in a bed, alone, without them there to brighten up your morning. It's a difficult time for neighbours Addie and Louis as they've both lost their partner. In an attempt to fight the shadows of loneliness, the pair decides to sleep in the same bed as friends. However, they weren't expecting it to turn into anything more. Perhaps they'll find their true happy ending with each other, just as they deserve.
Take a look at the full list of 42 new titles:
16 New Movies on Netflix UK
Los Herederos (2015)
Kung Fu Yoga (2017)
The Bar (2017)
Blue Is the Warmest Color (2013)
Bandits (2001)
Def Comedy Jam 25 (2017) Netflix Original
Vertical Limit (2000)
Much Loved (2015)
Manhattan Romance (2014)
Wedding Daze (2006)
Nymphomaniac: Volume II (2013)
Nymphomaniac: Volume 1 (2013)
Sydney White (2007)
Satu Hari – Season 1 (2014)
Our Souls At Night (2017) Netflix Original
Gerald's Game (2017) Netflix Original
5 New Documentaries on Netflix UK
Night School (2016)
Restless Creature: Wendy Whelan (2016)
Being Canadian (2015)
Teach Us All (2017)
Long Shot (2017) Netflix Original
21 New TV Series on Netflix UK
Terrace House: Aloha State – Season 4 (2016) Netflix Original
Worst Thing I Ever Did – Season 1 (2014)
Tornado Hunters – Season 1 (2015)
The Devil You Know – Season 2 (2013)
Sports on Fire – Season 1 (2015)
Star Trek: Discovery – Season 1 (2017) Netflix Original
Mega Builders – Season 2 (2010)
Great Wild North – Season 1 (2015)
Emergency – Season 1 (2015)
Drug Wars – Season 1 (2015)
Dangerous Persuasions – Season 1 (2015)
Making of the Mob: New York – Season 1 (2015)
Don't Trust the B—- in Apartment 23 – Season 2 (2012)
Designated Survivor – Season 2 (2016) Netflix Original
Beautiful Secret – Season 1 (2015)
Very Bad Men – Season 3 (2013)
The Magic School Bus Rides Again – Season 1 (2017)
Real Rob – Season 2 (2015)
Mak Cun – Season 1 (2015)
Club de Cuervos – Season 3 (2015) Netflix Original
Big Mouth – Season 1 (2017)