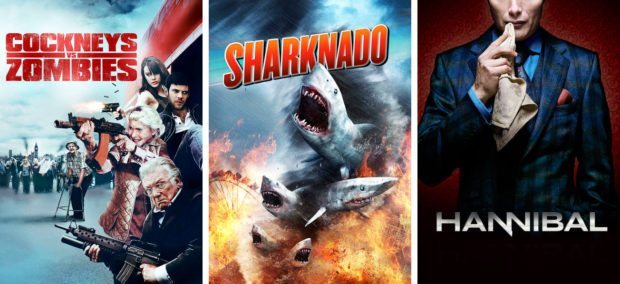 It's a new month which means lots of new additions and yesterday brought some scorchers. As usual for 'First of the Month' posts there are far too many titles to write about so I'll pick out a few of my recommendations and you can leave your suggestions in the comments.
First up is the modern-day classic "Sharknado", one of the less serious movies of recent years. Created by SyFy as a straight-to-TV movie, the film sees a freak storm whip up sharks and deposit them on Los Angeles where they terrorise the population. It really is as silly as it sounds and two sequels ("Sharknado 2: The Second One" and "Sharknado 3: Oh Hell No!") are also available on Netflix UK.
Following on with the less-than-serious theme we have "Cockneys vs Zombies" set in the East-End of London. A group of criminals decide to rob a bank in order to save their grandparent's care home from being shut down and redeveloped – it doesn't go very well and they find themselves surrounded by the police. Upon leaving the bank, however, the police are all dead and hungry zombies are roaming the town. The criminals must team up with the pensioners, find some big guns and save London from the living dead.
Season 1 of "Hannibal" has arrived. The psychological thriller TV series is set in the earlier years of Dr Hannibal Lecter ("Silence of The Lambs") and his relationship with a criminal profiler from the FBI. Cancelled after 3 seasons due to low viewing figures this is actually a very popular series and worth a watch if you're a fan of the genre.
Also worth mentioning are season 2 of Netflix Original "Narcos", the return of "Get Shorty", the classic 70s horror "Piranha" and the angry antics of stand-up comedian "Bill Hicks: Sane Man".
For the younger viewers we have three more Air Bud movies: "Air Bud: World Pup", "Air Bud: Spikes Back" and "Air Buddies". These dog-based Disney movies make for great family entertainment and are nice, easy watches.
Read on for the full list of this week's additions and let us know your top picks in the comments:
56 New Movies Streaming on Netflix UK:
6 Bullets (2012)
99 (2009)
A Dangerous Man (2009)
A Noble Intention (2015)
A Perfect Day (2015)
Air Bud: Spikes Back (2003)
Air Bud: World Pup [Air Bud 3] (2000)
Air Buddies (2006)
And Soon the Darkness (2010)
The Apparition (2012)
Baby Boom (1987)
Behind Enemy Lines (1997)
Bill Hicks: Sane Man (1989)
Bon Bini Holland (2015)
Born to Raise Hell (2010)
Broken City (2013)
Captivity (2007)
Cash Only (2015)
Chernobyl Diaries (2012)
Cockneys vs Zombies (2012)
Code Name: Geronimo (2012)
Consumed (2015)
Day of the Dead (2008)
Dukhtar (2014)
The Eye (2008) – Streaming Again
Father's Chair (2012)
Get Shorty (1995) – Streaming Again
Hector (2015)
In the Valley of Elah (2006)
Incendiary (2008)
The Keeper (2009)
Largo Winch: Deadly Revenge (2008)
Make It Happen (2008)
Manhole (2014)
Maximum Conviction (2012)
Miss Lovely (2012)
My Blueberry Nights (2007)
Nothing in Return (2015)
OFF COURSE (2015)
Pan's Labyrinth (2006)
Piranha (1978)
Queen of the Night (2013)
Rosewood Lane (2011)
Sam Kinison: Breaking the Rules (1987)
Sharknado (2013)
Smother (2008)
Take This Waltz (2011)
Tazza: The Hidden Card (2014)
Toro (2016)
Universal Soldier: Day of Reckoning (2012)
Universal Soldier: Regeneration (2009)
Urge (2016)
Waffle Street (2015)
We Need to Talk (2016)
The Wrestler (2008)
Z for Zachariah (2015)
18 New Documentaries Streaming on Netflix UK:
A Conversation with Gregory Peck (1999)
Alien Mummies (2012)
Baby Animals in the Wild (2015)
City 40 (2016)
Hello I Am David! (2015)
Holy Hell (2016)
I Am the Ambassador (2015)
Janis: Little Girl Blue (2015)
Knocking on Heaven's Door (2011)
Live and Let Live (2013)
Magic of Houdini (2014)
Placebo (2014)
Searching for Sugar Man (2012)
The State of Marriage (2015)
Those Who Feel the Fire Burning (2015)
Trainer! (2013)
The Wheelchair President (2015)
Who Took Johnny (2014)
18 New TV Series Streaming on Netflix UK:
Celebrity Plastic Surgeons of Beverly Hills (2016)
Chef's Table: France (2016) [Season 1 Added]
Easy Fortune Happy Life (2009)
The Fierce Wife (2010)
Figaro Pho (2008)
Game Winning Hit (2009)
Hannibal (2013)
India's Frontier Railways (2014)
Kulipari: An Army of Frogs (2016) [Season 1 Added]
Lucky Days (2010)
Narcos (2016) [Season 2 Added]
Offspring (2014)
Race for the White House (2016)
Ruby's Studio (2015)
The Shannara Chronicles (2016)
Transformers: Robots in Disguise (2015)
The Womanizer (2010)
The Year of Happiness and Love (2009)