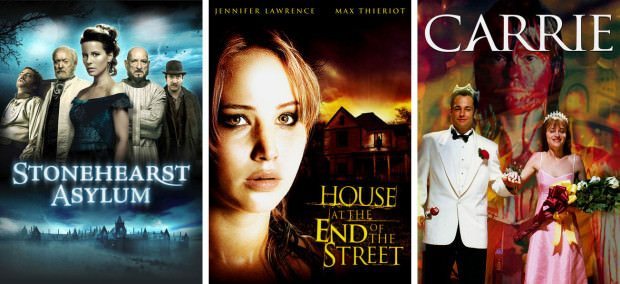 Merry Halloween and season's greetings to you all on this cold, wet, witch-infested weekend. This week's update is going to be horror-themed, so look away now if this isn't your thing!
First up this week is "Stonehearst Asylum", set in an asylum in 1899 a new doctor, recently graduated, arrives for an apprenticeship. From the outset he questions some of the unorthodox techniques but then later discovers that all is not quite what it seems… The film, perhaps more thriller than horror, was based on a short story by Edgar Allan Poe.
Teen horror "House at the End of the Street", starring Jennifer Lawrence, has been made available again this week. When a family moves to a new town Elissa befriends a boy on the street. Strange events start to happen that seem linked to the boy who, it transpires, was the sole survivor of a recent double murder and the town s keeping a chilling secret…
Stephen King's "Carrie" has had a couple of remakes and this week we've been given the 2002 TV-movie version of the film. Carrie lives a sheltered life thanks to her highly-religious mother and suffers from persistent bullying at school. When events at school become too much she uses her new-found gift of telekinesis to wreak havoc and revenge on her peers and the town. The 2013 remake is also available.
Some other noteworthy additions this week, not Halloween-related, include the Disney film "Saving Mr. Banks", Michael Moore's documentary "Capitalism: A Love Story" and the welcome return of the classic "Of Mice and Men". Have a good week :)
Read on for the full list of this week's additions:
New Movies Streaming on Netflix UK:
All Dogs Go to Heaven 2 (1996) – Streaming Again
Barfly (1987)
Bat*21 (1988)
Born Losers (1967)
Bunks (2014)
Carrie (2002) – Streaming Again
The Cutting Edge: Going for the Gold (2006) – Streaming Again
Gang Related (1997)
House at the End of the Street (2012) – Streaming Again
Intersection (1994)
Man of La Mancha (1972)
Manson Family Vacation (2015)
Of Mice and Men (1992) – Streaming Again
The Party (1968)
The Prince and the Pauper (1962)
Saving Mr. Banks (2013)
The Spy Next Door (2010) – Streaming Again
Stonehearst Asylum (2014)
Tom Sawyer (1973)
New Documentaries Streaming on Netflix UK:
112 Weddings (2014)
Capitalism: A Love Story (2009)
Cracking the Da Vinci Code (2004) – Streaming Again