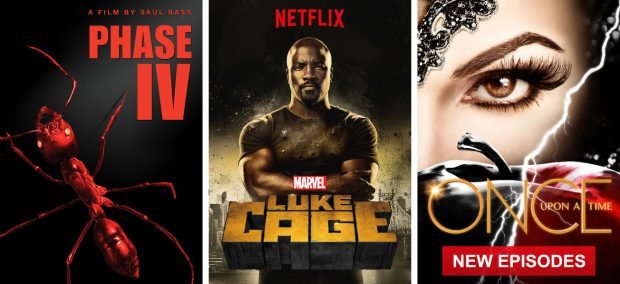 We've reached the end of a busy month for Netflix UK with 177 new titles added this month! I can't wait for what October brings, but for now here are my picks for this week:
First up we have the 70's cult sci-fi/horror "Phase IV" set in the Nevada Desert. Highly intelligent ants decide they want to expand their territory and destroy humanity at the same time and it's up to two scientists and a rescued girl to destroy the ant colony.
Two Netflix Originals are on my list this week. First up is "Marvel's Luke Cage", who we first met in "Jessica Jones". The rock-hard, indestructible Mr Cage, an ex-con, takes to the streets to clear his name and unwittingly becomes the city's hero.
The other Netflix Original is the documentary "Amanda Knoxx" a controversial documentary that has caused quite a stir. Knoxx was imprisoned after the murder of Meredith Kercher and later acquitted… twice. The documentary has Knoxx and a number of people involved in the case speaking about the whole experience.
TV fans will appreciate the return of "Peep Show", nine seasons in fact! ALso added in TV is season 6 of "Once Upon a Time" and, like seasons 4 and 5, we will be getting each new episode the day after it airs in America. Another popular TV addition is "Freaks and Geeks" – season 1 is available now and more seasons will be added in October.
And for the younger viewers this week I recommend "The Boxtrolls". This is a great family tale about sticking together and has a great visual style. A young orphan called 'Eggs' gets taken in by some small trolls and becomes one of their family. But when exterminators try to wipe out the trolls Eggs and the rest of his 'family' team up with a young rich girl to try and save the trolls.
Read on for the full list of this week's additions and let us know in the comments what you recommend:
14 New Movies Streaming on Netflix UK:
1920 London (2016)
Approaching the Unknown (2016)
Ashby (2015)
The Boxtrolls (2014)
Crossing Point (2016)
Delirium (2014)
February (2015)
I Love You, Man (2009)
Mad Hot Ballroom (2005)
Manhattan Undying (2016)
Margaret Cho: PsyCHO (2015)
Natural Born Pranksters (2016)
Phase IV (1974)
Victoria (2015)
4 New Documentaries Streaming on Netflix UK:
Amanda Knox (2016)
Codegirl (2015) – Streaming Again
Froning (2016)
Religulous (2008) – Streaming Again
12 New TV Series Streaming on Netflix UK:
Blaze and the Monster Machines (2014)
Freaks and Geeks (1999) [Season 1 Added]
Game of Silence (2012)
Heir Hunters (2010)
House of Fools (2015) [Season 2 Added]
Love Bird (2013)
Magnificent Century (2011)
Marvel's Luke Cage (2016) [Season 1 Added]
Once Upon a Time (2016) [Season 6 Added, New Episodes Every Wednesday]
Peep Show (2015) – Streaming Again
People Just Do Nothing (2014)
The Pinkertons (2015)
RuPaul's Drag Race (2015) [Season 6 Added]