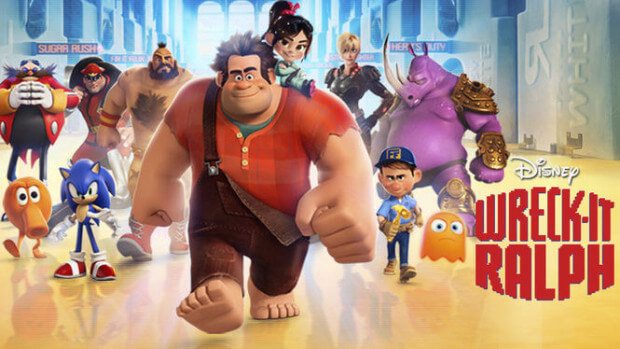 Wow, what a week again! Another set of great additions and I'm currently sat in my mum's car driving to Lancaster for a charity sky dive! Hopefully it won't be cancelled by bad weather this time…
A great documentary has arrived in the form of "Atari: Game Over". Released last year the documentary follows the demise of the game company Atari. The documentary hit the news when the team discovered the ET game cartridges that had famously been dumped in landfill – but no one ever really knew if it was just an urban legend.
If you're a fan of the Star Trek reboots then you'll be pleased to see the addition of "Star Trek: Into Darkness" from 2013. Kirk, Spock and the crew of The Enterprise head off to the planet Nibiru and find a one-man weapon of mass destruction. They must then try save the Earth from the threat in this action-packed film.
Sticking with the sci-fi theme we also have "Earth To Echo" – a great family-friendly sci-fi film. The film follows a group of young friends as their home town is demolished to make space for a new freeway but when they all start to receive strange 'glitches' and messages on their phones it turns out there is more to it than they realise. We see the film through their eyes, or rather their camcorders and Go-Pro's as they find an alien robot and help him get back to his spaceship.
And for the kids this week we have the wonderful "Wreck-It Ralph". This Disney-Pixar film follows the lives of computer game characters once the arcade closes down for the night. Ralph's role in the game is to wreck things but outside of the game he is a loveable, friendly man who just wants to be accepted. With a plethora of cameos from famous computer games throughout the years the film is enjoyable for all generations!
And to finish off this week's update there are loads of new seasons added for various TV series!
Oh, and it looks like the sky dive is being cancelled now because of the weather :(
Read on for the full list of this week's additions:
New Movies Streaming on Netflix UK:
A Field Full of Secrets (2014)
All Relative (2014)
Anatomy of a Love Seen (2014)
Approaching The Elephant (2014)
Atari: Game Over (2014)
Begin Again (2014)
Big Star: Nothing Can Hurt Me (2012)
Chef (2014)
Chimpanzee (2012)
Devil's Backbone Texas (2014)
Earth to Echo (2014)
The English Teacher (2013)
Glick Doesn't Do Red Carpet: Jiminy Glick at the Independent Spirit Awards (2008)
Happy Gilmore (1996)
Homeward Bound [Homeward Bound: The Incredible Journey] (1993)
Jimmy's Hall (2014)
Maravilla (2014)
Nfinity Champions League Cheerleading Event (2014)
The Notorious Mr. Bout (2014)
Queen (2014)
Red Hill (2010)
Splatter (2009)
Spy Kids 3: Game Over [Spy Kids 3-D: Game Over] (2003) – Streaming Again
Star Trek Into Darkness (2013)
Swearnet: The Movie (2014)
Wreck-It Ralph (2012)
New TV Series Streaming on Netflix UK:
Barbie Life in the Dreamhouse (2012) [New Episodes]
Bob Servant Independent (2013) [Season 1 Added]
Call the Midwife (2012-2013) [Season 3 Added]
Death in Paradise (2011-2013) [Season 2 Added]
Father Brown (2013) [Season 1 Added]
Grimm (2011-2013) [Season 3 Added]
Hidden Kingdoms (2014) [Season 1 Added]
Julius Jr. (2013) [Season 1 Added]
Louis Theroux: LA Stories (2014) [Season 1 Added]
Maya the Bee (2012) [Season 1 Added]
Orphan Black (2013-2014) [Season 2 Added]
Outnumbered (2007-2014) [Season 5 Added]
The Paradise (2012-2013) [Season 2 Added]
Peppa Pig (2004) [Season 1 Added]
QI (2008-2013) [Season 6 Added]
Residue (2015) [Season 1 Added]
Spooks (2002-2011) [Season 10 Added] – Streaming Again
Suits (2011-2013) [Season 3 Added]
TEDTalks: Animal Voices (2015) [Season 1 Added]
Top Gear (2007-2014) [Season 20 Added]
Top Gear: The Perfect Road Trip (2013) [Season 1 Added]
The Trip (2010-2014) [Season 2 Added]
Vic the Viking (2014) [Season 1 Added]
The Wrong Mans (2013) [Season 1 Added]
Zen (2011) [Season 1 Added]