New Releases on Netflix UK (3rd July)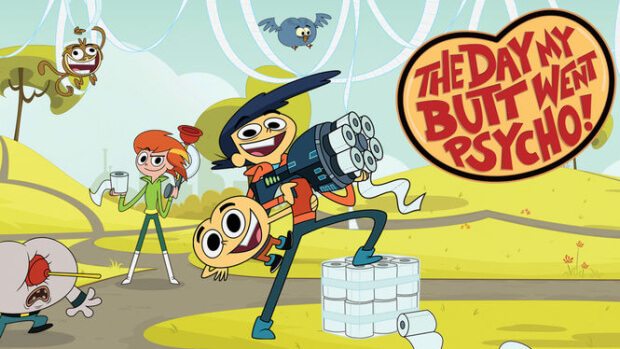 It's been a quiet week for the start of a new month but there are a few goodies for you all on Netflix UK.
A few big series have been updated this week. Season 7 of "Sons of Anarchy" has been added alongside season 5 of the sci-fi series "Warehouse 13". Netflix's exclusive anime series "Knights of Sidonia" has had season 2 added as well as season 5 of "White Collar".
The 2014 thriller "The Guest" has checked in too. The Peterson's lost their son, a soldier, recently and when a stranger appears at their home claiming to be a good friend of his then he is welcomed in. However, after a series of accidental deaths that seem linked to their new guest, things seem to take a turn…
And, finally, the award for Weirdest Title on Netflix goes to "The Day My Butt Went Psycho!". 2 seasons of this slightly obscure kids series have been added. Words honestly fail me, so this is how Netflix describes the series: 'A boy and his best friend — his newly detached butt — embark on wacky adventures in a world where humans and their butts live side by side.'
Read on for the full list of this week's additions:
New Movies Streaming on Netflix UK:
A Teacher (2013)
The Boys Are Back (2009)
Dancing in the Light: The Janet Collins Story (2015)
Dave Attell: Road Work (2014)
Dracula 2000 (2000) – Streaming Again
Finding Fela (2014)
The Guest (2014)
Kill Bill: Vol. 1 (2003)
Life After Beth (2014)
The Lone Ranger (2013) (2013)
Malèna (2000)
Man Up (2015)
Margin Call (2011)
Mary Kom (2014)
Morning Light (2008)
Picture Bride (1994)
Plot for Peace (2014)
The Prophecy (1995) – Streaming Again
Ralphie May: Imperfectly Yours (2015)
Sweet Blackberry Presents: Garrett's Gift (2007)
Sweet Blackberry Presents: Henry Box Brown (2005)
New TV Series Streaming on Netflix UK:
Big School (2013)
The Day My Butt Went Psycho! (2015)
Horseland (2008) [Season 2 Added]
Knights of Sidonia [Sidonia no Kishi] (2015) [Season 2 Added]
Peg + Cat (2013)
Pompidou (2015)
Sons of Anarchy (2014) [Season 7 Added]
Warehouse 13 (2014) [Season 5 Added]
White Collar (2013) [Season 5 Added]