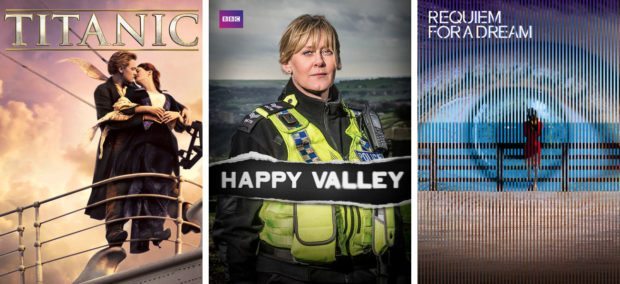 Wow, what a week for new additions on Netflix UK! It's the start of the month and we've had over a hundred new additions ranging from some great new TV series, new seasons of old shows, classic films, new films and documentaries.
First up we have the TV selection. If you like vampires, werewolves and ghosts then you will enjoy the 5 series of "Being Human" (UK version) that were added. Drama fans will like the popular BBC series "Happy Valley" set around a series of kidnappings in Yorkshire; series1 is available on Netflix UK. We've also had some comedy with the addition of Jack Whitehall's school-based comedy "Bad Education" (2 series) and the metal-detecting shenanigans of the "Detectorists" (1 series). And, finally for TV, season 2 of "Scream" has started with new episodes being added weekly on a Tuesday.
The cult cyber-crime film, "Hackers" has made a welcome return to Netflix UK along with sci-fi thriller "Dark Skies". The 90's romance "Titanic" has also been added – a rich young woman falls for a struggling artist on the fateful maiden voyage of the Titanic. The highly emotional, but very highly-rated, "Requiem for a Dream" follows four drug addicts as their lives spiral to their absolute lowest. The 80's comedy "Dirty Rotten Scoundrels" sees two con-men clashing heads and deciding on a 'loser leaves the game' challenge to swindle money from an heiress.
Fans of wrestling in the 90's may be interested in "The Resurrection of Jake the Snake". The former pro-wrestler gets help from Diamond Dallas Page to overcome his alcohol addiction. And, finally, for a rare look at North Korea's propaganda machine then check out "The Propaganda Game"
As usual, don't forget to let us know your picks from this weeks additions which are listed, in full, below:
New Movies Streaming on Netflix UK:
A Country Called Home (2015)
A Perfect Getaway (2009) – Streaming Again
Alien Autopsy: Fact or Fiction? (2006)
B.A. Pass (2013)
Between the Folds (2008)
Blow Out (1981)
Bo Burnham: Make Happy (2016)
Breathless (1983)
Confessions of a Brazilian Call Girl (2011)
Dark Skies (2013) – Streaming Again
Delhi in a Day (2012)
Delirious (1991) – Streaming Again
Dirty Rotten Scoundrels (1988)
Dr. Cabbie (2014)
The Eternal (1998)
Extremities (1986)
F/X 2 (1991)
The Fighter (2010) – Streaming Again
Finding Your Element with Sir Ken Robinson (2013)
Firaaq (2008)
Guilty [Talvar] (2015)
Hackers (1995) – Streaming Again
Jeff Dunham: All Over the Map (2014)
Jugni (2016)
Kajarya (2013)
Listening (2014)
Los heroes del Mal (2015)
Makkhi (2012) – Streaming Again
Meatballs 4 (1992)
Mexican Gangster (2014)
Mystic Pizza (1988)
North v South: Long Time Coming (2015)
Once Bitten (1985)
Pokémon the Movie: Hoopa and the Clash of Ages (2015)
Rebellious Flower (2016)
Red Dawn (1984) – Streaming Again
Requiem for a Dream (2000) – Streaming Again
The Russia House (1990) – Streaming Again
Saddle Up (2016)
Scarecrows (1988)
Silent Night, Deadly Night (1984) – Streaming Again
Spy Time (2015)
Suburban Girl (2007)
Titanic (1997)
Today's Special (2009)
Two Moon Junction (1988)
Walter Latham's Comedy Soul Festival (2003)
New Documentaries Streaming on Netflix UK:
72 Cutest Animals (2016)
72 Dangerous Places (2016)
Adrishya (2015)
Afghanistan: The Great Game (2012)
Évocateur: The Morton Downey Jr. Movie (2012)
Best Evidence: Top 10 UFO Sightings (2007)
The Bionic Vet (2010)
Black Man White Skin (2015)
Conspiracy Theory: Did We Land On The Moon? (2001)
Cuba: The Forgotten Revolution (2015)
(Dis)Honesty: The Truth About Lies (2015)
Eisenhower's Secret War (2013)
Ekaant (2014)
For Love of Liberty (2010)
Fresh Dressed (2015)
The Frozen Chosen (2014)
Illegal (2014)
Kahi Suni (2015)
KidPoker (2015)
The Mask You Live In (2015)
Meet the Patels (2014)
O Começo da Vida (2016)
Only the Dead (2015)
The Propaganda Game (2015)
Raja Rasoi Aur Anya Kahaniyan (2014)
The Resurrection of Jake the Snake (2015)
Road to Victory (2011)
Sanrachna (2015)
Soccer City (2010)
Speed Sisters (2016)
Steak Revolution (2014)
Sweet Micky for President (2015)
Tab Hunter Confidential (2015)
TransFatty Lives (2015)
UFOs: The Best Evidence Ever (Caught on Tape) (2000)
New TV Series Streaming on Netflix UK:
After School: Lucky or Not – Season 2 (2014)
Bad Education (2013)
Being Human (U.K.) (2012)
Bob Ross: Beauty Is Everywhere (1991)
Breaking the Magician's Code: Magic's Biggest Secrets Finally Revealed (2002)
Click Your Heart (2016)
Dariba Diaries (2014)
Detectorists (2014)
Dharmakshetra (2014)
Durarara!! (2010)
Gary: Tank Commander (2012) [New Episodes]
Good Witch (2015)
Happy Valley (2014)
Hibana: Spark (2016) [Season 1 Added]
Limon and Oli (2013)
Love Cells (2015)
Mia and Me (2015)
MythBusters (2011) [New Episodes]
Noble, My Love (2015)
Odd Squad (2014)
Pokémon: XY (2015) [New Episodes]
Scream (2016) [New Episodes] [New Episode On Tuesdays]
Siyaasat (2015)
Stories by Rabindranath Tagore (2015)
The Strange Calls (2012)
To Be Continued (2015)
Velvet (2016) [New Episodes]
Walter Latham's Kings of Comedy Primetime (2012)