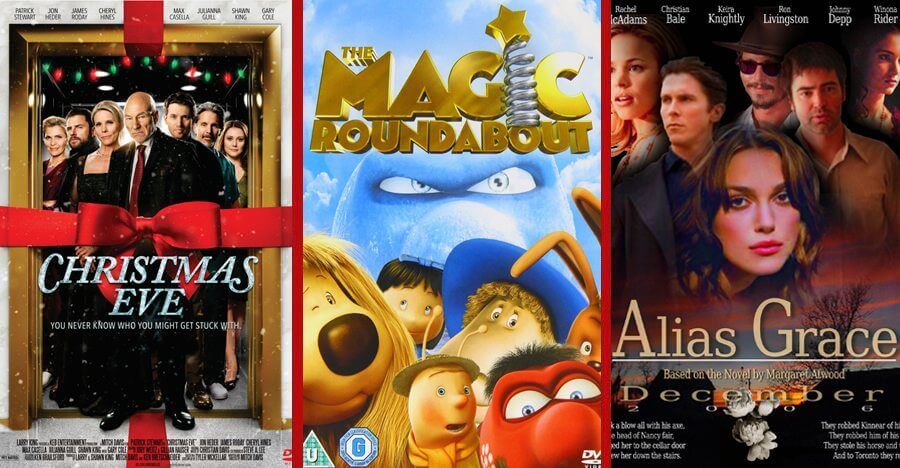 We're already into October now and we've got lots of entertainment to update you on. As it's the beginning of the month, there's lots more than usual! With a total of 91 new titles which includes 57 new movies, 10 new documentaries, 23 new TV series and one new standup special, we're going to put our favourites out of the lot. This week, 3rd October 2017, there's plenty to keep your weekends busy and minds focused on something new.
Our first pick this week is the film The Magic Roundabout (2006) which is one for the kids or young at heart. Things go wrong for the unlikely heroes when their magic roundabout is frozen, and they must get to the root of the problem. This film is a French-British production based on the television series. It follows Doogal, a loveable animal with a sweet tooth, and his friends on their adventure to save everyone and bring magic and life back into the roundabout. Will they solve it all in time before it's too late?
If you're a Margaret Atwood fan, you'll appreciate our next pick. The miniseries Alias Grace is based on the 1996 novel of the same name and adapted by Sarah Polley. The film is based on real 19th century events and follows Grace Marcs and her story of being accused and convicted of murder. It seems that life hasn't been good for Grace, as she's the centre of attention when it comes to solving the murder of her employer and his housekeeper. If you're into historical series, this Netflix Original is one to watch.
There are two types of people in this world: Those who get excited for Christmas, and those who don't. Our last pick is definitely for everyone who is already listening to Christmas songs and picking out their Christmas-day jumpers. The film Christmas Eve (2015) has come to Netflix UK. When there's a power outage on Christmas Eve, six people are left stuck in different elevators and are left to rethink their lives. There's plenty of surprises in this film and will get you into the festive mood.
See the full list of 91 titles added to Netflix UK this week:
57 New Movies
The Magic Roundabout (2006)
Pup Star: Better 2Gether (2017)
SPF-18 (2017)
Max 2: White House Hero (2017)
Ripped (2017)
Wolves (2016)
Where the Day Takes You (1992)
When Harry Met Sally (1989)
Waarrior Savitri (2016)
Undercover Grandpa (2016)
Trip To Bhangarh: Asia's Most Haunted Place (2014)
Tomcats (2001)
The Pink Panther (1963)
The Mudge Boy (2003)
The Bone Collector (1999)
The Bittersweet (2017)
Taken Heart (2017)
Seduced (2016)
Sameer (2017)
Romeo Ranjha (2014)
Romancing the Stone (1984)
Rivaaz (2011)
Raising the Bar (2016)
Punjab 1984 (2014)
Pettersson and Findus 2 (2016)
One of Us (2017)
Moor (2015)
Mirror Game: Ab Khel Shuru (2017)
Men in Black II (2002)
Left Behind (2014)
Kis Kisko Pyaar Karoon (2015)
Killer App (2017)
Kacche Dhaagey (2016)
Jessica Darling's It List (2016)
Honeymoon From Hell (2016)
Hajwala: The Missing Engine (2016)
Golden Time (2013)
Ghosts of Girlfriends Past (2009)
Getaway Plan (2016)
From Dusk Till Dawn (1996)
Elle (2016)
Coffee with D (2017)
Christmas Eve (2015)
Bruno and Boots: This Can't Be Happening at Macdonald Hall (2017)
Bronson (2008)
Bloodmatch (1991)
Black Hawk Down (2001)
Beiimaan Love (2016)
Alvin and the Chipmunks (2007)
Alienator (1990)
6-5=2 (2014)
Robin Hood: Prince of Thieves (1991)
Red 2 (2013)
Major League (1989)
Ace Ventura: Pet Detective (1994)
Bandie (1978)
6 Days (2017)
10 New Documentaries
I Am Ali (2014)
The B-Side: Elsa Dorfman's Portrait Photography (2016)
Weiner (2016)
Sound City (2013)
Roots (2016)
Romeo Is Bleeding (2015)
Rolling Stones: Crossfire Hurricane (2012)
One Heart: The AR Rahman Concert Film (2017)
Hitler's Steel Beast (2017)
Sound of Torture (2013)
23 New TV Series
Line of Duty – Season 3 (2014)
Zumbo's Just Desserts – Season 1 (2016)
Lost Treasure Hunters – Season 1 (2014)
Under Arrest – Season 7 (2015)
Together – Season 1 (2009)
The Vampire Diaries – Season 8 (2014)
The Truth – Season 1 (2008)
The Mind of a Chef – Season 5 (2014)
The Little Nyonya – Season 1 (2009)
The Golden Path – Season 1 (2007)
The Family Court – Season 1 (2010)
The Code – Season 2 (2014)
Teen Wolf – Season 6 (2012)
Real Detective – Season 2 (2016)
My Life My Story – Season 1 (2017)
LEGO Ninjago: Masters of Spinjitzu – Season 6 (2014)
Greenleaf – Season 2 (2016)

Netflix Original

Backstage – Season 1 (2016)
A Christmas Special: Miraculous: Tales of Ladybug & Cat Noir -Season 1 (2016) – 

Netflix Original

Salvation – Season 1 (2017)
Call My Agent! – Season 2 (2015)

Netflix Original

Alias Grace – Season 1 (2017)

Netflix Original

Akulah Balqis – Season 1 (2015)
1 New Standup Specials
Judah Friedlander: America Is the Greatest Country in the United States (2017)

Netflix Original