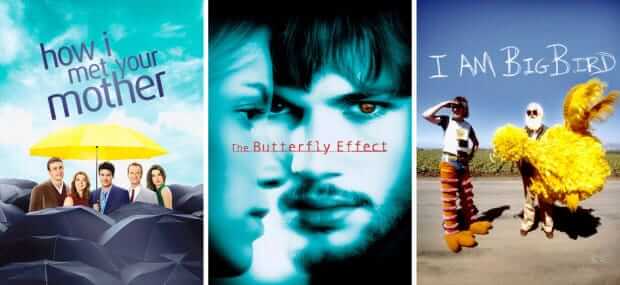 Welcome to our latest weekly round up of What's New On Netflix UK. There's been a good mixture of films, documentaries and TV added this week so I'm going to select a few of these for you based on personal recommendation and popularity on social media this morning.
First of all we have "The Butterfly Effect", a psychological thriller set in 1998. As a young boy Evan had various blackouts but these eased off as he grew older. Evan finds a way to travel back in time and learns the reasons behind the blackouts but he also decides to try and change his past to protect his loved ones. Every time he returns to the present he realised that his minor changes have dramatic consequences in the future – the butterfly effect (Google it). With a mixture of sci-fi, drama and horror, "The Butterfly Effect" is a highly rated film and worth a watch if you can.
This week's recommended documentary is "I Am Big Bird: The Caroll Spinney Story". Spinney has played Big Bird and Oscar The Grouch on Sesame Street for over 40 years and has collected many anecdotes along the way. From fires in Oscar's bin to Big Bird almost being onboard the ill-fated Challenger space shuttle this 90 minute documentary will certainly please.
Article Continues Below...
The popular American sitcom, "How I Met Your Mother", has now found it's way onto Netflix UK (although season 9 isn't available). The series follows Ted as he recounts, to his children, the many years spent searching for his soulmate – the children's mother. Even though the storytelling is set in 2030, the story begins in 2005 when Ted's best friends get engaged to each other and he then starts his hunt for his soulmate.
For the children this week we have "Ella Enchanted", the story of a girl who is cursed with obedience by a fairy godmother. She obeys any command but when she falls for Prince Charmont, Ella needs to find a way to lift her curse. With fairies, ogres and elves this is a different take on the classic fairytale style as our heroine must rely on her own intelligence to get by instead of just on magic.
Read on for the full list of this week's additions:
New Movies Streaming on Netflix UK:
A Royal Christmas (2014)
Anchorman 2: The Legend Continues (2013)
Apocalypto (2006) – Streaming Again
Bedknobs and Broomsticks (1971) – Streaming Again
The Butterfly Effect (2004)
The Butterfly Effect 2 (2006)
The Butterfly Effect 3: Revelations (2009)
The Chosen (2015)
Christmas Wedding Baby (2014)
City of God (2002) – Streaming Again
Crescendo! The Power of Music (2014)
Dealer (2014)
Ella Enchanted (2004) – Streaming Again
Enemies Closer (2013)
Firehouse Dog (2007)
Force Majeure (2014)
Good Kill (2014)
Hot Tub Time Machine 2 (2015)
I'm Brent Morin (2015)
It's a Boy Girl Thing (2006) – Streaming Again
Lost River (2014)
Meet Dave (2008)
Men at Work (1990)
Mr. Magorium's Wonder Emporium (2007)
No Way Out (1987)
On Angel Wings (2014)
Outpost: Black Sun (2011)
The Passion of the Christ (2004)
Pocketful of Miracles (1961)
Precious: Based on the Novel Push by Sapphire (2009)
Push (2009)
Scary Movie 3 (2003) – Streaming Again
Snow Dogs (2002) – Streaming Again
Starter for 10 (2006) – Streaming Again
Still Alice (2014)
The Town That Dreaded Sundown (2014)
Transporter 3 (2008)
Walk of Shame (2014)
We Were Soldiers (2002)
What Happens in Vegas (2008)
What Women Want (2000)
Wild Card (2015)
New Documentaries Streaming on Netflix UK:
A Woman Like Me (2015)
Best of Enemies (2015)
Big Ballet (2014)
I Am Big Bird: The Caroll Spinney Story (2014)
Particle Fever (2013)
The Watchmaker's Apprentice (2013)
New TV Series Streaming on Netflix UK:
A Very Murray Christmas (2015)
Atelier (2015) [Season 1 Added]
Ella the Elephant (2013)
Grojband (2013)
How I Met Your Mother (2012) [Seasons 1-8 Added]
Lego DC Comics: Batman Be-Leaguered (2014)
Max Steel (2013)
Power Rangers Dino Charge (2015) – Streaming Again
Real Rob (2015)
The Smurfs (1981) – Streaming Again
The Vampire Diaries (2014) [Season 6 Added]