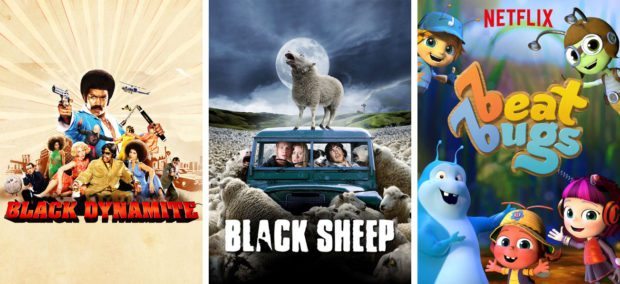 Following on from Monday's huge 'First of The Month' additions, it's time to bring you all the other films, TV and documentaries that have been added to Netflix UK this week.
First up we have "Rogue" starring a rather hungry crocodile in the Outback of Australia. When an American journalist visits Australia and heads out on a wildlife cruise it doesn't take long for trouble to start. As their boat is hit from below by a man-eating crocodile, the guides and customers must fend for their lives.
In other animal-based movies, we have "Black Sheep" – again, the animals being the ones attacking humans. This one, however, is rather more tongue in cheek. When a genetic experiment goes wrong, a quiet farm full of quiet sheep in New Zealand becomes a a farm full of blood-thirsty, human-killing sheep. Grant and his friends must survive the onslaught and find an antidote to the killer sheep. It's one of those movies that is possibly so baaaaaad it's good. Just like that joke was…
"Black Dynamite" is a very funny homage/spoof of various 'blaxploitation' movies of the 70's. The Man has killed the titular Black Dynamite's brother as well as dealing heroin to orphans – only Black Dynamite is brave enough to take on The Man. With a great soundtrack and numerous re-used shots (you know, to save money ;) ) this is definitely worth 80 minutes of your time.
You may have seen a lot in the media about Slow TV shows coming to Netflix. Well, they've arrived and personally I couldn't think of anything more boring to do with 8 hours of my time than to watch a train ride through Norway… Still, if train rides, boating, knitting or chopping up firewood are your thing then Slow TV could be for you.
Netflix Original movie "The Little Prince" has also arrived today. This family adventure with a beautiful visual style, tells the story of an eccentric pilot and his tales with a boy who lives on the moon.
The younger viewers this week have been given "Beat Bugs", a new Netflix Original series that may appeal to a wider audience… The series follows a group of five bugs as they go on adventures around their garden. The selling point for the series is that it features many songs by The Beatles albeit recorded by modern artists such as P!nk, Chris Cornell (Soundgarden), Eddie Vedder (Pearl Jam) and many more. All 13 episodes (24m each) are available now.
I'm going camping now. I might post the entire journey through the eyes of my dashcam onto a new channel I'm starting called MaFt TV :D
Have a great week and read on for the full list of this week's additions:
New Movies Streaming on Netflix UK:
A Mysterious Robber (2012)
According to Greta (2009)
All for Love (2012)
Be a Rish Man (2012)
Beginning of the Great Revival (2011)
Better and Better (2013)
Black Dynamite (2009)
Black Sheep (2006) – Streaming Again
Bright Young Things (2003)
Community on the Beat (2011)
David Cross: Making America Great Again! (2016)
Falling Flowers (2013)
Forever Love (2013)
The Good, the Bad, the Weird (2008)
Immortal Beloved (1994)
Lacuna (2012)
Lemon (2012)
The Little Prince (2015)
Love Deposit (2013)
The Love Flu (2013)
Mark of Youth (2013)
Meet the In-Laws (2012)
Mothers Day (2016)
My Own Swordsman (2011)
On a Clear Day (2005)
Oranges and Sunshine (2011)
Princess Show (2013)
Rogue (2007)
Singular Cay (2012)
Slow TV: National Firewood Evening (2013)
Slow TV: National Firewood Morning (2013)
Slow TV: National Firewood Night (2013)
Slow TV: National Knitting Evening (2013)
Slow TV: National Knitting Night (2013)
Slow TV: Northern Passage (2012)
Slow TV: Northern Railway (2010)
Slow TV: Train Ride Bergen to Oslo (2009)
Smile Walked (2012)
Who Is Undercover (2011)
Xi Bai Po: Wang Er Xiao (2013)
New Documentaries Streaming on Netflix UK:
Cocaine (2005)
Good Hair (2010)
Interview with a Serial Killer (2008)
Project Nim (2011) – Streaming Again
New TV Series Streaming on Netflix UK:
Beat Bugs (2016) [Season 1 Added]