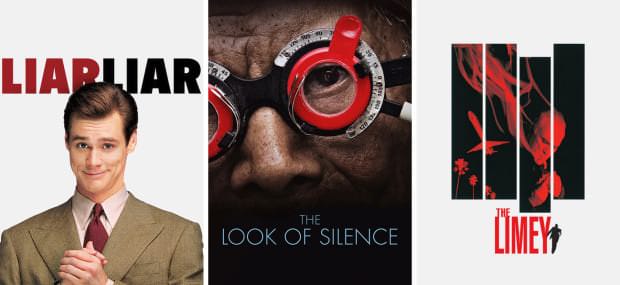 It's the start of a new month so we have a wide range of additions for you to watch on Netflix UK and I'm pretty sure there will be something for everyone. So, without further ado, here are my top picks for this week:
First up we have a classic comedy from Jim Carrey, "Liar Liar" – this is one of his better films and sees him playing a rather unscrupulous lawyer, Fletcher, with a penchant for not always telling the truth. On his son Max's birthday Fletcher, once again, lies his way out of fatherly duties and Max meets breaking point. Blowing out his candles he makes a birthday wish that his dad could got for one day without telling a lie. When his wish comes true, friends, colleagues and clients of Fletcher don't quite know what's hit them.
"The Look of Silence" is a documentary that looks, literally, into the eyes of some of those who committed genocide in the Philippines in the early 1960's. Adi is an optician whose brother was killed during these massacres and the film-maker, Joshua Oppenheimer, manages to persuade some of those involved to take part in interviews with Adi; albeit under the guise of a run-of-the-mill eye exam. The perpetrators talk openly and frankly about what they did and, by all accounts, it can be rather unsettling at times. If you have the stomach, it's a good watch.
90's crime-drama "The Limey" follows British ex-con, Wilson, as he leaves prison and heads to LA to try and finds out more about his daughter's mysterious death. Struggling to understand American culture, he recruits the help of another ex-con and start to discover more about his daughters final months. Over time, the pair start seeking revenge on a promiscuous record-producer who his daughter had been seeing before her death but Wilson also looks more into his failings as a father.
In "Tenured", Ethan Collins is having a rough time – he hates his job as a teacher, his wife just left him and he's severely depressed. Sadly for the school, Ethan has a tenure (a guarantee that he can't be fired as a teacher) so the principal gives him the job of directing the school play in the hope that he'll be able to give them a valid reason for dismissal. The fairy-tale play gets rewritten as a melancholic drama about his failed marriage – starring fifth grade kids!
Speaking of kids, this week sees the arrival of a couple more Pokemon: "Pokémon the Movie: Diancie and the Cocoon of Destruction" and "Pokémon: XY" have both been added.
Read on for the full list of this week's additions:
New Movies Streaming on Netflix UK:
A Picture of You (2014)
Alien Outpost (2014)
Arn: The Knight Templar (2007) – Streaming Again
Body of Evidence (1993)
Canadian Bacon (1995)
Cherry 2000 (1987) – Streaming Again
Cop (1988)
Crime and Punishment (2002)
Dead Man Running (2009) – Streaming Again
The Devil's Violinist (2013)
Dream Lover (1994)
The Dudesons Movie (2006)
Easy Money (1983)
Evidence of Blood (1998)
French Dirty (2015)
Hannibal Buress: Animal Furnace (2012)
Hannibal Buress: Comedy Camisado (2016)
Hannibal Buress: Live from Chicago (2014)
Hate Story 2 (2014)
Home on the Range (2004) – Streaming Again
I Am David (2003)
In Dangerous Company (1988)
Kill Bill: Vol. 2 (2004) – Streaming Again
Legally Blonde (2001)
Liar Liar (1997)
The Limey (1999)
Lord of the Flies (1990)
Love, Cheat & Steal (1993)
Madea's Family Reunion (2006)
Madso's War (2010) – Streaming Again
Pokémon the Movie: Diancie and the Cocoon of Destruction (2014)
Radio Rebel (2012) – Streaming Again
The Russians Are Coming, The Russians Are Coming (1966)
Saw IV (2007) – Streaming Again
Tenured (2015)
United We Fall (2014)
The World of Henry Orient (1964)
New Documentaries Streaming on Netflix UK:
A Faster Horse (2015)
Dinosaur 13 (2014)
Game Face (2015)
The Look of Silence (2014)
The Search For Life: The Drake Equation (2010)
The Story of Maths (2008)
Unsung Heroes: The Story of America's Female Patriots (2014)
New TV Series Streaming on Netflix UK:
Babylon (2014)
The Divide (2014)
Gary: Tank Commander (2012) [Season 2 Added]
Larva (2015) [New Episodes]
Masha's Tales (2012)
Pokémon: XY (2014)
Roba (2015)
Schoolgirl Detectives (2014)
Sinatra: All or Nothing at All (2015)
Syndrome (2012)