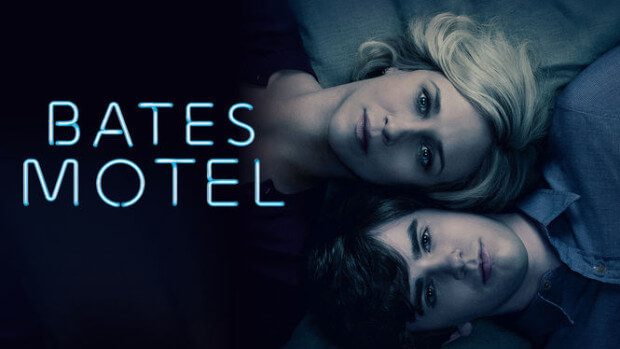 Welcome to March (yes, already!) and another week of What's New on Netflix UK. Today has been a day for Netflix Exclusives with 3 being added! First we have the live stand-up show "Aziz Ansari Live at Madison Square Garden" – the 2nd Netflix Exclusive feature Aziz Ansari from "Parks and Recreation". "Unbreakable Kimmy Schmidt" is a new comedy series from the creators of "30 Rock" – Kimmy, after being rescued from a doomsday cult, takes on the world she didn't know still existed – armed with a backpack, some light-up trainers and some over-due library books. And, finally, "My Own Man" is a humerous and emotional documentary about what it is to be a man – written and created when the film's maker, David Sampliner, finds out he is going to be a dad.
Season 2 of "Bate's Motel" has been added this week. This series is set before the events of Psycho but Norman Bates, and his motel, are equally chilling…
And for the younger viewers this week we have been given "Pac-Man and the Ghostly Adventures" – this modern take on the classic 80's arcade game is a computer-animated series that follows Pac as he finds out that, as a 'Yellow One', he is a chosen one who will save their land from the ghosts.
Read on for the full list of this week's additions:
New Movies Streaming on Netflix UK:
Aziz Ansari Live at Madison Square Garden (2015)
Bad Turn Worse [We Gotta Get Out of This Place] (2013)
Blame It on the Streets (2014)
The Chronicles of Riddick (2004)
Cropsey (2009) – Streaming Again
The Culture High (2014)
Dear Dumb Diary (2013)
Harmontown (2014)
Hercules (2014)
Lilting (2014)
Limitless (2011)
Mad Money (2008)
The Magnificent Seven (1960)
My Own Man (2015)
The Odd Life of Timothy Green (2012)
One Rogue Reporter (2014)
Parallels (2014)
Rules of Engagement (2000)
The Santa Clause (1994)
Street Fighter: Assassin's Fist (2014)
The Three Caballeros (1944)
The Young and Prodigious T.S. Spivet (2013)
New TV Series Streaming on Netflix UK:
Bates Motel (2013-2014) [Season 2 Added]
Max & Ruby (2002-2009) – Streaming Again
Pac-Man and the Ghostly Adventures (2013) [Season 1 Added]
TED Talks: Life Hack 2: The Next Level (2015) [Season 1 Added]
Unbreakable Kimmy Schmidt (2015) [Season 1 Added]
Wayside School [Wayside] (2007) – Streaming Again