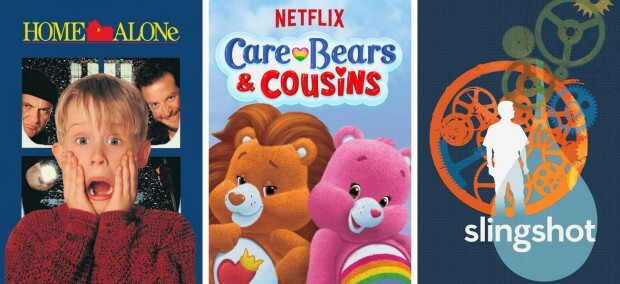 Welcome back to What's On Netflix UK where we've had a fairly quiet week in terms of new additions. First up, and just in time for Christmas, are "Home Alone" and "Home Alone 2: Lost in New York". When 8 year old Kevin gets left behind on a family holiday he must protect his home from burglars. In the sequel, he gets lost in New York – with the same hapless criminals right behind him… These classic 90's films are always popular around this time of the year and are great family films. Full of slapstick comedy, clever contraptions and dopey bad guys!
"Still Game", which we told you about back in September, has had 3 more seasons added this week. This Scottish comedy series is well worth a watch.
The fascinating documentary, "SlingShot", follows inventor Dean Kamen as he tries to make water safe for everyone around the world. Kamen is most famous for inventing the Segway and is somewhat of an eccentric genius. The documentary looks at both Kamen and his character as well as the development of his vapor compression distiller – used to make water safe to drink.
And finally for the little ones we have the new Netflix Original series "Care Bears & Cousins". This brand new series features all of your favourite Care Bears, their cousins and plenty of rainbows. The season has 6 episodes so far with more to be added later.
Read on for the full list of this week's additions:
New Movies Streaming on Netflix UK:
Air Bud: Golden Receiver (1998)
Air Bud: Seventh Inning Fetch (2002)
Big Momma's House (2000)
Chicken Run (2000) – Streaming Again
Doomsdays (2013)
The Duchess (2008)
Enemy at the Gates (2001)
Home Alone (1990)
Home Alone 2: Lost in New York (1992)
John Carter (2012) – Streaming Again
Moving Art: Underwater (2015)
Moving Art: Waterfalls (2015)
Shutter (2008)
Stewart Lee: 41st Best Stand Up Ever (2008)
Unknown Caller (2014)
New Documentaries Streaming on Netflix UK:
Awake: The Life of Yogananda (2014)
Exit Through the Gift Shop (2010)
Last Days in Vietnam (2014)
Lauda: The Untold Story (2014)
SlingShot (2014)
The Thread (2015)
Twinsters (2015)
New TV Series Streaming on Netflix UK:
Care Bears & Cousins (2015) [Season 1 Added]
Dinotrux 5 Minute Favorite: Big Build (2015)
Dinotrux 5 Minute Favorite: Tarpit Rescue (2015)
Dinotrux 5 Minute Favorite: Tortool's Surprise (2015)
Dreamland (2015) [Season 2 Added]
Laid (2012)
Little Lunch (2015)
Master of None (2015) [Season 1 Added]
Pound Puppies (2013) [Season 3 Added]
The Seven Deadly Sins (2015) [Season 1 Added]
Still Game (2007) [Seasons 3-5 Added]
Top Boy (2013) – Streaming Again
Urban Legends (2010) [Season 3 Added]
Velvet (2014)