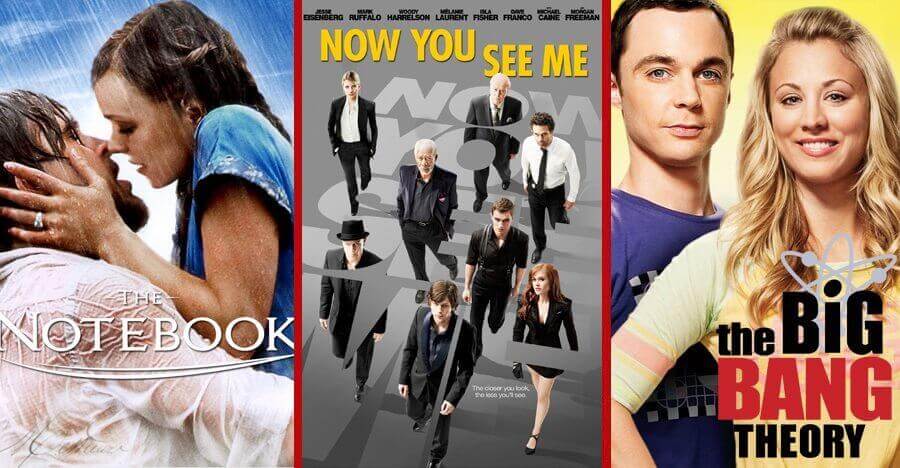 This week, 6th October 2017, we have a total of 101 new releases to share with you. We're at the beginning of October now but the time will probably fly by and before we know it, it'll be Halloween. In the line up this week we have 59 new movies, seven new documentaries, 33 new TV series and two new stand-up specials all for you to enjoy on Netflix UK. We're going to pick our favourites out of the bunch to get your weekend started.
Our first pick of the week is the known and loved nerdy TV show, The Big Bang Theory. This past week, Netflix UK welcomed the tenth season of the show for viewers to enjoy. If you're after something that's easy to watch, got plenty of comedy and involves a bit of Science, then this is your show. All ten series are available to watch on Netflix, and generally follows the lives of the scientists and their female companions. The tenth season sees Leonard and Penny stick it out as a married couple, Sheldon progress in his slow-as-a-turtle relationship with Amy, and Howard and Bernadette try to be good parents. This is a show where you get attached to the characters and enjoy their company.
The second pick out of the lot is the 2013 film Now You See Me. If you're into magic, or just have an interest in cool tricks, then you'll appreciate this film. It involves illusionists who are so good that they are able to rob banks and reward their audiences with the money. Performing isn't all that it seems though, as they're on the FBI's radar. Will they outsmart the FBI and continue to play their tricks? All is revealed in this film. It's intriguing, it's exciting and it's got a magical twist.
Our final pick of the night is a soppy love film which requires a box of chocolates, your taste of wine (or other beverage) and a box of tissues. The Notebook is a romantic film, retold by an elderly woman and her diary. Starring Ryan Gosling and Rachel McAdams, this film will keep you hooked into its story. Based on the bestselling novel by Nicholas Sparks, The Notebook follows the journeys of two young lovers who lost touch and are reunited. It seems their love has a flame that burns brighter than any other, no matter where they go or who they meet. If you're after an all-time favourite with a rollercoaster of emotions, this is the one to lock your eyes on.
Read on for the full list of all 101 new releases.
59 New Movies Streaming to Netflix UK
만남의 광장 (2007)
Vanishing Time: A Boy Who Returned (2016)
Tunnel (2016)
The Scarlet Letter (2004)
The Perfect Couple (2006)
Snowden (2015)
Running Wild (2006)
Paranormal Activity: The Ghost Dimension (2015)
Now you see me (2013)
Mr. Housewife (2005)
Marrying the Mafia 2 (2005)
Marathon (2005)
Luck-Key (2016)
Big Bang (2007)
Beautiful Sunday (2007)
xXx (2002)
X-Mas (2015)
Wrong Side Raju (2016)
Verónica (2017)
Tracker (2010)
The Time of Their Lives (2017)
The Prize Winner of Defiance, Ohio (2005)
The President's Barber (2004)
The Perfect Guy (2015)
The Omen (1976)
The Notebook (2004)
The Lion Woman (2016)
The Bounce Back (2016)
The Betrayed (2008)
The Amazing Spider-Man 2 (2014)
Rush Hour 3 (2007)
Rain Man (1988)
OFFICE (2015)
Like Water for Chocolate (1992)
LEGO Marvel Super Heroes: Avengers Reassembled! (2015)
Kidnapped (1986)
Joint Security Area (2000)
It's a Mad, Mad, Mad, Mad World (1963)
I'm in Love with a Church Girl (2013)
How to Steal a Dog (2014)
Good Will Hunting (1997)
Ghost Patrol (2016)
Forever the Moment (2008)
For a Few Dollars More (1965)
Fish Don't Blink (2002)
Don't Kill It (2017)
Cart (2014)
Boys in the Trees (2016)
Big Daddy (1999)
Arena (1989)
America 3000 (1986)
26 Years (2012)
The Pass (2016)
Security (2017)
Hallows Eve (2016)
Robin Hood: Men in Tights (1993)
Me and Earl and the Dying Girl (2015)
To Kill a Mockingbird (1962)
Kidnap (2017)
7 New Documentary Streaming to Netflix UK
Too Much Stress From My Heart (2015)
Ice Guardians (2016)
Generation Iron 2 (2017)
Franca: Chaos and Creation (2016)
Mr. Dynamite: The Rise of James Brown (2014)
It Was Fifty Years Ago Today! The Beatles: Sgt Pepper And Beyond (2017)
The Death and Life of Marsha P. Johnson (2017) Netflix Original
33 New TV Series Streaming to Netflix UK
The Royal House of Windsor – Season 1 (2017)
The Hunt – Season 2 (2012)
The Beat – Season 1 (2012)
Hidden Houses – Season 2 (2011)
Heartland – Season 10 (2012)
Whitechapel – Season 4 (2013)
When Calls the Heart – Season 4 (2016)
What She Put on the Table – Season 1 (2017)
The Dream Catchers – Season 1 (2009)
The Big Bang Theory – Season 10 (2014)
Sudden – Season 1 (2013)
Nexo Knights – Season 2 (2016)
My Horrible Boss – Season 1 (2016)
Lost & Found Music Studios – Season 2 (2016)
Lockup: Disturbing the Peace – Season 1 (2017)
LEGO Ninjago: Masters of Spinjitzu – Season 6 (2014)
Kazoops! – Season 2 (2017)
Justice in the City – Season 1 (2012)
Jake's Buccaneer Blast – Season 1 (2014)
Gangsters: Faces of the Underworld – Season 1 (2015)
Fantastic – Season 1 (2016)
Equestria Girls: Tales of Canterlot High – Season 1 (2017)
Bitten – Season 3 (2014)
Footprints in the Sand – Season 1 (2011)
Canada's Worst Handyman – Season 2 (2006)
Precious Youth – Season 1 (2016)
Bonus Family – Season 1 (2017)
Word Party – Season 3 (2016)
Suburra: Blood on Rome – Season 1 (2017)
Skylanders Academy – Season 2 (2016)
Kibaoh Klashers – Season 2 (2017)
ID-0 – Season 1 (2017)
Auntie Duohe – Season 1 (2012)
2 New Stand-up Series Streaming to Netflix UK
Justin Timberlake + the Tennessee Kids (2016) Netflix Original
Rodney Carrington: Here Comes the Truth (2017) Netflix Original