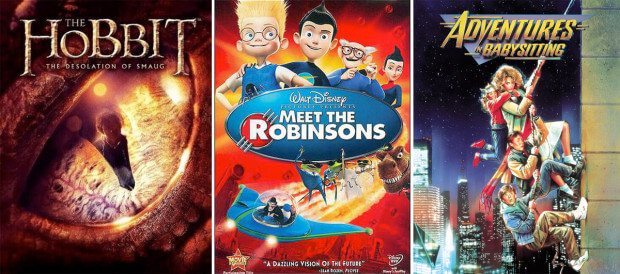 Talking dragons, a knife-wielding assassin, babysitters caught in deals with the mafia, a trip to see Metallica's drummer and a kid in a bowler hat changing the future – welcome to the messed-up work of Netflix UK!
The big addition this week is the 2nd instalment of The Hobbit trilogy: "The Desolation of Smaug". This 3 hour epic continues the story of Bilbo Baggins and his cohort who are trying to claim back their homeland from the dragon, Smaug. This is, quite possibly, the longest adaptation of a short story ever created… Part 1, "An Unexpected Journey", is also available on Netflix UK.
Another popular film this week is the 1987 classic "Adventures in Babysitting". After Chris gets stood up by her date she ends up babysitting three kids; expecting a boring night in, she couldn't be more wrong… Flat tyres, mafia deals and Playboy magazine – will she ever get back in time?
And, finally, for the younger viewers this week is Disney's "Meet The Robinsons". The CGI film from 2007 tells the story of an orphan, Lewis, who builds a time machine to find out what his mother looked like. On the way he meets a kid in a bowler hat who messes up his time machine, and time itself… Lewis then needs to restore things in order to save the future.
New Movies Streaming on Netflix UK:
Adventures in Babysitting (1987)
The Big Hit (1998)
The Hobbit: The Desolation of Smaug (2013)
Jack and Jill (2011)
Machete Kills (2013)
Meet the Robinsons (2007)
Mission to Lars (2012)
The Motel Life (2012)
The Outsider (2014)
Scorned (2013)
Six Degrees of Separation (1993)
The Sword and the Rose (1953)
New TV Series Streaming on Netflix UK:
WordGirl (2008)