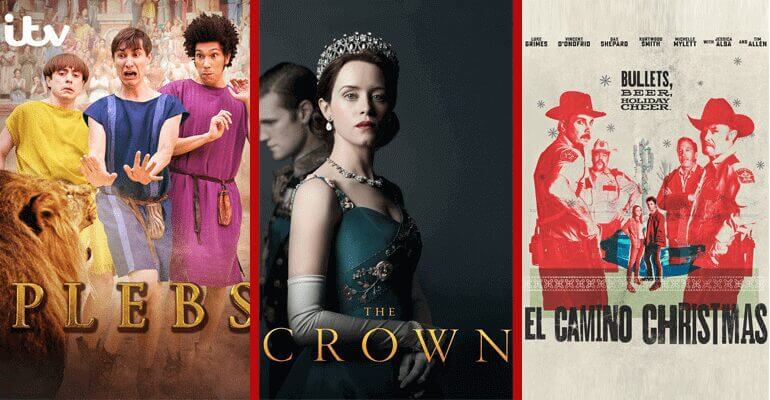 The weekend is the best time to knuckle down and start watching something new. Something that really interests you. That's why every week we update you on the new titles added to Netflix UK, so you know what to look out for. This week, 8th December 2017, there's a total of 30 new titles. This includes 20 new movies, 7 new TV series, two documentaries and one new standup special. The list may seem small but there's bound to be something in there that tickles your interest.
Those of you who are in the Christmas spirit will enjoy our first pick of the week. It's the new Netflix Original movie El Camino Christmas, which is all about a group of people who form an unexpected bond. Christmas Eve is typically full of excitement, laughter and preparation. It's a time when children have adrenaline running through their bones and adults fret over forgetting the Brussels sprouts. However, in this movie, Christmas Eve is unlike any other… One boy, Luke Grimes, is on the search for his father. Six people end up in a liquor store and have no choice but to communicate with one another. They unveil untold truths that you'll never forget. The only catch is that Luke's father is closer than he thinks… Will he find out?
Power can do things to you. Power can change the way you think and feel about the world. Power can change everything – for the good, and the bad. The Crown season 2 was released on Netflix UK today, and it's something many will be chuffed about. The series follows Queen Elizabeth II and her journey to shaping the UK. Season two consists of 10 episodes, all around an hour long. If you're after something that pays great attention to detail, this is one for you. It's a classic British drama with plenty of historical intrigues. If you enjoyed Reign (2017) or Victoria (2016) then this could be one to add to your list.
Our final pick today is something a little more light-hearted. The third season of the TV show Plebs (2016) has been added to Netflix UK. It's a series that will hopefully have you smiling, laughing and wanting more. So what's it all about? Plebs follows three young men in Ancient Rome as they attempt to do all the things that normal people do… but they're definitely not your average people. For anyone who is a fan of The Inbetweeners, you should give this show a go. It has characters that are funny, silly and try too hard to get a girl. It's a classic show that holds comedy at its core and there's plenty for you to binge on.
Take a look at the full list of 30 new titles:
20 New Movies
Balto (1995)
City of God (2002)
Daddy's Home (2015)
Delhi Belly (2011)
El Camino Christmas (2017) Netflix Original
Friends with Money (2006)
Jaal (1986)
Jaanee Tu… Ya Jaane Na (2008)
Jab harry Met Sejal (2017)
Lagaan (2001)
Life of Crime (2013)
Midnight Run (1988)
Papa The Great (2000)
Peepli Live (2010)
Shikari (1991)
Shutter (2008)
Taare Zameen Par (Like Stars on Earth) (2007)
Templee (2017)
Trolls Holiday Special (2017)
Wanted (2008)
7 New TV Series
Benidorm (Season 9)
Dhia Sofea (2015)
Fate/Apocrypha (Season 1) Netflix Original
Plebs (Season 3)
The Crown (Season 2) Netflix Original
Victoria (Season 1)
Wallander (Season 4)
2 New Documentaries
The Secret (2006)
We Steal Secrets: The Story of WikiLeaks (2013)
1 New Standup Specials
Craig Ferguson: Tickle Fight (2017) Netflix Original