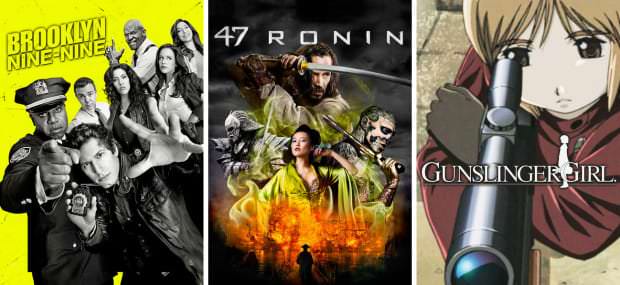 Welcome back and I hope you had a great Christmas and New Year! This week sees the arrival of Season 2 of comedy crime series "Brooklyn Nine-Nine". Set in the 99th precinct of Brooklyn, New York the series follows a team of cops dealing with some less than exciting crimes – graffiti, pick-pockets… Rather less exciting than those in Manhattan! It's an award winning series and definitely worth a watch!
Keanu Reeves stars in "47 Ronin" – a samurai-based action film from 2013. Based on a historic true story (albeit with less monsters and witchcraft), Kai is a half-American, half-Japanese orphan taken in by Asano. When Asano is forced to commit suicide, a team of 47 samurai's set out to hunt the killer down. It's a fantasy-twist on a classic Japanese tale – and one that doesn't take itself too seriously.
On the 7th January 2015 the French publication Charlie Hebdo came under attack from terrorists. 12 people were killed. On the 1st anniversary of the attack we were given "Je suis Charlie" – a documentary that examines the events that led up to the attack.
And, last but not least for this week, we have a couple of new anime shows to watch. First up is "Rurouni Kenshin" where a wandering swordsman turns up at a Japanese dojo and repents for his past. He aims to help the innocent by no longer killing people. Secondly we have "Gunslinger Girl" where the Social Welfare Agency pretends to help orphaned gorls – although they actually implant them with technology to make them emotionless killing machines.
Read on for the full list of this week's additions:
New Movies Streaming on Netflix UK:
47 Ronin (2013)
At the Sinatra Club (2010) – Streaming Again
Bad Lieutenant (1992) – Streaming Again
Battle Royale (2000) – Streaming Again
The Best Man Holiday (2013)
Dum Laga Ke Haisha (2015)
G-Force (2009) – Streaming Again
Lantana (2001) – Streaming Again
Meet the Spartans (2008)
Na Maloom Afraad (2014)
Rat Race (2001) – Streaming Again
Street Kings (2008)
Tex (1982) – Streaming Again
Tom Segura: Mostly Stories (2016)
New Documentaries Streaming on Netflix UK:
Je suis Charlie (2015)
New TV Series Streaming on Netflix UK:
Brooklyn Nine-Nine (2014) [Season 2 Added]
Curious George (2014) [New Episodes]
Gunslinger Girl (2003)
Rurouni Kenshin (1996)