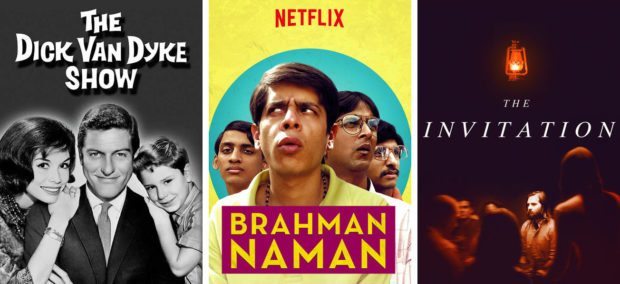 Welcome back to another week of What's New on Netflix UK. It's been fairly quiet this week with just a handful of additions so here are my picks for the week.
First up we have another Netflix Original with "Brahman Naman" – an Indian comedy from famed Indian director Qaushiq Mukherjee. The film revolves around a college quiz champion who knows everything -well, everything except how to talk to girls. It's hard to explain, but you can see the trailer below: [youtube https://www.youtube.com/watch?v=_4LER3S-t-E&w=560&h=315]
"The Invitation" is a modern, psychological thriller where, after the death of their son, Will's wife Eden disappears. Years later Eden returns with a new husband but she is keen to rebuild the relationships she left behind. SO Will, along with other friends and family, are invited to their house for a dinner party – although it soon transpires that there may be some fatal, ulterior motives to the reunion…
Five seasons of the classic TV series, "The Dick Van Dyke Show", have arrived this week. The series, from the early 1960's, follows the Rob Petrie, a writer for a TV comedy show and the in-office antics involved. He is also happily married to Laura and has to balance his busy work life with his home life. It's a classic American sitcom.
Finally for this week, the younger viewers will enjoy "Mike the Knight: Journey to Dragon Mountain". This is a movie spin-off from the CBeebies series, "Mike the Knight". Follow Mike on an adventure to recover the King's stolen jewels while he battles various dragons and gargoyles.
Read on for the full list of this week's additions:
New Movies Streaming on Netflix UK:
Belle (2013)
Brahman Naman (2016)
The Invitation (2015)
Katt Williams: Pimpadelic (2009) – Streaming Again
Love Me! (2014)
The Marksman (2005) – Streaming Again
Mike the Knight: Journey to Dragon Mountain (2014)
Mono (2016)
New Documentaries Streaming on Netflix UK:
The Armor of Light (2015)
Vlast (Power) (2010) – Streaming Again
New TV Series Streaming on Netflix UK:
The Dick Van Dyke Show (1965)
Kuromukuro (2016) [Season 1 Added]
My Big Big Friend (2014) – Streaming Again
NSU German History X (2016) [Season 1 Added]
Stella and Sam (2011) – Streaming Again
Tale of the Brave (2014)
Word Party (2016) [Season 1 Added]