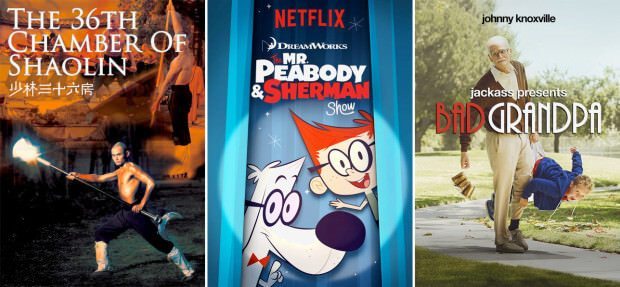 If you like your martial arts films to be Chinese and of the Kung-Fu variety then you're in for a treat this week on Netflix UK with 8 films added just for you! Included in the mix are "The 36th Chamber Of Shaolin" and it's sequel "Return To The 36th Chamber", "Invincible Shaolin" and "Masked Avengers". Enjoy them while they're hot.
From martial arts we now move onto childish farts (did you see what I did there?) with the addition of "Jackass Presents: Bad Grandpa". Irving Zisman (Johnny Knoxville) is a Grandpa on a mission – travelling from Nebraska to take his 8 year old Grandson back to his real father. The film is essentially a hidden camera show with the 'Bad Grandpa' getting up to all kinds of ridiculous and outrageous shenanigans. If you're familiar with the Jackass series and films then you'll know what kind of things to expect. Grab a beer (or six) and go watch some ludicrous 'comedy'.
The entertaining "Trollhunter" has made a welcome return this week; the film is set around three Norwegian students that are making a documentary about the increase in bears being killed. On their journey they come across a man who they think is working for the government to look for those responsible. He is, but it turns out those responsible are trolls…
And, finally for this week, our kids' section. The latest Netflix Original Series has arrived with "The Mr. Peabody and Sherman Show", which is, literally, a show hosted by Mr. Peabody and Sherman. Their late-night comedy show features various time-travelling guests and zany antics. Also added for the kids is season six of "SpongeBob SquarePants" and the first two seasons of "Victorious".
See you next week! Read on for the full list of this week's additions:
New Movies Streaming on Netflix UK:
The 36th Chamber Of Shaolin (1978)
About Time (2013)
Crippled Avengers (1978)
Five Elements Ninjas (1982)
The Five Venoms (1978)
Gambit (2012) – Streaming Again
Hero (1997)
Hum Aapke Hain Koun (1994)
Invincible Shaolin (1978)
Jackass Presents: Bad Grandpa (2013)
Man from Reno (2014)
Masked Avengers (1981)
Ratatouille (2007) – Streaming Again
Return To The 36th Chamber (1980)
Robert Kelly: Live at the Village Underground (2014)
Trollhunter (2010) – Streaming Again
White God (2014)
New Documentaries Streaming on Netflix UK:
A Sinner in Mecca (2015)
Winter on Fire (2015)
New TV Series Streaming on Netflix UK:
Aldnoah.Zero (2014) [Season 1 Added]
Bo on the Go! (2007) [Season 1 Added] – Streaming Again
Dora the Explorer (2010) [New Episodes] [Season 6 Added]
The Mr. Peabody and Sherman Show (2015) [Season 1 Added]
PAW Patrol (2013) [Season 1 Added]
SpongeBob SquarePants (2013) [New Episodes] [Season 6 Added]
Team Hot Wheels: Build the Epic Race (2015)
Victorious (2011) [Seasons 1-2 Added]