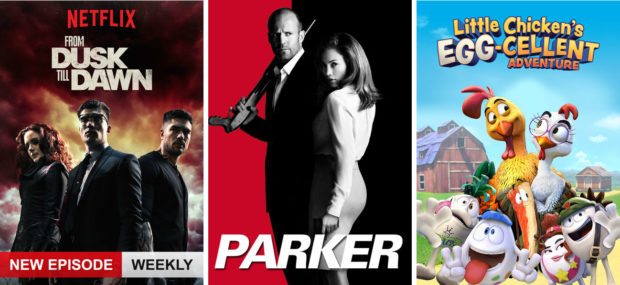 Welcome to a relatively quiet week for What's On Netflix UK. First up we have "Parker", a film about a criminal with a strict set of morals. He won't hurt innocent people and he won't take from the poor. After working with a team of thieves to carry out a job, he gets double-crossed and they kill him. Although they're unsuccessful in that last task and, still alive, he takes on a new identity and teams up with a real-estate agent in order to get his revenge.
Next up we have series 4 of the BBC drama "Call the Midwife" which is set in 1950's Britain. When Jenny moves to London to work as a midwife she ends up training in a convent with medically-trained nuns. Suddenly experiencing the slums of the East End of London she builds numerous relationships with new midwives.
Series 3 of "From Dusk Till Dawn" has started this week with new episodes added weekly after they air in the States. This series, based on the Tarantino film of the same name, follows the Gecko Brothers as they overcome various vampire attacks and Mexican mythology coming to life. New episodes are added each Wednesday.
And, finally, for the kids we have "Little Chicken's Egg-cellent Adventure" – a CGI film starring a bunch of chickens whose owner faces eviction. Toto must develop fast from a timid chicken into a fighting rooster in order to save his family.
Read on for the full list of this week's additions:
5 New Movies Streaming on Netflix UK:
In-Lawfully Yours (2016)
Invoked (2015)
Jandino: Whatever it Takes (2016)
Little Chicken's Egg-cellent Adventure (2015)
Parker (2013)
4 New Documentaries Streaming on Netflix UK:
Hardliners (2011)
Testing the Menu (2013)
What About Me? (feature length) (2009)
What About Me? (series) (2009)
6 New TV Series Streaming on Netflix UK:
Call the Midwife (2015) [Series 4 Added]
David Beckham: Into the Unknown (2014)
Digimon Fusion (2011) [Season 2 Added]
From Dusk Till Dawn (2016) [Season 3 Added]
Hot Wheels: Battle Force 5 (2010)
True Crime (2015)