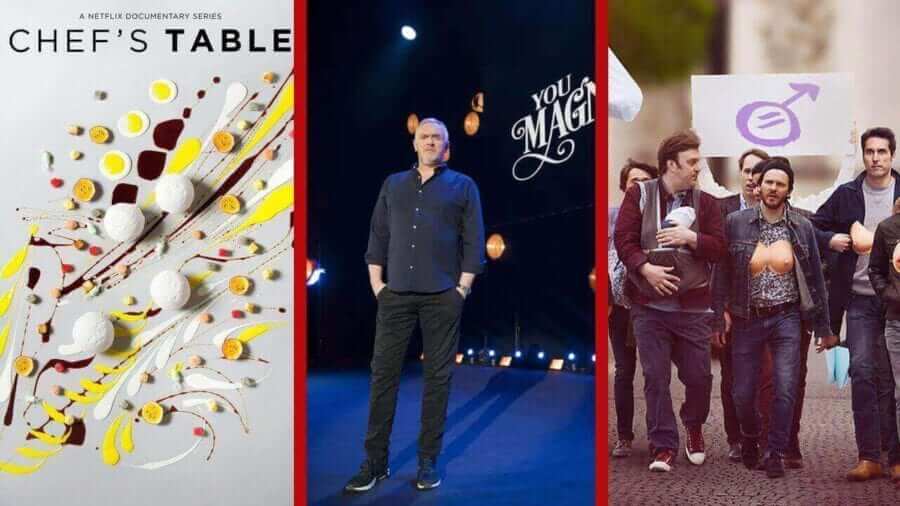 Last week we saw many titles added to Netflix UK and although we don't have as many to share with you this week, there's still plenty for you to enjoy. This week, 13th April 2018, a total of 23 new titles were added to Netflix UK. This includes 11 new movies, 10 new TV series, one new documentary, and one new comedy special. We've picked out three titles that we recommend you watch this weekend or in the near future.
If you're not hungry now, you will be after watching the new episodes of Chef's Table. Volume 4 is now available on Netflix with a focus on pastry. For those of you who are not caught up with what the series is all about, it follows talented chefs from around the globe who make spectacular and inventive dishes. The show will teach you about the history, culture, and food of different countries. There are currently four episodes of Volume 4 available to watch, all at around 48 minutes long.
There was a time when men were in power. A time when women didn't have superiority in any way and they answered to the men around them. The film I Am not an Easy Man (2017) challenges those beliefs and changes the way one man sees the world. He has always admired women for being, well… women. When he is brought into a new life where women are in control and dominate everything, he has no choice but to change his ways. One woman, in particular, is at the forefront of his new life and is bound to add to the comedy of this film.
Sticking with the theme of comedy, our final pick this week is a new Netflix Original comedy special Greg Davies: You Magnificent Beast (2018). He has lived a good life and he shares all of his disasters, pranks and embarrassing moments in this stand-up comedy. There may be moments when he takes the jokes further than expected, but it's worth it for all the moments in between. If you are a fan of Greg Davies' work either as an actor or a comedian, this is worth watching when you want something to keep you entertained.
Check out the full list of 23 new titles:
11 New Movies Now on Netflix UK
Anger Management (2003)
Come Sunday (2018)

Netflix Original

Delivery Many (2013)
Dr. Strangelove or: How I Learned to Stop Worrying and Love the Bomb (1964)
Good Luck Chuck (2007)
I Am not an Easy Man (2017)

Netflix Original

Paheli (2005)
Phir Bhi Dil Hai Hindustani
Pickpockets (2016)

Netflix Original

Sairat (2016)
The Huntsman: Winter's War (2016)
10 New TV Series now on Netflix UK
AMO – Season 1 (2018)

Netflix Original

Bates Motel – Season 5 (2017)
Chef's Table – Volume 4: Pastry (2018)

Netflix Original

Club Friday To Be Continued – My Beautiful Tomboy – Season 1 (2016)
Lost in Spave (2018) Netflix Original
O-Negative, Love Can't Be Designed (2016)
The Adventures of Super Mario Bros.3 – Season 1 (1990)
The Magic School Bus Rides Again – Season 2 (2018)

Netflix Original

Victoria Wood: As Seen on TV (1986)
Yakari (2005)
1 New Documentaries
Diana: Seven Days that Shook the World (2017)
1 New Comedy Specials
Greg Davies: You Magnificent Beast (2018)

Netflix Original