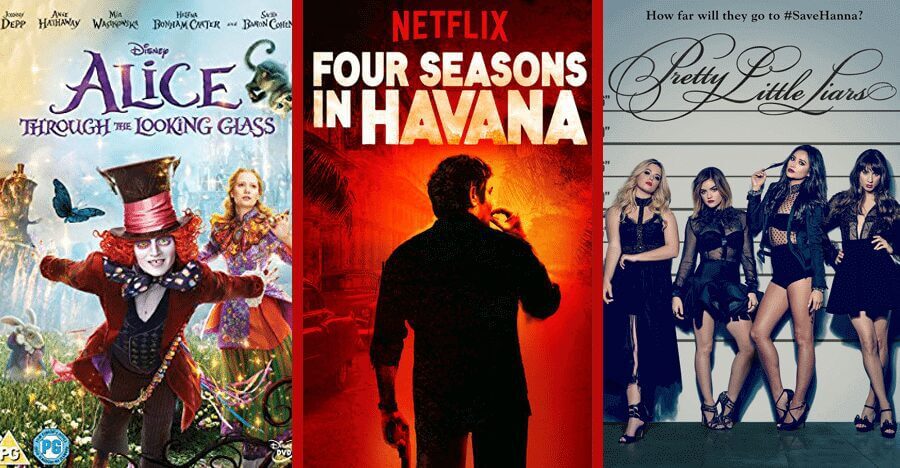 We're heading towards the end of April already, time is ticking and the year is flying past. We've been hit with spells of good weather in the UK and we are hopeful that this will continue into the weekend. However, if you've got spare time on your hands then you'll likely be wanting to watch something on Netflix. This week, 20th April 2018, there's been a total of 56 new titles added to Netflix UK and this includes 27 new movies, 20 new TV series, five new documentaries and four new comedy specials. As usual, we're going to recommend our top three picks that we think you should watch.
Our first pick of the week is Alice Through the Looking Glass (2016). We all know the adventures of Alice and all the crazy people and creatures she meets along the way, but not everyone may have seen the sequel. Alice finds a magical looking glass that transports her back to Wonderland and what she comes across is madder than she first believed. The Mad Hatter is one of the most loved characters and this time, the focus is on saving him. Alice travels back through time to wade through the past in attempt to save the Hatter. The film stars many of our favourite actors including Johnny Depp, Anne Hathaway, Matt Lucas and Helena Bonham Carter along with her co-star from Harry Potter, Rhys Ifans. Not forgetting Alan Rickman, whose last role in a film was the Caterpillar in Alice Through the Looking Glass.
High school is full of all kinds of dramas and changes – it's when you discover so much about yourself that you didn't already know, right? This teen comedy focuses on four best friends who have to deal with many changes in their last two weeks of high school. They do 'normal' things, like go to parties, get drunk and get their hearts broken. Not forgetting smoking a whole tonne of weed. Those of you who are Lucy Hale fans (for her impressive performance as Aria Montgomery in Pretty Little Liars will want to give this film a go considering that she plays one of the main characters. So, what will happen next for the unforgettable foursome?
Article Continues Below...
Everyone has a goal in life, whether it big or small. Everyone loves something, whether it's someone else, money, or a job. Detective Mario Conde in Four Seasons in Havana (2016) digs through the dirty, the greed and the darkness in the city. This Netflix Original is about one man who likes the ladies, is in the business of solving crime and uncovers truths that others couldn't. Reviewers have commended the series for the great scenery of Havana as well as Jorge Perugorriá's role as the main character. Corruption is everywhere – you just have to know where to look. Season one of Four Seasons in Havana is available to watch on Netflix UK.
Check out the full list of 56 new titles:
27 New Movies Now on Netflix UK
Alice Through the Looking Glass (2016)
All The Reasons To Forget (2017)
Barbie in Princess Power (2015)
Barbie of Swan Lake (2003)
Beyond Skyline (2017)
Chasing the Dragon (2017)
Closed Circuit (2013)
Dude (2018)

Netflix Original

Eric ldle's What About Dick? (2012)
Fear Dot Com (2002)
Hungerford (2014)
Kodachrome (2018)

Netflix Original

Lake Placid (1999)
Money Monster (2016)
Monster High 13 Wishes (2013)
Monster High: Frights, Camera, Action! (2014)
Monty Python and the Holy Grail (1975)
Monty Python Conquers America (2008)
Monty Python Live (Mostly): One Down, Five to Go (2014)
Monty Python's Life of Brian (1979)
National Lampoon's Animal House (1978)
Nell (1994)
Prostitution: What's The Harm (2014)
The Darkest Dawn (2016)
The Meaning of Monty Python (2013)
The Prince of Nothingwood (2017)
Whiskey Tango Foxtrot (2016)
20 New TV Series now on Netflix UK
A Love So Beautiful – Season 1 (2017)
Aggretsuko – Season 1 (2018)

Netflix Original

Ainori Love Wagon: Asian Journey – Season 1 (2017)

Netflix Original

Charité – Season 1 (2017)

Netflix Original

Club Friday To Be Continued – Season 2 (2016)
Daniel Tiger's Neighbourhood – Season 2 (2014)
Dope – Season 2 (2018)

Netflix Original

Four Seasons in Havana – Season 1 (2016)

Netflix Original

Hormones – Season 2 (2014)
Monty Python Best Bits (mostly) – Season 1 (2014)
Monty Python's Almost the Truth – Season 1 (2009)
Monty Python's Fliegender Zirkus – Season 1 (1972)
Monty Python's Flying Circus – Season 1 (1969)
Monty Python's Personal Best – Season 1 (2005)
Spy Kids: Mission Critical – Season 1 (2018)
The Alienist – Season 1 (2018)
The Chalet – Season 1 (2018)

Netflix Original

The Last Kingdom – Season 2 (2017)
The Minimighty Kids – Season 2 (2012)
Titeuf – Season 1 (2008)
5 New Documentaries
Anthony Joshua: The Road to Klitschko (2017)
Lockup: Chain Linked – Season 1 (2017)
Mercury 13 (2018) Netflix Original
Monty Python: The Meaning of Live (2014)
Numero Zero. The Roots of Italian Rap (2015)
4 New Comedy Specials
Eddie Murphy: Delirious (1983)
Jason Byrne: Cirque Du Byrne (2012)
Simon Amstell – Numb (2012)
The Honeymoon Stand Up Special (2018)

Netflix Original