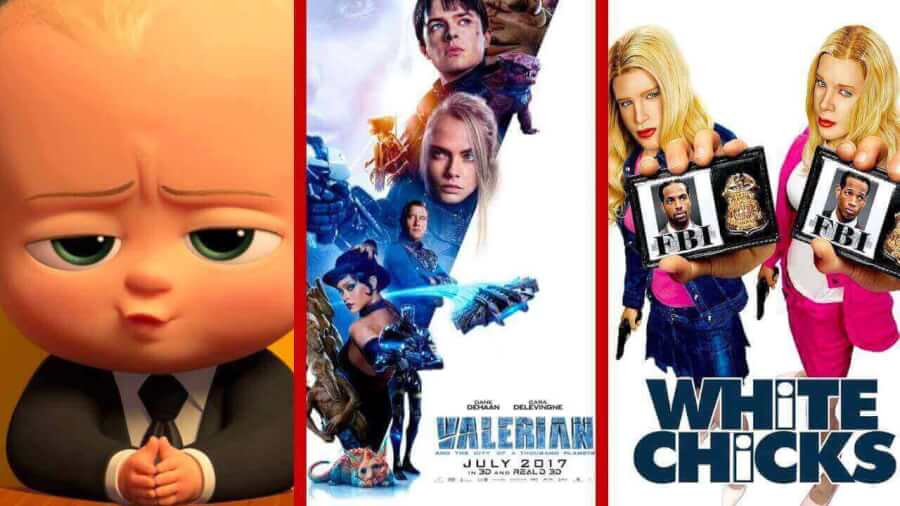 This week, 6th April 2018, we have quite a few titles to share with you. In fact, there's a total of 155 new titles added this week and that includes 109 new movies, 21 new TV series, 20 new documentaries, and five new comedy specials. We're going to pick our favourite three out of the whole list and give you a little insight into what they're all about. This will hopefully give you something great to watch this weekend and beyond whilst finishing any left-over chocolate from the Easter weekend.
Our first pick this week is the film Valerian and the City of a Thousand Planets (2017), which is based on the French sci-fi comics Valérian and Laureline. Every world has its troubles and peace is always something that people can only dream of. Alpha is the base and home to many different species from a thousand planets, so protection is key. When that protection is threatened, something has to be done to ensure that everyone and everything remains in one piece. It's not only Alpha that is in danger though, it's the whole universe. The film stars Dane DeHaan as Major Valerian and Cara Delevingne as Sergeant Laureline. Not only that, but those of you who are Rhianna fans will be intrigued by the fact that she has a role in this film – she plays Bubble, a shapeshifting alien. Will everything fall into place once their mission is complete, or will they hit few too many rocky patches along the way?
If you were a fan of the film The Boss Baby when it came out last year, you'll be pleased to learn that a follow-up has been created and added to Netflix UK. The DreamWorks Animation production titled The Boss Baby: Back in Business follows the main character and his brother Tim on their journey around BabyCorp. This series is ideal for the kids over this Easter Holiday as there are a total of 13 episodes, all at 24 minutes long. JP Karliak stars as the lead character, who replaced Alec Baldwin who had the same role in the film production in 2017. Boss Baby is just as determined, stubborn, and crazy as he was in the film – will he continue to be a great boss or will things go south?
They make mistakes, get the wrong end of the stick, and can't always seem to do everything right in their job. They are also funny, determined and have good instincts. White Chicks (2004) has come back to Netflix UK and although it seems like a pretty old film now, the humour is still excellent. Two FBI agents are on the brink of being fired after a plan went wrong. They must find their way back into their boss's good books. However, in doing so they find a project far more challenging. They're scared to do anything else wrong, so they do what any other sane people would do: they dress up as white chicks as a replacement for two superior twins who can't bear to face anyone due to a scratch on their face. It seems that their cover-up was quite good, considering nobody noticed that they were men… This series is easy to watch and although cheesy, it's great fun.
Check out the full list of 155 new titles:
109 New Movies Now on Netflix UK
21 and Over (2013)
3 Ninjas: Kick Back (1994)
30 Minutes or Less (2011)
6 Balloons (2018)
A Billion Colour Story (2016)
A Sort of Family (2017)
About Time (2013)
Ali Baba ve 8 Cuceler (2015)
All Eyez on Me (2017)
Alvin and the Chipmunks Meet Frankenstein (1999)
Amateur (2018)
American Pie Presents: The Book of Love (2009)
American Pie Presents: The Naked Mile (2006)
American Psycho (2000)
Ask Tesadufleri Sever (2011)
Babes in Toyland (1997)
Babs (2017)
Baby Boy (2001)
Barsaat (1995)
Bharya Athra Pora (2013)
Bhoopadathil Illatha Oridam (2012)
Billa (2007)
Bir Baba Hindu (2016)
Brewster's Millions (1985)
Charlie St. Cloud (2010)
Cheech & Chong's The Corsican Brothers
Churchill (2017)
Dagh Ujala (2015)
Das Boot: Theatrical Cut (1981)
Day of the Dead: Bloodline (2018)
Dil Hai Tumhaara (2002)
Django Unchained (2012)
Doom (2005)
Double Trouble (1992)
Eksi Elmalar (2016)
Ethirmarai (2018)
Extremities (1986)
Facing the Giants (2006)
Gangasta Granny (2013)
God's Own Country (2017)
Gorumce (2016)
Hadi Insallah (2014)
Hanna (2011)
Humanoids from the Deep (1980)
I Now Pronounce You Chuck and Larry
Into the Night (1985)
Ittefaq (2017)
Jaws (1975)
Joey (1997)
Knocked Up (2007)
Kramer vs Kramer (1979)
Kucuk Esnaf (2016)
Kya Kehna (2000)
Labyrinth (1986)
Land of the Lost (2009)
Life (1999)
Love and Death (1975)
Maari (2016)
Mallu Singh (2012)
Mandobasar Galpo (2017)
Metro (2016)
My Big Fat Greek Wedding 2 (2016)
Om Shanti Om (2007)
Once Upon A Time in Venice (2017)
Orbiter 9 (2017)
Organize Isler (2005)
Paisa Paisa (2013)
Paul (2011)
Paul Blart: Mall Cop 2 (2015)
Pek Yakinda (2014)
Philips and the Monkey Pen (2013)
Prince (2010)
Proprietors Kammath & Kammath (2013)
Public Enemies (2009)
Puthiya Theerangal (2012)
Return to Me (2000)
Rukh (2017)
Sairat (2016)
Salaam Kashmir (2014)
Salt Mango Tree (2015)
Save Me (1994)
Seeking a Friend for the End of the World (2012)
Silverado (1985)
Small Town Crime (2017)
Smokin' Aces (2006)
Step Brothers (2008)
Sun Dogs (2017)
Swades: We, the People (2004)
Takers (2010)
The 4th Company (2016)
The Blues Brothers (1980)
The DUFF (2015)
The Fifth Estate (2013)
The HItman's Bodyguard (2017)
The Lady in the Van (2015)
The Little Rascals (1994)
The Muppets Take Manhattan (1984)
The Return of the Living Dead (1985)
The Working Girl (2016)
To Noora with Love (2014)
Unakkenna Venum Sollu (2015)
Urumbukal Urangarilla (2015)
Vacation (2015)
Valerian and the City of a Thousand Planets (2017)
Whiplash (2014)
White Chicks (2004)
Wolf Warrior 2 (2017)
Yaara O Dildaara (2011)
Zachariayude Garbhinikal (2013)
21 New TV Series now on Netflix UK
A Bit of Fry and Laurie (4 Seasons)
Fallet (2017)
Fastest Car (Season 1)
French and Saunders (6 Seasons)
Highway Thru Hell (Season 5)
Joel & Nish vs The World (Season 1)
Khotey Sikkey (Season 1)
La casa de papel (Money Heist) (Part 2)
Loaded (Season 1)
One-Punch Man (Season 1)
Pokemon The Series
Rostered On (Season 1)
The Adventures of Super Mario Bros. 3 (Season 1)
The Boss Baby: Back in Business (Season 1)
The Disastrous Life of Saiki K. (Season 1)
The Paper (Season 1)
Top Gear (Season 13)
Troy: Fall of a City (Season 1)
Velvet Colleccion
Wakfu (Season 3)
Z Nation (Season 3)
20 New Documentaries
100 Men (2017)
Bare Knuckle Fight Club (Season 1)
Behind the Curtain: Todrick Hall (2017)
Chronicles of a Champion Golfer (Season 1)
Fishpeople (2017)
Great British Menu (Season 1)
Great Interior Design Challenge (Season 1)
Harley Davidson and the Marlboro Man (1991)
Historias Del Canal (2014)
Influx (2016)
Louis Theroux: Saville (2016)
Maria Sharapova: The Point (2017)
Operation Odessa (2018)
Premier League Legends (Season 1)
Ram Dass, Going Home (2018)
Sir Alex Ferguson: Secrets of Success (2015)
Sir Chris Hoy: From Velodrome to Le Mans (2016)
The Mavericks (Season 1)
The Search for Life in Space (2016)
Worst Cooks in America (2 Seasons)
5 New Comedy Specials
John Bishop Live: The Rollercoaster Tour (2012)
John Bishop: Supersonic Live at the Royal Albert Hall (2015)
Russell Brand: Messiah Complex (2013)
Seth Rogen's Hilarity for Charity (2018)
Todo lo que seria Lucas Lauriente (2018)