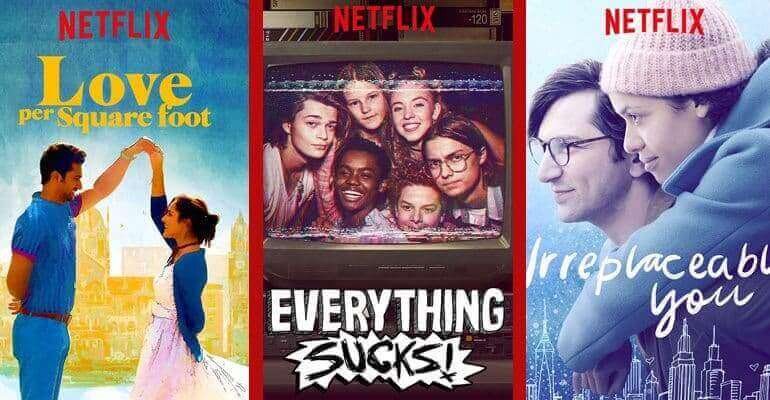 It's that time of the year again where many people across the nation celebrate love-y dove-y things. Or as most people know it: Valentine's Day. Although that was a few days ago now, perhaps you're still feeling in the mood for some romance, or perhaps you think that love sucks. Either way, we're going to invite you in to watch some hearty entertainment this weekend. This week, 16th February 2018, there's a total of 44 new releases on Netflix UK. This includes 31 new movies, 10 new TV series, two new documentaries and one standup special. As we do every week, we're going to pick three of our favourite titles from the list that we'd recommend you watch.
As it's love week, we're going to share with you a new Netflix Original film that was released on Wednesday. Love Per Square Foot (2018) is all about a relationship built on wanting one of the usual things that couples want: a home. Individually, these two humans could only dream of affording a house – something that many people nowadays feel too. However, it seems that perhaps combining forces will mean that everything could change. Things don't happen in the "normal" order for this couple, as it's the primary need for a house that binds them together. This is a perfect film to watch this week as it shows that love can still blossom from a dream, and it doesn't have to happen the usual way.
Apologies for those of you who are not feeling the love this week, but our second pick is another slightly romantic film. With a completely different storyline, Irreplaceable You (2018) tells the story of a woman who tries to find love for her soulmate. Have you ever loved someone so much that you'd hate to think what would happen if you weren't in the world anymore? Abbie is forced to think about this when she is diagnosed with cancer. She's known Sam since she was young and so far down the line, they're engaged – it's a shame that things had to change. This story will break your heart (or try to) with its cliched plot. If you're into that kind of thing, give this film a go this weekend.
Article Continues Below...
For all of you out there who want to watch something a little more retro, we've got the show for you. Although perhaps a little cheesy, Everything Sucks! Season 1 (2018) may be just what you need to take your mind off of the now. This series is set in 1996 (which, for those of you who want a reality check, was 22 years ago now) in an interesting town called "Boring". Your teenage years are a huge learning curve full of intrigue, impression and insight. This Netflix Original series will take you through the story of two groups: the AV and drama clubs, who venture through their teenage years learning a lot about themselves and about each other.
As you can tell, it's all about the Netflix Originals this week for us. We hope that regardless of whether you celebrate Valentines Day or not, you take some enjoyment out of our recommendations and the following list of all 44 new titles added to Netflix UK this week.
31 New Movies
Alien Abduction (2014)
Asura: The City of Madness (2016)
Barely Lethal (2015)
Blood Stripe (2016)
By the Seas (2015)
Daagdi Chaawl (2015)
David Brent: Life on the Road (2016)
Earth to Echo (2014)
Fakta Ladh Mhana (2011)
Fred 3: Camp Fred (2012)
Hellboy (2004)
Irreplaceable You (2018) Netflix Original
Love Per Square Foot (2018) Netflix Original
Magic Mike XXL (2015)
Matichya Chuli (2006)
Morya (2011)
Nails (2017)
Premachi Goshta (2013)
Risen (2016)
Rock the Kasbah (2015)
Sakhi (2007)
Sarivar Sari (2005)
Street Kings (2008)
Sword Art Online the Movie: Ordinal Scale (2017)
Testament of Youth (2014)
The Darkest Hour (2011)
The Interview (2014)
The Peanuts Movie (2015)
The Persuit of Happyness (2006)
Tukaram (2012)
Zenda (2009)
10 New TV Series
Black Butler (Season 1)
Chrisley Knows Best (Season 1)
Dragons: Race to the Edge (Season 6) Netflix Original
Everything Sucks! (Season 1) Netflix Original
Fate/stay Night (Season 1)
Greenhouse Academy (Season 2) Netflix Original
Re:Mind (Season 1) Netflix Original
Reign (Season 4)
The Mortified Guide (Season 1)
Tokyo Ghoul (Season 1)
2 New Documentaries
First Team: Juventus (Season 1) Netflix Original
The Reagan Show (2017)
1 New Standup Special
Chris Rock: Tamborine (2018) Netflix Original