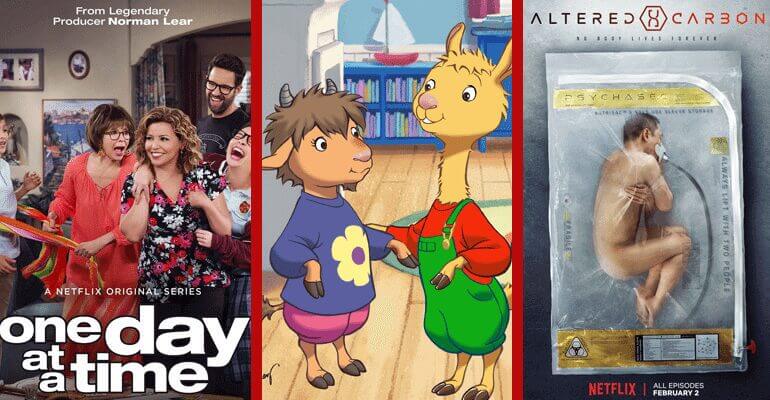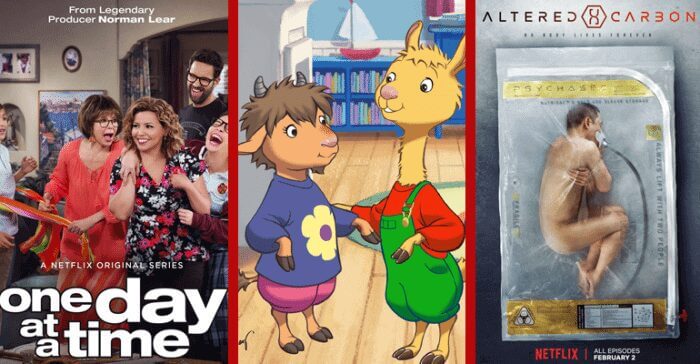 We're already into February now and another year is coming around pretty fast. The plus side of that is the amount of new entertainment you'll still get every week. This week, 2nd February 2018, there's a total of 50 new releases which includes: 28 new movies, seven new documentaries, 12 new TV series and three new stand-up series. As usual, we will pick three out of the whole list to get you started, but if that isn't enough then you will surely find something worth your time on the full list.
We have a mix of things to share with you today, one of which is in its second season so far. One Day At A Time (2018) is a Netflix Original about a family who live chaotic lives. It involves a single mum, her two kids and their retro grandmother – there's plenty of love and plenty of opinions. The storylines and characters develop over time and it's an interesting blend of comedy and originality that will keep you entertained for a while. Each episode is around 30 minutes long and if you haven't yet seen the first season then you have a lot of catching up to do.
If you're looking for something to keep the kids busy this weekend then look no further than Llama Llama. It's the perfect show as it's new, original and there's plenty to watch. It focuses on three of the key things in life: friends, family and learning. There's a total of 15 episodes available, all precisely 24 minutes long each. This cartoon is an easy watch for your children and they'll enjoy watching this book character turn into something more real on screen.
Saving the best until last is something we often like to do. Our favourite pick of this week is a new Netflix Original called Altered Carbon. It's a show where life is unfair and things don't quite add up. However, things seem a little weird for one man when he wakes up after a long 250 years of sleep and now he has been summoned to solve the impossible. This prisoner has the chance to escape but there's one catch… He must solve a murder. Reviews so far have said that this show gets off to a slow start, but you'll soon get into its gripping storyline and want to know what will happen next. It's a futuristic series so it's bound to have some cool gadgets and interesting plot twists. There's 10 episodes available to watch and once you start, you'll end up binge watching them all.
Here's the full list of 51 new releases this week:
28 New Movies
Wind Chill (2007)
Bram Stoker's Dracula (1992)
A Futile And Stupid Gesture (2018)

Netflix Original

Wedding Unplanned (2017)
Ride Along 2 (2016)
Entourage (2015)
Dismissal (2017)
Expedition Happiness (2017)
Role Models (2008)
Oscura Seduccion (2010)
Bullet To The Head (2012)
Shakespeare In Love (1998)
Funny People (2009)
Tarzan (2013)
Bring It On: All Or Nothing (2006)
Last Knights (2015)
The Woman In The Window (1944)
Death Race (2008)
8 Mile (2002)
Inside Man (2006)
Fantastic Four: Rise Of The Silver Surfer (2007)
Emo The Musical (2016)
Before The Flood (2016)
It's Kind Of A Funny Story (2010)
Accepted (2006)
Newness (2017)
Meet Joe Black (1998)
What's New Pussycat? (1965)
7 New Documentaries
Dirty Money: Season 1 (2018)

Netflix Original

One Bad Choice: Season 1 (2015)
Patient Seventeen (2017)
The Force (2017)
How The Beatles Changed The World (2017)
Liberated: The New Sexual Revolution (2017)
Full Force Nature: Season 1 (2006)
 12 New TV Series
Arabia Motors: Season 1 (2017)
Altered Carbon: Season 1 (2018) 

Netflix Original

Llama Llama: Season 1 (2018)

Netflix Original

One Day At A Time: Season 2 (2018)

Netflix Original

Van Helsing: Season 2 (2018)

Netflix Original

Retribution: Season 1 (2016)
Seraph Of The End: Season 1 (2015)
The Lady in Dignity: Season 1 (2017)
Fargo: Season 3 (2018)
Little Dorrit: Season 1 (1988)
Hyori's Bed & Breakfast: Season 1 (2017)
The Code: Season 1 (2011)
Kakegurui: Season 1 (2017)
3 New Stand-up Series
Sebastián Marcelo Wainraich (2018)

Netflix Original

Fakkah Fuzz: Almost Banned (2018)

Netflix Original

Jerry Seinfeld: I'm Telling You (1999)