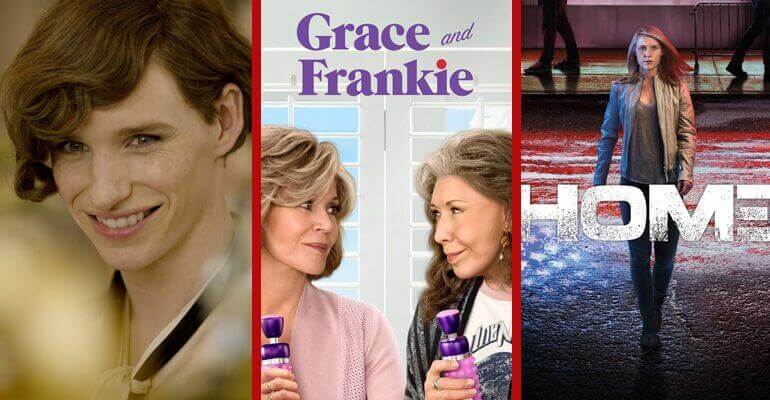 We're well into January now and hopefully, you're all enjoying the New Year, keeping up your resolutions and still looking forward to great entertainment every week. You'll be pleased to know that the list is a little longer than last week. This week, 19th January 2018, Netflix UK welcomed 45 new releases which include 20 new movies, eight new documentaries and 17 new TV series. As usual, we're going to pick our favourite three out of the whole list and give you all the information you need to know in order to decide if it's the one for you this weekend.
Our first pick may come as an obvious choice when you consider how Eddie Redmayne has become a popular actor over the past few years. His successful movies such as The Theory of Everything (2014) and Fantastic Beasts and Where to Find Them (2016) have been big hits due to his ability to perform. Another movie of his, which was added to Netflix UK this week, is The Danish Girl (2015), of which he was nominated for Best Actor in various awards. The film focuses on a married couple who are both artists. Everything changed for Lili Elbe (Redmayne's character) when his wife asked him to pose for a portrait. This film shows the true colours of love and the difficulties faced when he decided he wanted to live life as a woman.
If you're after another good movie to watch this weekend, Pride (2014) could be for you.  It's set in 1984 Wales during the mineworkers' strike and it seems that an unlikely relationship is formed. Using a common enemy as a way in, gay and lesbian activists lend a helping hand to the miners' families. Viewers have praised this film for having an equal amount of humour and emotion, which is something that many of us look for in a good film. This film is about two hours long and will keep you entertained. Pride has won a few awards, so it's bound to be one that will make you laugh and make you cry all at the same time.
Article Continues Below...
When times get tough, you just have to keep going. Carrie Mathison suffers from mental health. She also struggles with family problems. However, despite her problems, she's a pretty good analyst for the Central Intelligence Agency (CIA). Homeland (2014)  focuses on the threat to the United States and is based on the Israeli series Prisoner of War. Netflix welcomed the sixth series of this political thriller, so there's enough to keep you going for quite some time if you are yet to watch. It's a series of many plot twists that will keep you in suspense until the very end.
Here's the full list of 49 new releases this week:
21 New Movies
13 Hours: The Secret Soldiers of Benghazi (2016)
Alibaba Aur 40 Chor (1980)
Bad Day for the Cut (2017)
Eye in the Sky (2015)
Face 2 Face (2017)
Hostel: Part II (2007)
Milada (2017)
No Good Deed (2014)
Phir Se (2015)
Pride (2014)
Pyar Ke Do Pal (1986)
Rip Tide (2017)
Scent of a Woman (1992)
The Arbitration (2016)
The Danish Girl (2015)
The Finest Hours (2016)
The Hardy Bucks Movie (2013)
The Jane Austen Book Club (2007)
The Open House (2018)
The Polka King (2017)
Urvi (2017)
9 New Documentaries
Eve's Apple (2017)
Hostages (2017)
Manolo: The Boy Who Made Shoes for Lizards (2017)
Meet the Hitlers (2014)
One More Shot (2017)
Restrepo (2010)
The Man Who Would Be Polka King (2009)
The Reservoir Game (2017)
Unrest (2017)
 19 New TV Series
Boj- Season 1 (2014)
Can't Cope, Won't Cope – Season 1 (2016)
Changing Faces – Season 1 (2015)
Disjointed – Season 2 (2017) Netflix Original
Drug Lords (Season 1)
Earth to Luna! – Season 1 (2014)
El Vato – Season 2 (2016)
Fargo (Season 3)
Godzilla – Season 1 (2017) Netflix Original
Grace and Frankie (Season 4)
Gunslinger Girl – Season 1 (2003)
Gunslinger Girl -Il Teatrino – Season 1 (2008)
Homeland – Season 6 (2014)
Miranda – Season 3 (2010)
Morrocco: Love at Times of War (2018) Netflix Original
Renters – Season 1 (2016)
Rita – Season 4 (2015) Netflix Original
Sword Art Online II – Season 1 (2014)
The Secret Agent – Season 1 (2016)
Total Drama – Season 1 (2013)