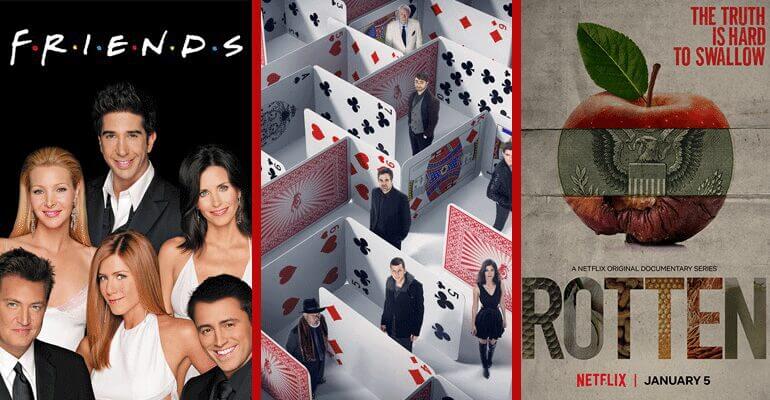 It's finally the New Year and with that comes many new shows and films. This week, January 5th 2018, Netflix welcomed 78 new movies, 21 new TV series, 14 new documentaries and one new standup. That's a big list to start off 2018, which means you'll have plenty to watch and keep you busy this weekend.
The first pick of the week is one that many will be so excited about. Friends (2003) has been added to Netflix UK. Yes, really! All 10 seasons are available to stream whenever you like, so if you're feeling down or just want a laugh this is the best series to watch. Many of you will have watched the show countless times and know what it's all about. However, for those of you who don't know, it's about six friends and their lives. It's funny, fantastic and flavourful. So whether you want to watch it all from the beginning, or watch some of your favourites it's all there at your disposal.
If you enjoy interesting crime, you're bound to like Now You See Me 2 (2016). It's packed full of action and adventure when the Four Horsemen must steal a chip that can control every computer in the world. This film stars Daniel Radcliffe, Mark Ruffalo, Morgan Freeman and others. Not to mention the fact that you can still watch the first film on Netflix too. Although the second film may not be as good as the first and has had mixed reviews, it's still worth watching if you'd like some entertainment. You'll be enticed by the plot of the movie as well as the twists and surprises.
Article Continues Below...
Our final pick of the week is the documentary Rotten (2018). This Netflix Original focuses on digging deeper into the global food supply chain to find out the truths about the things we eat. Season one consists of six documentaries, all at almost one hour each. They will teach you about why you should watch what you eat, and opt for more clean eating and healthier choices. If you're ready to see the truth about what you eat and perhaps need something to push you into eating better, this would be the perfect place to start.
78 New Movies
A Royal Night Out (2015)
Aajcha Divas Majha (2013)
Aata Pita (2010)
Admission (2013)
Another Mother's Son (2017)
Aval (The House Next Door) (2017)
Badha (2006)
Berlin Syndrome (2017)
Black Knight (2001)
Bruno and Boots: The Wizzle War (2017)
Camp Cool Kids (2017)
Capture the Flag (2015)
Conan the Barbarian (2011)
Cuco's Big Adventure (2016)
Daddy Day Camp (2007)
Devrai (2004)
Die Hard 4.0 (2007)
Dirk Gently's Holistic Detective Agency (Season 2)
Double Impact (1991)
Dries (2017)
Eight Men Out (1988)
Extraction (2015)
Eye of the Needle (1981)
Fun Mom Dinner (2017)
Goon: Last of the Enforcers (2016)
Goosebumps (2015)
Green White Green (2016)
Happy Hunting (2017)
He Named Me Malala (2015)
Head in the Clouds (2004)
Hot Shots! Part Deux (1993)
Hridaynath (2012)
I Am Not Madame Bovary (2016)
Ideachi Kalpana (2010)
Infinity Chamber (2017)
Jabberwocky (1977)
Jiro Dreams of Sushi (2011)
Jora 10 Numbaria
Julie & Julia (2009)
Kay Dyache Bola (2005)
London Heist (2017)
Love the Coopers (2015)
Maacher Jhol (2017)
Maza Pati Karodpati (1988)
Mi Shivajiraje Bhosale Boltoy (2009)
Murder on the Cape (2017)
Mustang Island (2017)
Now You See Me 2 (2016)
Open Water 3: Cage Dive (2017)
Origin Wars (2017)
Personal Shopper (2016)
Power Rangers (2017)
Sanai Choughade (2009)
Saved! (2004)
Saving Christmas (2017)
Shahanpan Dega Deva (2011)
Soldiers of Fortune (2012)
Species III (2004)
Spotlight (2015)
Super Dark Times (2017)
The Adventures of the American Rabbit (1986)
The Bleeder (2016)
The Damned Rain (2009)
The Last Face (2016)
The Man with the Iron Heart (2017)
The Patriot (2000)
The Physician (2013)
The Rehearsal (2016)
The Siege of Firebase Gloria (1989)
Their Finest (2016)
Think Like a Man Tooo (2014)
Time Please (2013)
Treasures from the Wreck of the Unbelievable (2017)
Twice (2010)
Unlocked (2017)
Weeds (2012)
Women Behind Bars (2010)
Yanda Kartavya Aahe (2006)
You Can Tutu (2017) 18
21 New TV Series
Bat Pat (2016)
Brooklyn Nine-Nine (Season 4)
Can't Cope, Won't Cope (2016)
Can't Cope, Won't Cope (Season 1)
Comedians in Cars Getting Coffee (Season 4) Netflix Original
Devilman Crybaby (Season 1) Netflix Original
Eastsiders (2015)
Friends (2003)
Fullmetal Alchemist (2003)
Horseland (2008)
Little Princess (2010)
Outsiders (2 Seasons)
SamSam (2009)
Scrotal Recall (2014)
Sin Senos si Hay Paraiso (2 Seasons)
The Deep (2015)
The end of the F***king World (Season 1) Netflix Original
The Fighting Season (2015)
The Frozen Dead (2017)
Trotro (2004)
Underground (Season 2)
14 New Documentaries
AlphaGo (2017)
Blurred Lines: Inside the Art World (2017)
Born Strong (2017)
Elles étaient en guerre (1914-1918) (2014)
Elles ont toutes une histoire (2016)
Empire of Scents (2014)
Functional Fitness (2016)
Lockup: County Jails (2013)
Maddman: The Steve Madden Story (2017)
Martin Luther: The Idea that Changed the World (2017)
Not Alone (2017)
Numbered (2012)
Rotten (Season 1) Netflix Original
The Jack King Affair (2015)
1 New Standup
Dave Chappelle: Equanimity & The Bird Revelation (2017)